Margaret Anne Shaeffer, 76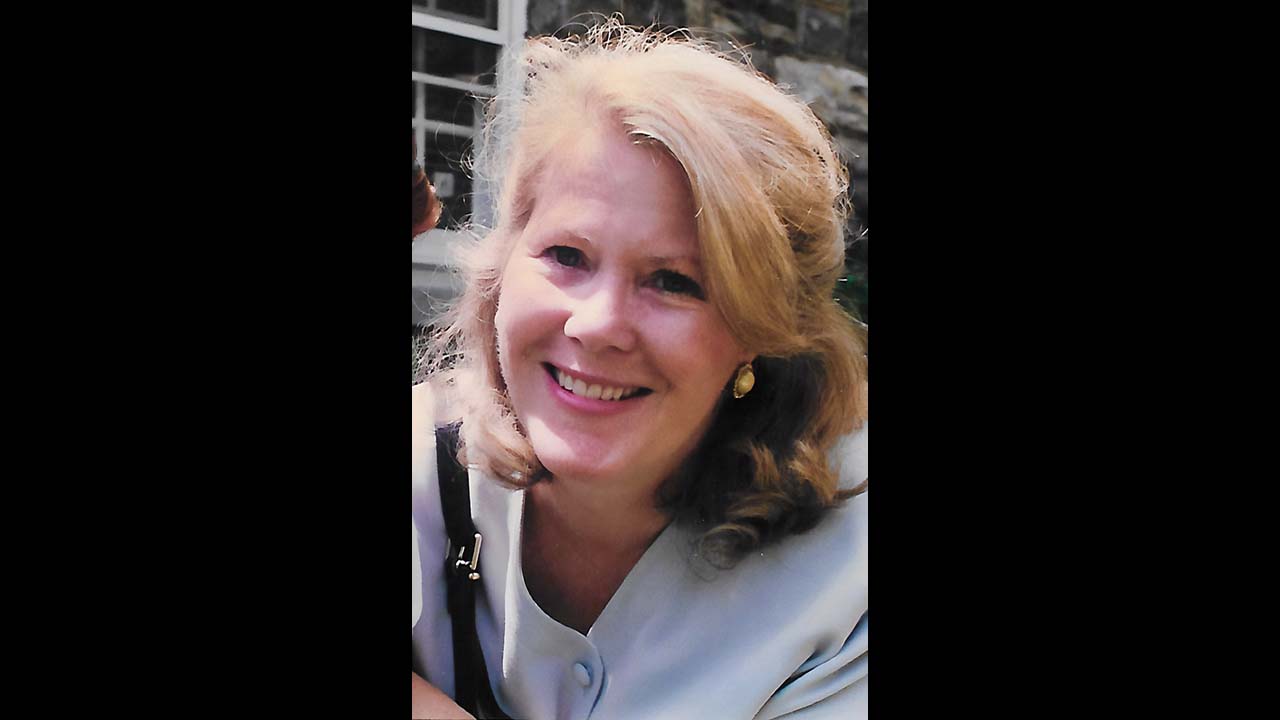 Margaret Anne Shaeffer (nee Starkey) of Weston, Connecticut died on January 3, 2023 in hospice care at Norwalk Hospital after a year-long struggle against an aggressive respiratory disease.
Peggy was born on April 27, 1946 to James and Margaret Starkey in Rockaway, Queens, NY, where she grew up. She was the oldest of seven children and a twin. After graduation from high school, Peggy began her professional career in the financial industry on Wall Street, specializing in back office operations. She was hired at a small firm where she became responsible for administering the account of its most important client, a wealthy private investor.
Peggy developed a strong rapport with him and was so capable that he, in her words, "plucked her from obscurity," offering her a summer job in the office he maintained in his home outside Washington DC. That led to an offer of a permanent position but, to his regret, Peggy decided to return to New York, where she entered the corporate world with Citibank.
Her career spanned nearly 20 years as she earned increasingly important and responsible positions, retiring in 1990 as Vice President and Managing Director of Human Resources for the global real estate business. In this position she traveled the world, building friendships everywhere and becoming highly respected for her work and for the mentorship she enjoyed and provided so ably, especially to female colleagues. Many are forever grateful for the positive impact Peggy had on their lives and careers.
In 1968, Peggy married Charles (Skip) Shaeffer. They lived in Manhattan, Scarsdale, Bronxville, a weekend home in Dutchess County and finally moved to Weston in 1998. Their family expanded in 1991 with the adoption of their son, Andrew.
In Weston, Peggy became a class mother, served on the PTO board, and joined the Newcomers Club and later the Women's Club of Weston, where she contributed her executive and leadership skills to their boards and served as president of each. Always an avid reader with a wide variety of interests, she enjoyed the discussions and camaraderie of several book clubs.
Peggy's most significant involvement was at St. Francis of Assisi church where she practiced her deep Catholic faith and was "a rock and guiding light." She was a lector and eucharistic minister, served on the Pastoral and Finance Councils, helped with every fundraiser, and counted the offertory. But perhaps her most important contribution was behind the scenes in the parish office, where she drew on her administrative expertise to reorganize the office and conduct Diocesan projects, and on her deft writing skills to prepare pastoral communications.
In 2020, when the office manager went on medical leave and the pandemic began, she stepped in to run the parish office and help develop the capacity to stream the daily mass and conduct weekend masses that met the changing health guidelines. For her valuable services, she was recognized with the Spirit of St. Francis award.
Peggy thrived on volunteering and helping. Through giving of her time and talent, she gained a sense of purpose, an opportunity to meet people she would otherwise never have known, and friendships that she treasured.
Peggy is survived by her devoted husband, Skip, and her son, Andrew. She is also survived by her twin brother Stephen, her sister Catherine, her twin brothers Robert and William, Skip's brothers Peter and William and numerous nieces and nephews. She was predeceased by her brothers James and John. She was a devoted daughter to her parents and a wonderful daughter-in-law to Skip's parents.
Her family and friends remember Peggy as an exceptionally smart, strong and talented woman with a great sense of humor. Well informed on a wide range of topics, a brilliant communicator, a true and trusted friend, very able to listen and speak her mind clearly and wisely, a loving mother and wife, a caring and capable servant and someone who will be deeply missed.
Family and friends are invited to attend a funeral on Saturday April 29, 2023 at 11:00 AM, meeting directly at St. Francis of Assisi Church, 35 Norfield Road Weston, CT for a Mass of Christian Burial. In lieu of flowers, please plant a tree or contribute to a charity of your choice in her memory.