Kathlyn "Bobbie" Dorman Sassano, 99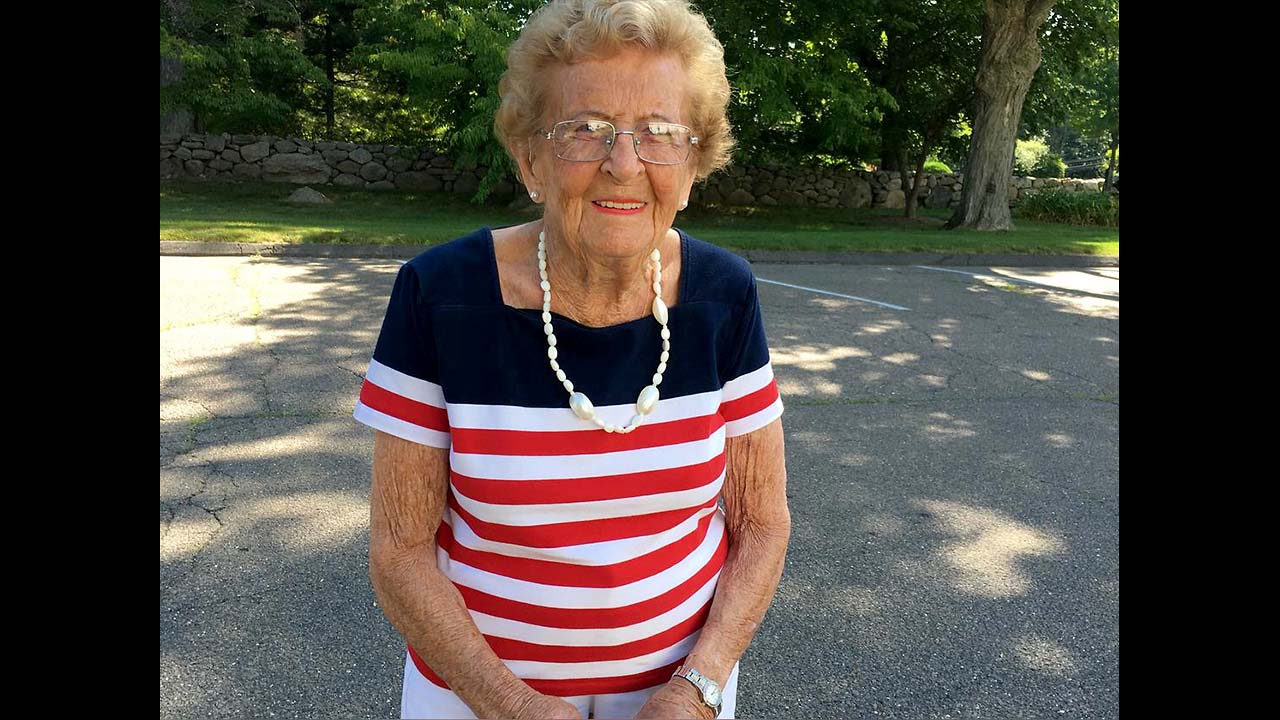 Kathlyn Dorman Sassano aka "Bobbie" passed away peacefully on November 1st, 2022. A celebration of Bobbie's life will be held at noon on December 3, 2022 at Norfield Congregational Church, 64 Norfield Road, Weston, Connecticut. A reception will follow in the Parish Hall.
Bobbie was born on October 2, 1923 in Viola, Illinois. She graduated from high school in 1941 and moved to Moline, Illinois after Pearl Harbor to work at the Rock Island Arsenal until the end of the war. During that time she met the love of her life, Lt. Walter J. Sassano. After a very brief courtship Walter left to fight in the European theater in WW2. Upon his return they married on June 30, 1946. They remained happily married for the next 67 years. They spent the majority of their married life living in Ardsley, New York and Weston, Connecticut, where they raised their large and beautiful family.
She was predeceased by her husband Walter and survived by her six children, Walt (Wendy), Christopher (Sage), Steve, Diane (Peter), Ronny and Bonnie and nine grandchildren Walter (Alison), Kelly (Greg), Ayaina (Thomas), John (Joanie) and Danielle, Tyler, Paulina (Tony) and Nico and Charlotte and 10 great grandkids Niki, Ryan, Harrison, Laurel, Maji, Stella, Caleb, Anthony, Giovanni and "Baby" Bobbie, her namesake. She is also survived by numerous nieces, nephews and a large extended family, including her godson Arty (Cindy) and niece Allison.
Prior to moving to Weston, Bobbie was an active member in the Ardsley Methodist Church where she taught Sunday school and was a charter member of the Ardsley Swim club and enthusiastically watched 17 years of Little League baseball. When they moved to Weston in 1969 Bobbie joined the Norfield Congregational Church where she taught Sunday school, chaired the Altar committee and served as an usher and greeter.
She helped with and chaired the senior luncheon committee and was on the Inter-Faith council. Bobbie also was a member of the prayer shawl ministry helping to make prayer shawls and baptism blankets. She and Walt drew great pleasure chairing the Garden Booth at Norfield's annual fair and in its last year it was renamed "Bobbie's Garden Booth."
In 2007 Bobbie and Walt moved to West Harrison, New York to live with their daughter Daine and her family. Walt passed away in 2010 but that did not stop her. She quickly got to work making "new friends" at the age of 87. She joined the Senior Center and loved her Bingo and exercise classes. She also started a knitting group that gave her and the other seniors great joy by knitting thousands of caps and blankets for children in need. But perhaps her greatest joy was to attend her grandson John's baseball games. She never missed one.
Bobbie was a rabid sports fan and athlete. She was a player in the All American Girls Professional Baseball League in her youth (as in the movies League of Their Own). She loved the NY Yankees, taking her grandchildren to games. She and Walt were NY Giants season ticket holders since 1957. They enjoyed 53 years of tailgating with lifelong friends.
She took up running at the age of 60 and ran the NYC marathon twice at the age of 62 and 63. She loved to ski and was a proud member of the 80+ ski club and took her last run at the age of 87. Bobbie and Walt had a winter trailer in Vermont where she took her children and grandchildren Kelly and Walter skiing. She then spent years as one of the most revered spectators at many prestigious snowboarding competitions supporting her grandchildren, Tyler and Danielle.
Bobbie lived a full and extraordinary life. She had a remarkable spirit that would light up any room she walked into and truly touched the lives of the great many people she met in her 99 years. She loved camping so much that even infants, cold showers and canvas tents did not scare her a bit. Her heart was larger than life and their home was often a safe haven for young people in need. Her work at the Young Parents Program touched so many unwed teenage pregnant girls' lives.
She was the life of every party and always rallied the crowd at every wedding to do the Alley Cat. She was a lifetime member of Weight Watchers till the age of 90. Bobbie was known for her letter writing campaigns, always trying to right an injustice. And anyone who knew Bobbie was most likely involved in her over 30-year passion project, collecting aluminum can tabs to benefit the Shriners. She was boundless in her energy, passion and time for all worthy causes, like Special Olympics, Walks for Autism, and Earth Day events.
Bobbie enjoyed life right till the end. She took many trips late into her nineties including going camping in Montauk at the age of 93 and 94, visiting her dear friend Vikki in Tennessee, her son Christopher in Colorado, her godson Arty in North Carolina and many trips to Florida to see her granddaughter Paulina. Over the last several years she loved visiting the New York Botanical Gardens and it became one of her favorite outings. Our family and friends have amazing memories of these visits. She even went with her great granddaughter Bobbie and daughters Diane and Bonnie just two weeks before she passed. She will always be cherished in our hearts and be missed by all.
In lieu of flowers, donations can be made in Memory of "Bobbie Sassano" to help install two trees and a bench in honor of Bobbie and Walt forever in the Memorial Garden, either online at norfield.org/giving or by sending a check payable to Norfield Congregational Church (in the memo section note: In Memory of Bobbie Sassano) mailed to: Norfield Congregational Church, 64 Norfield Road, Weston, CT. 06883.