Rep. Himes Briefs Seniors on Healthcare Savings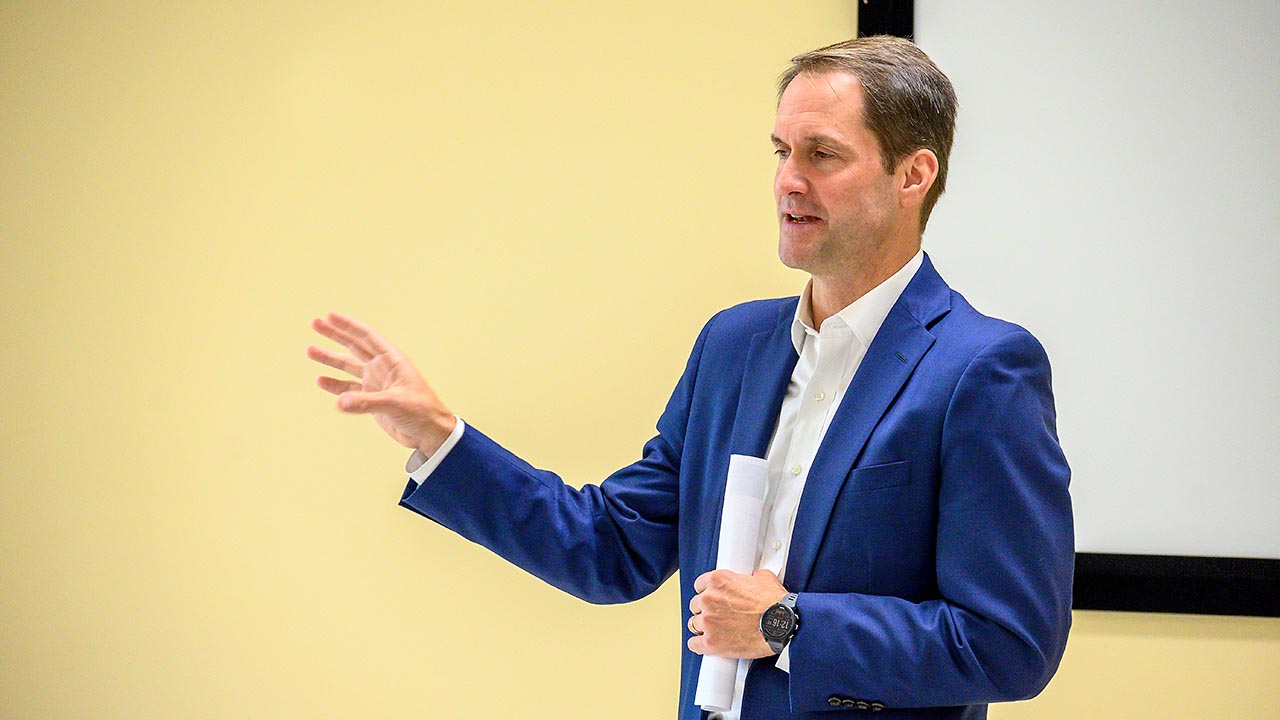 Rep. Jim Himes. Photo: Weston Today
Congressman Jim Himes visited the Weston Senior Activities Center on Monday to brief seniors on how the recently-enacted Inflation Reduction Act (IRA) will reduce their healthcare costs.
Mr. Himes highlighted how the new law will allow Medicare to negotiate the price of expensive prescription drugs, cap Medicare out-of-pocket costs, and put a ceiling on insulin copays.
Some changes will not be fully implemented for several years, but the cap on insulin copays for Medicare enrollees begins in 2023, set at $35 per month.
Mr. Himes said residents of his Congressional district can expect to save up to $1,445 on insulin each year as a result of the new cap.
Negotiated prices
Mr. Himes explained that in 2010 a compromise was made to ensure passage of the Affordable Care Act ("Obamacare"), a provision that forbade Medicare from negotiating prices with pharmaceutical companies.
That changed, to an extent, this year with passage of the IRA, but won't take effect right away. Negotiated prices for ten of the highest-cost single-source drugs will go into effect in 2026. Prices for 15 expensive drugs will be negotiated in 2027. The number increases to 20 in 2028 and years beyond.
The new law also requires drug companies to pay rebates to Medicare if prices for drugs used by Medicare beneficiaries rise faster than inflation. That begins next year.
Out-of-pocket costs
Beginning in 2025, Medicare Part D costs will be capped at $2,000 per year. Mr. Himes estimates that, as of 2020, in his district alone around 3,000 Medicare beneficiaries had out-of-pocket costs above $2,000. Nationally, he said, around 860,000 beneficiaries will save an average of $900 each year.
Beginning in 2023, the IRA caps annual Medicare Part D premium increases at a maximum of six percent until 2030.
Affordable Care Act subsidies
Mr. Himes said the IRA extends the ACA's advanced premium tax credits until 2025, saving 13 million people an average of $800 a year.
He said most Americans will see healthcare savings from the IRA and that the roughly 18,000 people in his district who are enrolled in marketplace plans can expect to pay an annual premium of $2,190, less than half of the $4,530 expected without the Inflation Reduction Act.
He said seniors with a joint income of $70,000 can expect to save over $25,800 on premiums.
In an August 3 release, the federal Department of Health and Human Services reported that an additional 5.2 million people obtained healthcare coverage since 2020, reducing the national uninsured rate to an all-time low of eight percent by early 2022.