Weston Gun Club Foundation Supports EMS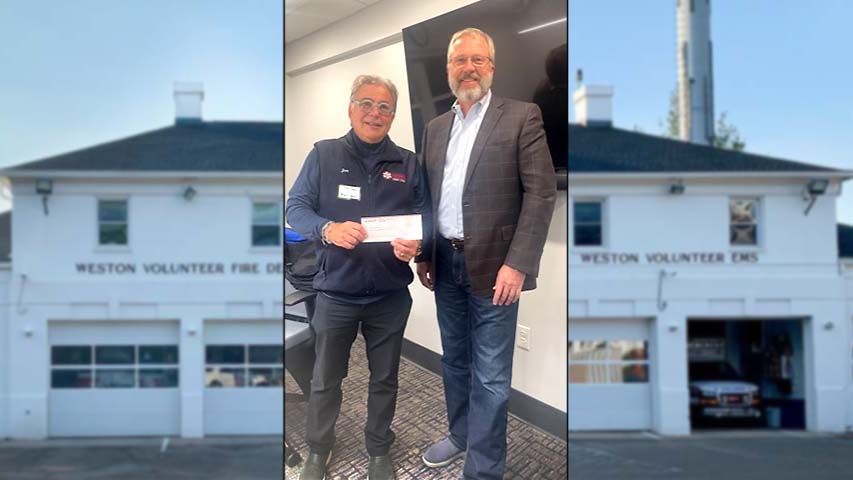 EMS President Jon Weingarten with Ken Friedrichsen, President, Weston Gun Club
The Weston Gun Club Community Foundation donated $15,000 on October 3 to Weston EMS, funds earmarked for the purchase of additional field packs and equipment for specially trained Rapid Response EMS members who respond to scenes directly from their homes.
The equipment includes specialized jump kits containing lifesaving equipment and apparatus to assess and respond to patients before the ambulance arrives. This provides scene management and lifesaving intervention during the critical minutes while the ambulance is en route to a 911 call.
The Weston Gun Club Community Foundation has been active for 23 years making grants to various town organizations and schools. Approximately $250,000 has been donated in 40 grants. The grant to Weston EMS is the largest to date. Other recipients have included the Police and Fire departments, Town Hall, the Senior Center, Weston Historical Society, Devil's Den, and Lachat Town Farm.
The Weston Public School District has been the recipient of 15 grants, including funding for a program for drug and alcohol awareness, the diversity program, cameras and equipment for photography classes, and the junior varsity lacrosse program and the girls golf team.
Weston EMS is a 501(c)(3) non-profit organization. All donations are tax deductible. To make a donation to Weston EMS, visit westonems.com or text GIVE to (475) 244-6648.
Weston Volunteer EMS relies solely on community donations and legacy gifts to fund its operating and capital costs. This support is vital for EMS to continue providing lifesaving emergency service at no charge to the residents of Weston 24/7.