Stirling Collins Honored by Hope For The Warriors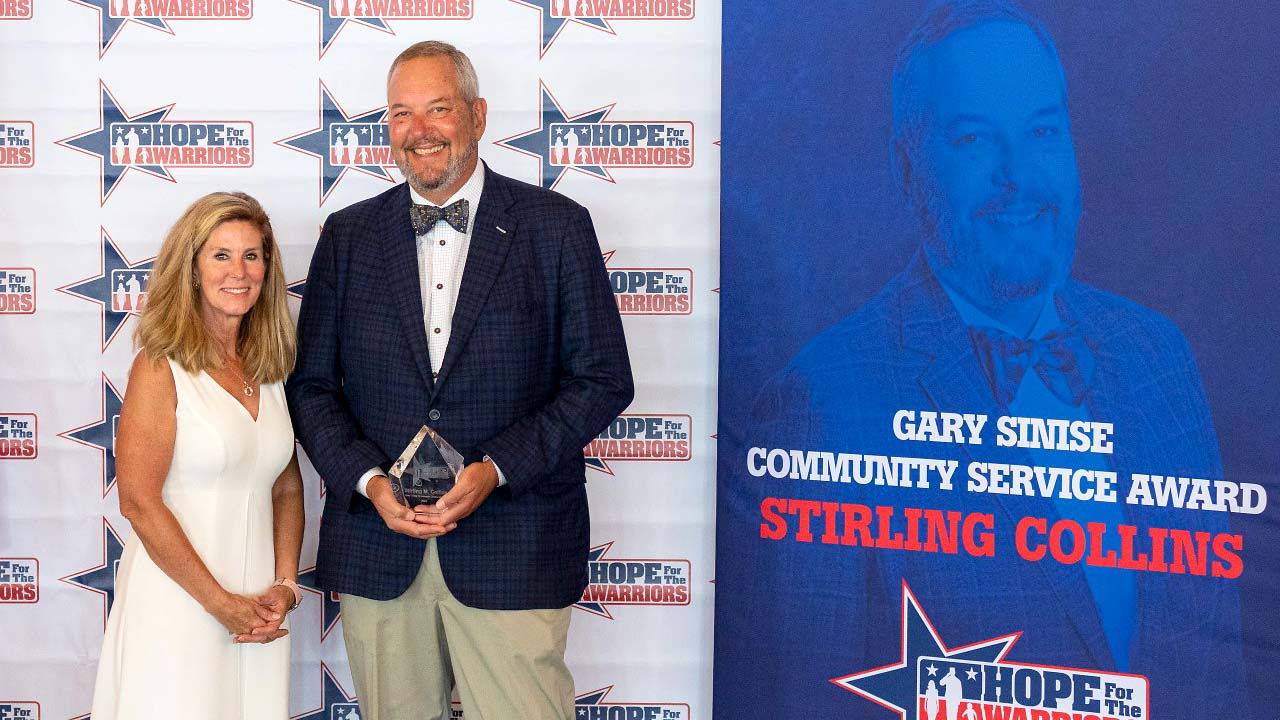 Hope For The Warriors CEO Robin Kelleher with Stirling Collins
Weston resident Stirling Collins received the Gary Sinise Community Service Award from Hope For The Warriors, a national nonprofit dedicated to restoring a sense of self, family and hope for post-9/11 veterans, service members and military families.
The award recognizes "an individual who puts his or her patriotism in action to serve military families and raise awareness of the needs of the military community." It was presented to Mr. Collins at an annual event in North Carolina by World Series champions Johnny Bench and Doug Flynn.
"I think everyone on our staff would describe Stirling as humble and generous," said Robin Kelleher, Hope For The Warriors co-founder and CEO. "Whether it be his time, connections or monetary support, he has a passion for advocating for military families."
In Weston, Mr. Collins is also an active volunteer at Lachat Town Farm and a member of the town's Lachat Town Farm Commission.
"I am humbled and honored to be recognized by Hope For The Warriors," said Mr. Collins. "I was introduced to Hope by my dear friend and mentor Harry Bridgwood 12 years ago. My first thought was, what can I do to help? From that initial introduction was born the annual New York Sporting Clays event, which I am very proud to say has grown to one of the largest and most successful such events (for Hope For The Warriors) in the New York region."
The event raises funds for Hope For The Warriors and hosts service members and veterans to support their rehabilitation and mental health. Mr. Collins also helped organize a striped bass fishing tournament on the Hudson River this year, which attracted over 75 participants, including service members and veterans.
Mr. Collins has been an advocate for the organization for more than ten years. The organization says his efforts have raised over one-half million dollars for its efforts. He also volunteers in its Military Spouse and Caregiver Scholarship program.
Professionally, Mr. Collins is a third-generation elevator industry professional. He began his career in 1990 at Martin Elevator, his family's 90-year-old business. Today, he is a partner at Champion Elevator Corp.
Since its inception, Hope For The Warriors has served over 40,000 people through a variety of support programs focused on health and wellness, sports and recreation, and transition. The Military Spouse and Caregiver Scholarships program has awarded 192 scholarships to caregivers and families of the fallen.
Our thanks to Erin McCloskey