A Changing College Admissions Cycle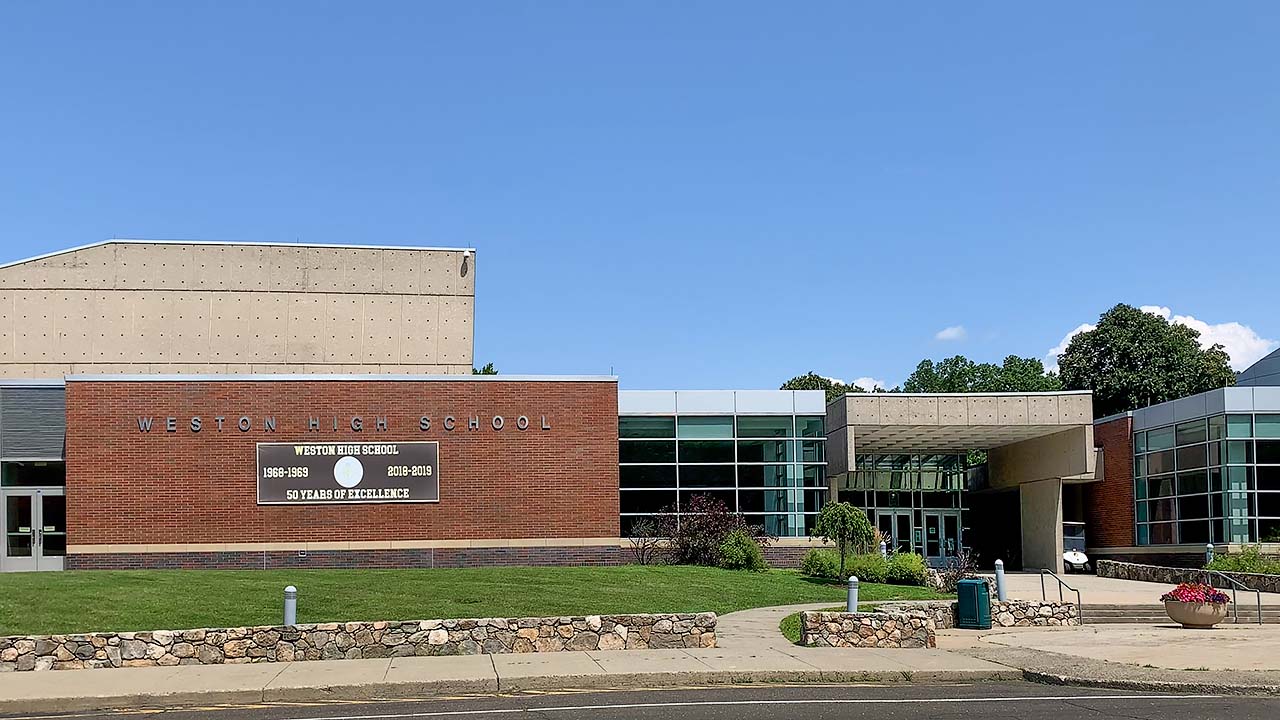 While graduated Weston High School seniors look ahead to a restful summer, underclassmen, especially juniors, are looking to a year of college admissions.
A list of colleges the class of 2022 is attending appears at the end of this article. This year, the University of Connecticut holds the greatest number of students attending. Indiana University has the second-largest number.
Randi Green, the high school's college and career counselor, offers perspective on changing college admission cycles.
"It's important for families to keep an open mind," said Ms. Green. "Admissions are very different from even two years ago."
According to Ms. Green, admission rates at schools with a 50 percent or higher acceptance rate (about 80 percent of all schools) remain consistent and very predictable. At the remaining 20 percent of schools, admissions are changing.
Highly selective more selective
Since becoming a counselor, the most apparent trend Ms. Green has seen is at schools with an admissions rate of approximately 25 percent or less. These "highly selective" and "most selective" schools are becoming even more selective.
"For most of our students, it's an early decision (ED), either an ED I or ED II situation," said Ms. Green. "A lot of these colleges are enrolling many students like ours in ED I and ED II, so by the time regular decisions come around, they are looking to round out their class."
"It doesn't seem they don't have as much space, or that our students are not meeting the institutional priorities of these particular schools in regular decision," said Ms. Green. "Each school has to meet their own institutional requirements for their incoming freshmen class, which vary every year. It has nothing to do with how qualified our students are."
"Students who have historically been admitted to many of these schools ended up denied or waitlisted this year at these schools," said Ms. Green, adding that she saw this trend across the board with schools such as Boston University, New York University, George Washington University, and American University.
"We used to predict who would have a relatively good shot at these schools, but no more," said Ms. Green. "Colleges that students used to lean on as target schools in regular decisions may not be so certain anymore."
Challenges for young women
Ms. Green has also found that it is becoming a little harder for female applicants in many selective to highly selective college application pools. "I hate to make sweeping generalizations, but I've seen this trend from our data and conversations with admission officers," Ms. Green said.
"For many schools, females make up well over 50 percent of a class. Several colleges told me females were making up 60 percent or more of the applicant pool." Ms. Green said it was more challenging for female applicants this year and more difficult outside of early decision rounds in general.
For patterns in the college application process itself, Ms. Green found that students tend to apply to more schools than before, especially in the past couple of years with Covid making it hard to visit campuses. "Kids had to cast a wider net, which impacted acceptance rates at various schools."
Optional standardized testing
She also noticed that as more colleges make standardized testing optional, many students are taking advantage of the change.
"For the class of 2023, it is the first year I'm hearing a lot of students going test-optional. As a counselor, it's exciting to hear that maybe there is an actual shift away from a high emphasis placed on standardized testing as kids feel more comfortable not retaking the SAT. It's nice, as the energy that would be used prepping for the SAT is directed to their school work and other parts of their application that are a better representation of themselves."
Finally, with rapidly changing times for college admissions, Ms. Green has some advice for the Weston community.
"Keep an open mind"
"Though it sounds cliché, I want families in Weston to take a breath. There is sometimes a mentality that 'if I don't go to the most competitive college, I won't have a good life.'"
"But the factors determining future success are the foundational skills our students are equipped with. They have a strong work ethic, interest in learning, are engaging and personable, are social and make connections, and have the confidence to take on leadership opportunities. We have to remember that those are the things that determine future success. Not simply the name of a college a student goes to."
Ms. Green said, "Selectivity rates in no way equate to the quality of education for a specific student or the quality of experience a student has. Colleges manipulate these numbers very easily."
Her overall advice to students is to "keep an open mind, be realistic about the current acceptance rates and the likelihood of admission, be open to the amazing colleges beyond the few they have heard of, take advice from their counselor and college counselor, and have fun with the process."
Class of 2022 colleges
| College | # of students attending |
| --- | --- |
| Adelphi University | 1 |
| American University | 2 |
| Amherst College | 1 |
| Arizona State University | 1 |
| Bard College | 1 |
| Baylor University | 1 |
| Boston College | 1 |
| Brandeis University | 2 |
| Bryant University | 1 |
| Bryn Mawr College | 1 |
| California Polytechnic State University-San Luis Obispo | 1 |
| Chapman University | 1 |
| Clemson University | 2 |
| Colgate University | 3 |
| College of Charleston | 1 |
| Colorado Mesa University | 1 |
| Columbia University in the City of New York | 1 |
| Connecticut College | 1 |
| Cornell University | 3 |
| Culinary Institute of America | 1 |
| Dartmouth College | 1 |
| Drexel University | 1 |
| Duke University | 2 |
| East Carolina University | 1 |
| Eastman School of Music of the University of Rochester | 1 |
| Elon University | 2 |
| Emory University | 3 |
| Fairfield University | 1 |
| Fordham University | 2 |
| Gateway Community College | 1 |
| Georgetown University | 1 |
| Georgia Institute of Technology-Main Campus | 1 |
| Hamilton College | 1 |
| Hampshire College | 1 |
| High Point University | 1 |
| Hofstra University | 2 |
| Indiana University-Bloomington | 8 |
| Iona College | 1 |
| Ithaca College | 3 |
| James Madison University | 1 |
| John Cabot University | 1 |
| Johns Hopkins University | 1 |
| Kenyon College | 1 |
| Lafayette College | 1 |
| Lehigh University | 1 |
| McGill University | 1 |
| Neumann University | 1 |
| New York School of Interior Design | 1 |
| New York University | 2 |
| Nichols College | 1 |
| North Carolina State University at Raleigh | 2 |
| Northeastern University | 2 |
| Northwestern University | 1 |
| Norwalk Community College | 2 |
| Norwich University | 1 |
| Occidental College | 1 |
| Ohio State University-Main Campus | 3 |
| Pennsylvania State University-Penn State Harrisburg | 1 |
| Pennsylvania State University-Penn State Main Campus | 3 |
| Pensacola Christian College | 1 |
| Point Park University | 1 |
| Princeton University | 2 |
| Quinnipiac University | 1 |
| Rensselaer Polytechnic Institute | 2 |
| Roger Williams University | 1 |
| Sacred Heart University | 3 |
| Salve Regina University | 2 |
| Santa Clara University | 1 |
| Savannah College of Art & Design - SCAD | 1 |
| Skidmore College | 1 |
| Smith College | 1 |
| Springfield College | 1 |
| Stevens Institute of Technology | 1 |
| Stonehill College | 1 |
| Stony Brook University | 1 |
| Syracuse University | 1 |
| Tel Aviv University and Columbia University Dual Degree Program | 1 |
| The University of Alabama | 1 |
| The University of Tampa | 1 |
| The University of Tennessee-Knoxville | 1 |
| Trinity College Dublin | 1 |
| Tufts University | 5 |
| Tulane University of Louisiana | 3 |
| University of Arizona | 1 |
| University of California-Berkeley | 1 |
| University of Central Florida | 1 |
| University of Chicago | 1 |
| University of Colorado Boulder | 1 |
| University of Connecticut | 14 |
| University of Delaware | 2 |
| University of Florida | 3 |
| University of Guelph | 1 |
| University of Illinois at Urbana-Champaign | 1 |
| University of Maine | 2 |
| University of Massachusetts-Amherst | 3 |
| University of Massachusetts-Boston | 1 |
| University of Miami | 1 |
| University of Michigan-Ann Arbor | 2 |
| University of Oregon | 1 |
| University of Pennsylvania | 1 |
| University of Rhode Island | 1 |
| University of Richmond | 1 |
| University of Rochester | 1 |
| University of South Carolina-Columbia | 1 |
| University of Southern California | 1 |
| University of St Andrews | 1 |
| University of Vermont | 1 |
| University of Virginia-Main Campus | 1 |
| University of Wisconsin-Madison | 5 |
| Vassar College | 1 |
| Villanova University | 3 |
| Virginia Commonwealth University | 1 |
| Virginia Polytechnic Institute and State University | 2 |
| Wake Forest University | 2 |
| Washington University in St Louis | 2 |
| Wesleyan University | 1 |
| West Virginia University | 1 |
| Wheaton College - Massachusetts | 1 |