Weston Girls Track Finish the Season Strong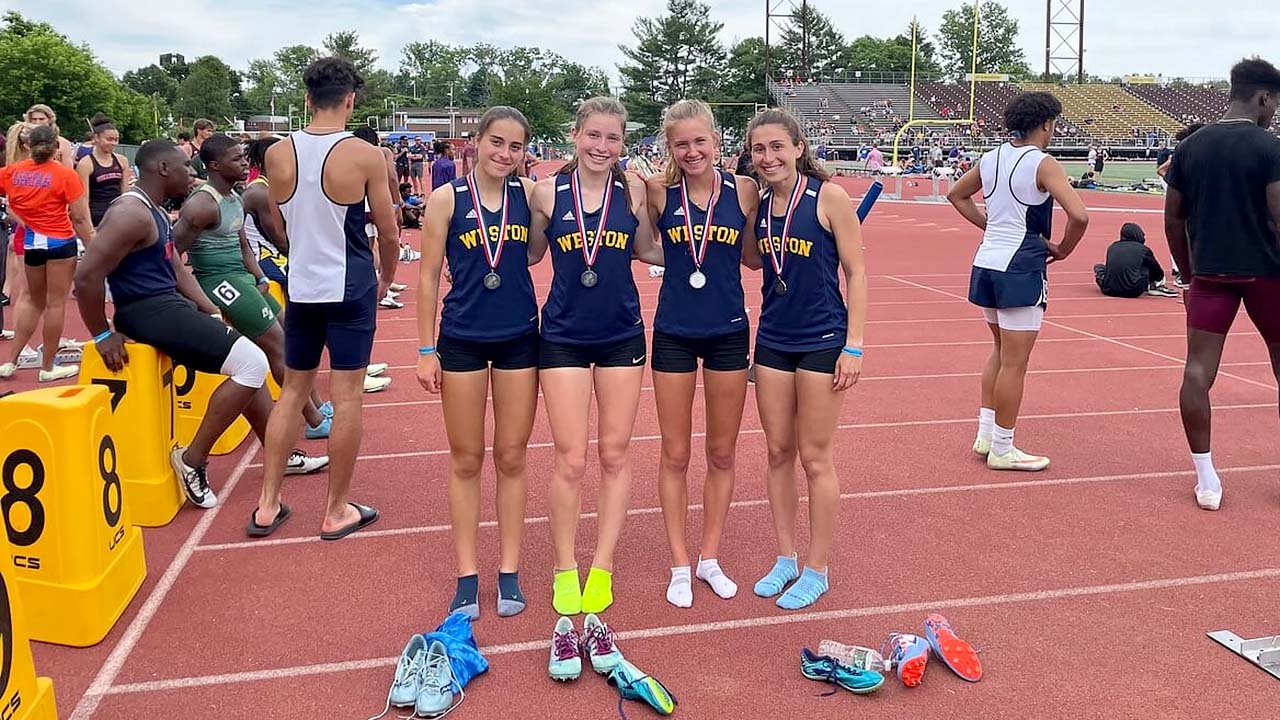 The 4x800 team, L-R: Charlotte Carter, Lianne Saussy, Abby Miles, Caitlyn McKiernan
The Weston girls track team concluded their 2022 outdoor season with an excellent fourth place finish at the state Open championship on June 6. Scoring 34 points, they finished behind a great Sheehan team (43 points) that had just captured the Class M championship. Joel Barlow and Danbury were second and third. Weston outscored perennial powerhouses Glastonbury, Staples, and Greenwich along with 40 other teams.
Leading the way was star javelin thrower Shea Greene, who will be competing at Princeton next year. She won with a throw of 151'-2" and then came back on June 11 to win the New Englands with an all-time record throw of 152'-1", nearly 20 feet farther than her closest competitor.
The 4x800 relay team of Abby Miles, Caitlyn McKiernan, Charlotte Carter, and Lianne Saussy was third with their best time of the year 9:23.67, missing the school record by less than a second. The same foursome then took second at the New Englands and garnered All New England honors. Miles also took at sixth at the State Open in the 3200 meters in 11:08.91, breaking the school record for a third time this season.
The 4x400 relay team of Sophia Taylor, Ellison Weiner, Keira Seibert, and Saussy was fourth at the Open in 4:01.78. They couldn't quite duplicate their effort at the New Englands and settled for eighth place in 4:04.85. Weiner jumped 11'-6" to win her event at the Open and came back to place fifth at the New Englands. Sophomore Rian Goertz ran a personal best 2:20.95 in the 800 meters at the Open and will be counted on heavily in 2023.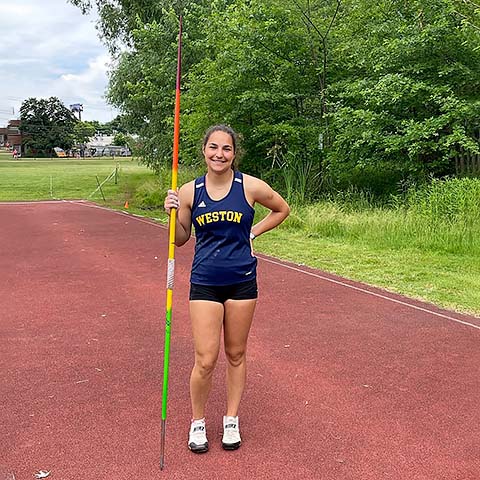 Javelin record-setter Shea Greene