A Vision for a Town Green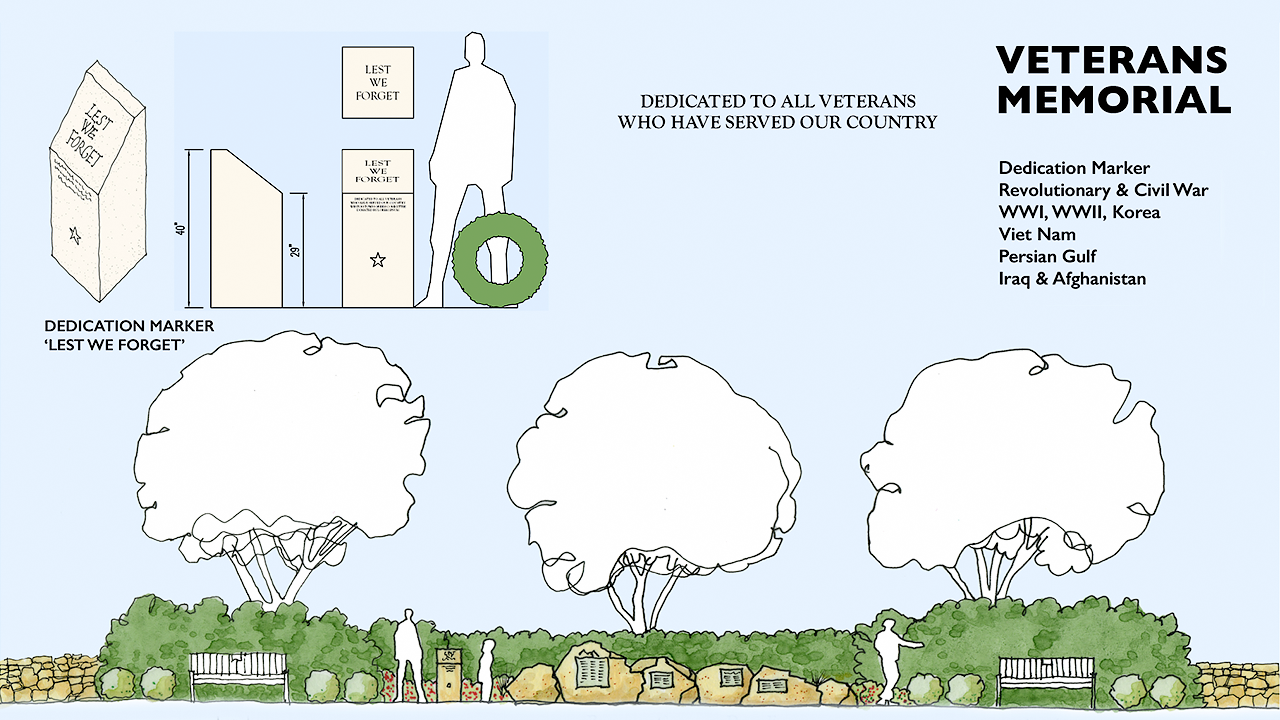 A renewed Veterans Memorial is a key feature
The idea for a Town Green came about in 2018, when Claudia Hahn, chair of the Beautification Committee, saw potential in the area in front of Town Hall, and envisioned creating a shared space for the Weston community.
The plan that has emerged features an elliptical lawn with a refurbished gazebo, new benches, lamp posts, and a new Veterans Memorial.
"We want to create a place of community where people can gather casually or for other community events," said Nancy Thiel, the architect who jumped on this project when Ms. Hahn proposed it to her. "It's all about building community."
Events are already hosted on the area in front of Town Hall, the annual Veterans Day Ceremony and the Founder's Day Festival. But Ms. Hahn and Ms. Thiel believe the town can utilize the space for much more.
Building off the success of the First Founder's Day Festival on October 11, 2019, the Committee hopes to show how the Town Green can be used, especially considering its central location. "We picture movies on the lawn, music groups performing, art fairs, wedding receptions — the possibilities are endless," said Ms. Hahn.
The Beautification Committee is in charge of many tasks to decorate the town, including placing flowering trees and shrubs along roadsides. Creating a new Town Green seemed to fit perfectly with the Committee's work. "We are moving our mission above and beyond and are excited to sponsor this space," said Ms. Hahn.
The Committee worked throughout 2019 to plan and design the Town Green. Ms. Thiel and her team presented to the Historic District Commission four times to gain approval. The Committee faced obstacles in raising awareness and public support for the project, especially after the pandemic, which halted their fundraising plans. "It's hard to fundraise when we are not in-person to explain the project," said Ms. Hahn.
The team expressed gratitude for a donation from Richard Orenstein, the trustee for the Daniel E. Offutt Charitable Trust, but the Beautification Committee is still fundraising for the last $20,000 needed to meet a budget of around $500,000. The Committee ask for help from Weston residents. Ms. Hahn said, "If every family contributes $20, we'd be ready to start building now." Donations can be made on the Weston Community Foundation website.
While the start of construction awaits full funding, Ms. Hahn and Ms. Thiel hope to begin as soon as possible. Once the money is in place and all the logistics are covered, the Committee will need to hire a landscape architect to survey the land, which will take a few months. Soon after, they can put a shovel in the ground and begin building.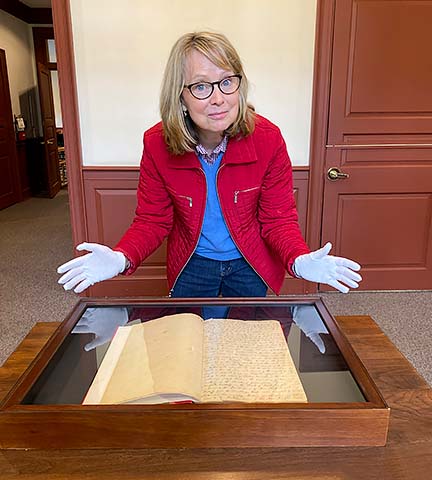 Claudia Hahn in 2019 with Weston's founding documents