Dylan Mondrus Earns Eagle Scout Rank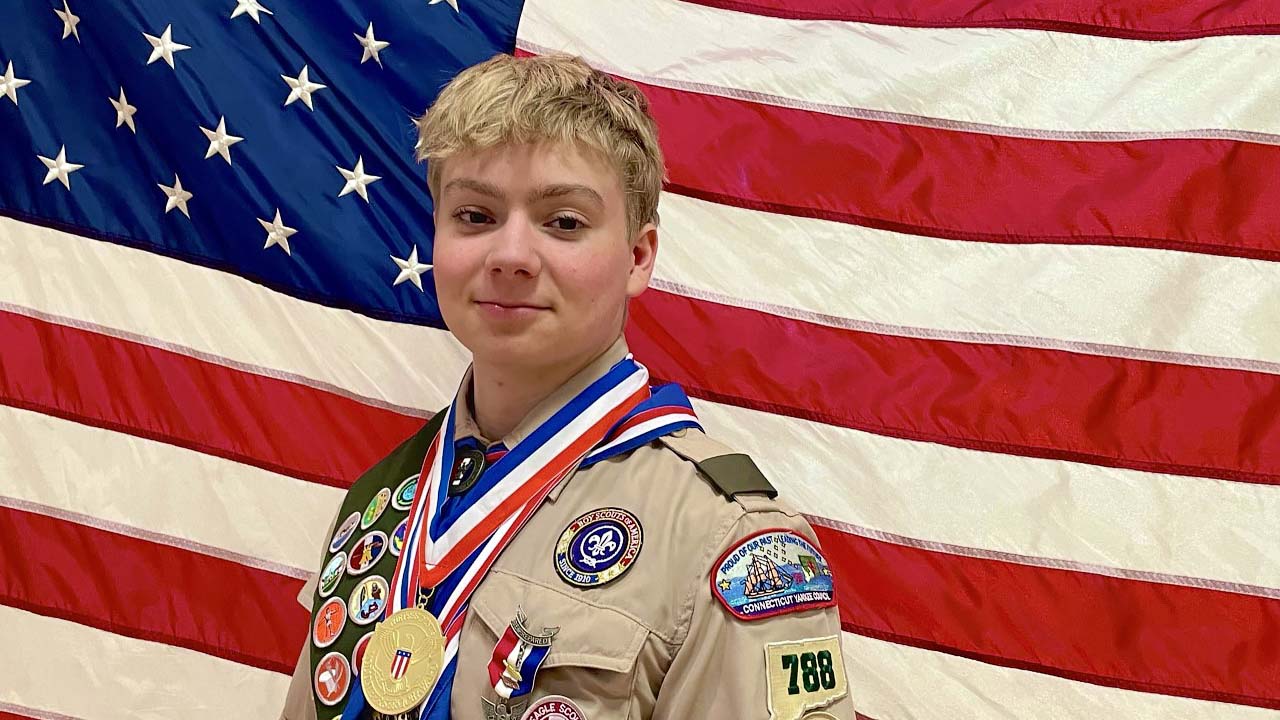 Dylan Lev Mondrus, a Weston High School junior and member of Weston Boy Scout Troop 788, has earned the rank of Eagle Scout, the highest achievement and rank attainable in the Scouts BSA program of the Boy Scouts of America.
Along with his Eagle rank, Dylan also earned the Bronze and Gold Palms, representing ten additional merit badges above the required twenty-one.
An Eagle Court of Honors was held at Norfield Congregational Church Hall and was led by his mother and Scoutmaster Marlene Aguiar. Dylan's younger brother, Bruce Matos, a current Life Scout with the Troop, participated in the ceremony by reading the Significance of The Eagle Badge.
Dylan began his Scouting career as a Tiger Scout with Riverdale's Pack 24 in New York City, where he earned the highest award, the Arrow of Light. When his family moved to Weston, he joined Troop 788 where he has served as Troop Guide, Patrol Leader and Scribe.
For his leadership and community service project, Dylan dedicated his efforts to working with the Fidelco Guide Dog Foundation, an organization which breeds and trains German Shepherds to become companions for the blind and visually impaired community. Dylan spent more than 140 hours working on building customized agility equipment for the kennels.
At Weston High School, Dylan is an honor roll student, President of the Cultural Linguistics Preservation Society, Vice President of the American Heroes Club, and a member of the symphonic band, football and track & field teams.
Outside of school, Dylan continues to volunteer his time with Fidelco serving as a foster puppy sitter. He is also a Founder and Junior Advisory Board Member of the CT Chapter of the Joshua's Heart Foundation, as well as a Youth Advisory Board member for Scholastic Inc and the Weston Public Library. He volunteers his time with the A Million Thanks Program, the Hershey's Heartwarming Foundation, and is an Ambassador for Innerview, a platform that helps students highlight community service. Dylan is also a tutor at the Kumon Academy.
During the Eagle Court of Honors, Dylan was presented with various congratulatory citations from Senator Richard Blumenthal, CT Attorney General William Tong, Congressman Jim Himes, Representative Anne Hughes, and First Selectwoman Samantha Nestor. He was also gifted an American Flag by Senator Chris Murphy, which was flown over the United States Capitol in honor of achieving the Eagle Scout rank.
In recognition for his dedication to community service, Dylan was presented with several awards, including the Jefferson Youth Award for Outstanding Commitment to Public Service and The President's Volunteer Service Award Gold Medal.