Going for the Green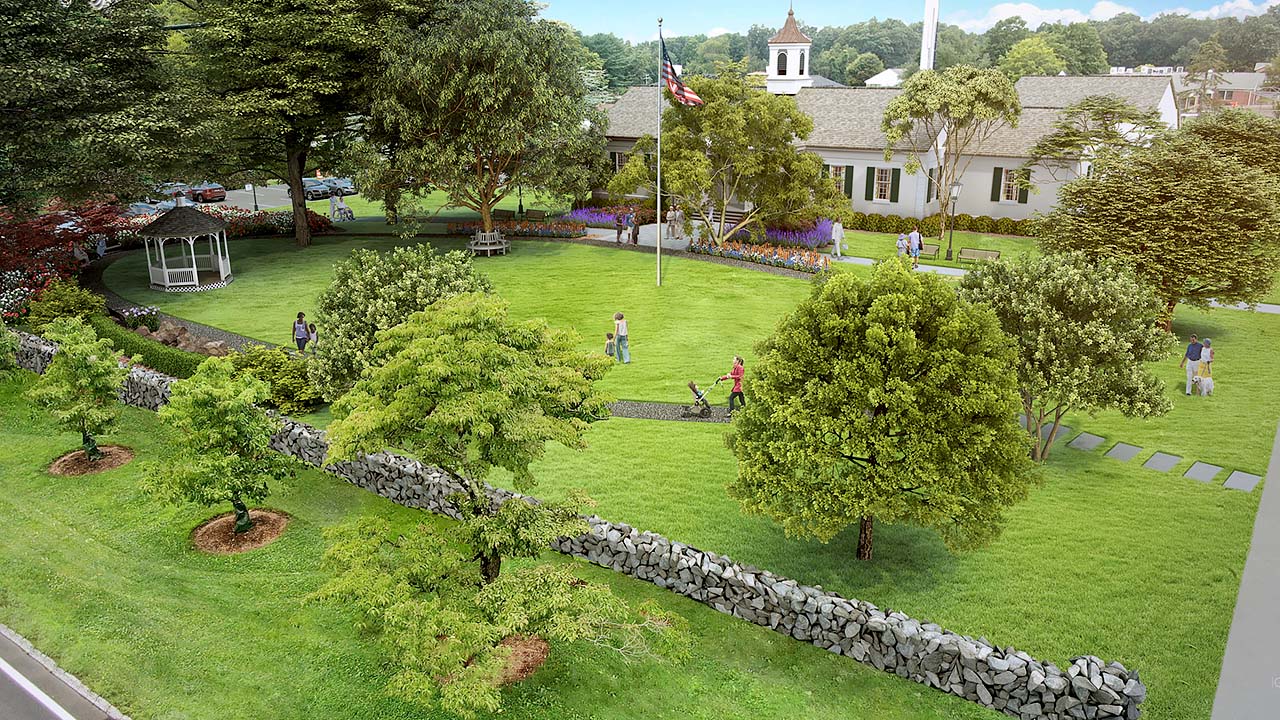 Artist's conception: the planned Town Green
A Town Green could become a reality soon, as fundraising efforts are in full swing, aided by a match offered by the Offutt Charitable Trust, the potential addition of grant funds, and hopes for community contributions to take the effort across the finish line.
The plan, conceived over three years ago by the Beautification Committee and already fully approved, would create a park on the main Town campus for community events, celebrations and casual gatherings, to honor veterans, and to be the anchor point of a refreshed town center. An artist's conception of part of the Green appears above.
A design is approved and volunteers are ready to put shovels in ground. "We are excited and eager to get started," said Beautification Committee chair Claudia Hahn who, with architect Nancy Thiel, has steered the project along the way.
Through June 30 and up to $250 thousand, the Offutt Charitable Trust will match contributions from the community. Donations can be made through the Weston Community Foundation, a 501(c)(3) specifically established to facilitate fundraising for community projects.
All amounts are welcome. A bronze plaque mounted at the Town Hall entrance will list major donors. The fundraising target includes a reserve to fund ongoing maintenance of the Green.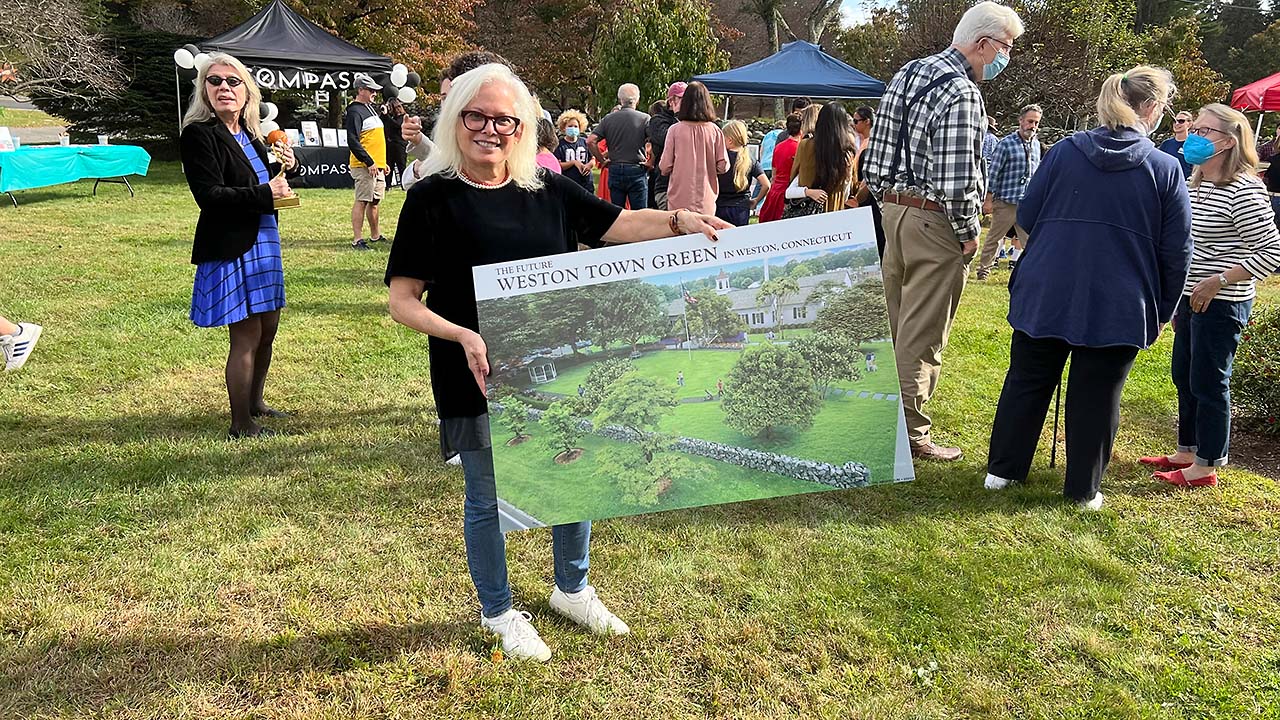 Town Green architect Nancy Thiel at Founder's Day, 2021. Photo: Weston Today
The plan
Key features of the Green include a "hearty, luxuriant lawn," an elliptical walkway, a new Veterans Memorial, new bench seating, a new 9/11 memorial garden, and attractive native plantings that include a pollinator meadow. Walkways would all be ADA-accessible and illuminated with new lighting and directional signs.
Twice, a well-attended celebration of Weston's founding has been held on the existing Town Hall lawn, probably demonstrating a widely-expressed desire for places and opportunities to gather as a community.
The Beautification Committee envisions the Town Green possibly hosting everything from special events, movie nights, book fairs, town picnics, and art fairs to veteran ceremonies and musical performances. In the end, however, it is meant to be a place where people can simply enjoy a lovely day in a lovely setting and "celebrate the best of small town living."
Much more information about the volunteer-driven Town Green project can be found in the Beautification Committee's section of the Town website.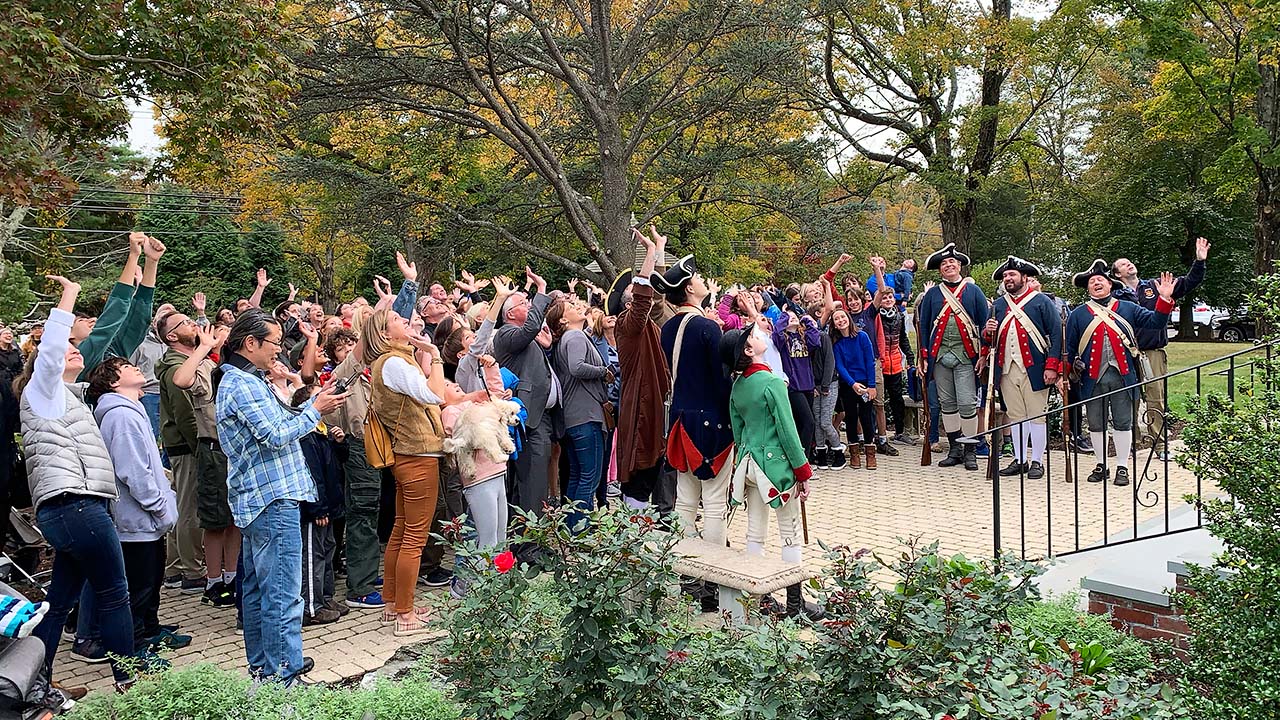 Founder's Day participants in 2019 pose for a town selfie. Photo: Weston Today