Girls Track Take 3rd at O'Grady Relays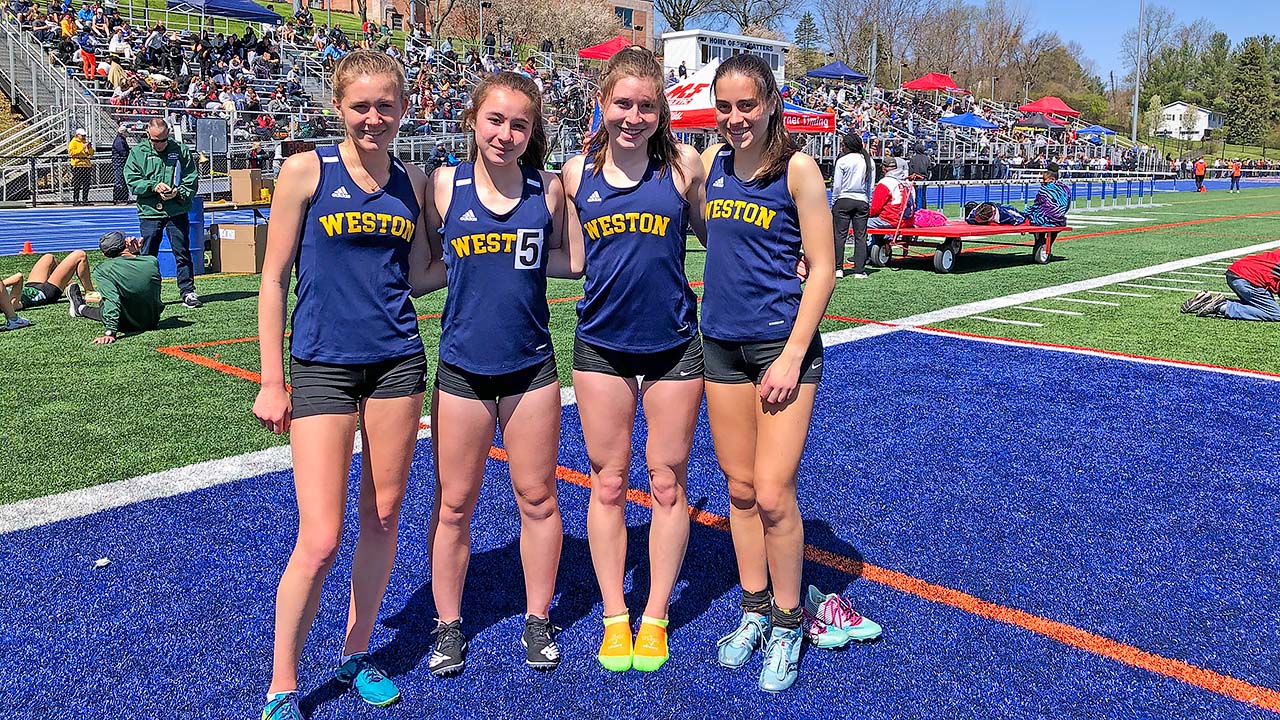 Left to right: Abigail Miles, Sofia Taylor, Lianne Saussy, Charlotte Carter
The Weston girls track team came prepared to show they are a force to be reckoned with, as Danbury High School hosted the 40th annual O'Grady Relays on a newly refurbished track.
In a field of 25 teams, the Trojans were a very close third behind Sheehan and perennial powerhouse Bloomfield, outperforming Staples, Danbury, Greenwich, Newtown and a host of other strong teams from all over the state. The team took home a total of seven medals.
The single gold medal came in the javelin relay where Shea Greene, Kate Tunney and Victoria Barker combined their throws for a total of 308 feet 7 inches, setting a new meet record.
Greene combined with Brooke Wagner and Annabelle Capola to take third in the long jump while Tunney and sister Avery Tunney joined Sofia Zharyy to take second in the discus. Ellison Weiner and Anika Moskal took third in the pole vault.
Not to be outdone by the field performers, the track relays also had a great day headlined by the distance medley relay team of Charlotte Carter, Sofia Taylor, Lianne Saussy and Abigail Miles, who took third and set a new school record of 12:45.48.
Taylor and Saussy joined Weiner and Caitlin McKiernan in the 4x400 meters where they came second in a very fine time of 4:03.28. The 4x800 meters team of Miles, McKiernan, Amelia Rudolph and Campbell Clemens also took second in 9:51.47.
While the boys did not get a medal, they did have a fine performance in the 4x400 meters. The team of Blake Braun, Rex Kaplan, Jack Haythorn and Cooper Capola took 6th place and registered their best time of the year in 3:33.81.