Eight Eagle Scouts in Class of 2022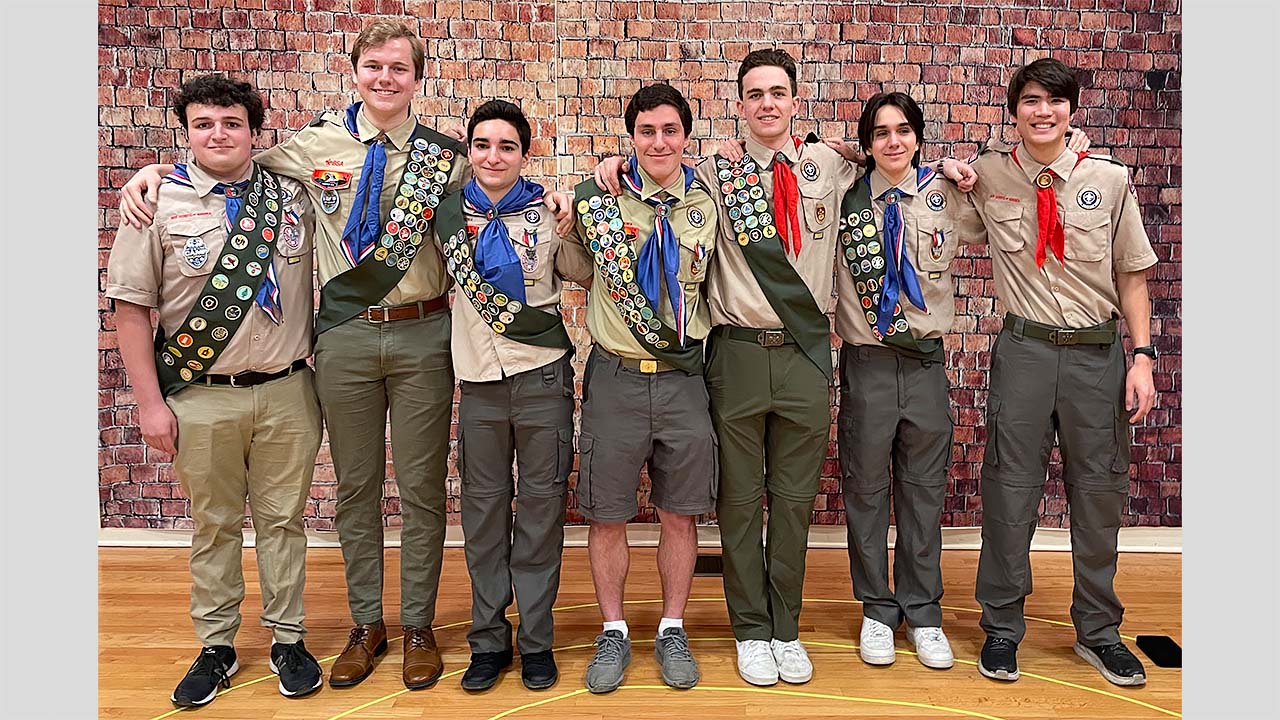 Weston High School's Class of 2022 now counts eight Eagle Scouts among its classmates: Hayden Bilfield, RJ Bos, Blake Braun, Henry Hayden, Cole Mancinelli, Gabriel Paknia, Douglas Phillips, and Matthew Schreder.
Four of the Eagles started as Tiger Cubs as Hurlbutt Elementary School first graders. The rest joined later while at Hurlbutt or Weston Intermediate School.
As Cub Scouts, many camping adventures were had, some on the grounds of The Weston Historical Society's Coley Homestead. Every year, the Scouts designed and made race cars out of a block of wood for the Pinewood Derby race held at Weston Middle School.
There were yearly popcorn sales in Weston Town Center, visits to the Weston Fire Department and the Weston Police Department, and other nearby nature and community organizations. There were also exciting overnights on battleships, including The Intrepid, and in museums, including The Museum of Science in Boston.
After crossing over to Boy Scouts at the end of fifth grade, the scouting activities got a bit more intense, with white water rafting, biking trips, and optional high adventures.
Activities
Some of the Scouts spent a week on a sailboat at the Boy Scouts of America's Sea Base in St. Thomas, U.S. Virgin Islands. Some attended the Boy Scouts National Jamboree in West Virginia, where they took part in wilderness adventures including mountain climbing and ziplining at the BSA Summit Bechtel Reserve. Some had the opportunity to hike the great peaks of Colorado. During the summers, most spent a week at Camp Sequassen in New Hartford. And, every year, they sold and delivered holiday trees and wreaths at The Onion Barn.
To become an Eagle Scout, Boy Scouts rise through the ranks of scouting: Scout, Tenderfoot, Second Class, First Class, Star, Life, and, finally, Eagle. They are required to earn at least twenty-one merit badges.
Thirteen of these badges are Eagle-required, including Cooking, Camping, First Aid, Emergency Preparedness or Lifesaving, Environmental Science or Sustainability, Citizenship in the Nation, and Personal Management. They are also required to volunteer in the community and hold positions of responsibility within the Scout troop.
The crowning achievement of an Eagle Scout's journey is the Eagle Scout Service Project. Each Scout conceived of, planned, and executed their project in cooperation with and to benefit a community organization with the help of fellow scouts.
Service projects
Hayden Bilfield built a sustainable organic herb garden at Lachat Town Farm for the Giving Garden that helps sustain the food pantry. RJ Bos built an enclosure for hunting falcons for Christine's Critters. Blake Braun handcrafted and painted a Warhammer miniatures army to support the Weston Library's Warhammer Club.
Henry Hayden built a trail footbridge in Trout Brook Preserve for Aspetuck Land Trust. Cole Mancinelli worked with the Committee of Veterans' Affairs to identify four Weston veterans to interview and document their service to our country.
Gabriel Paknia digitized Beth Israel Synagogue's 900 cemetery records into an online database accessible to congregants. Douglas Phillips built an exhibit of antique farming tools for the Weston Historical Society. And, Matthew Schreder painted and refurbished the youth room at Norfield Church.
Since the inception of the Eagle Scout award in 1912, only two percent of eligible Scouts have earned Scouting's highest honor. Weston's Eagles join an impressive list of notable Eagle Scouts including the first man on the moon, Neil Armstrong, Associate Justice of The United States Supreme Court Stephen G. Breyer, Microsoft co-founder Bill Gates, Academy Award-winning film director Steven Spielberg, and former U.S. Secretary of Defense and the BSA's 35th National President, Dr. Robert M. Gates.
In the photo above, from left to right: Eagle Scouts Henry Hayden, Matthew Schreder, Gabriel Paknia, Douglas Phillips, Hayden Bilfield, Cole Mancinelli, Blake Braun.
In the photo below, RJ Bos.