Emmanuel Bonfire Canceled, Warm-Up Donations Continue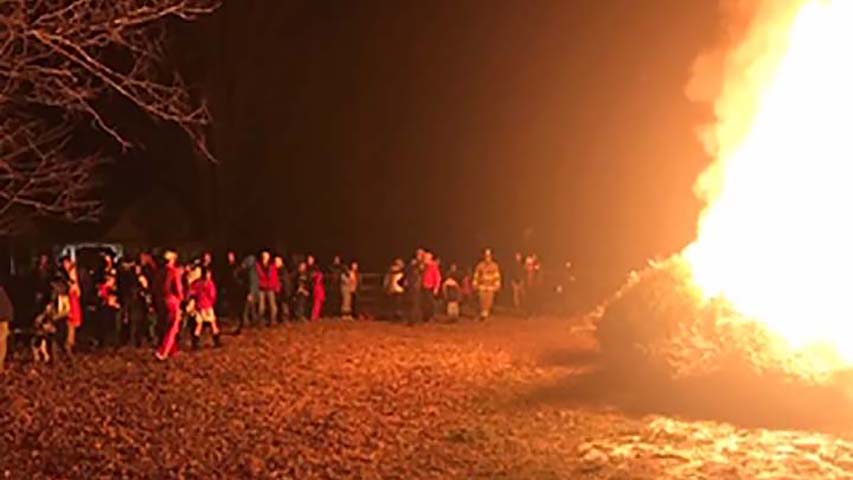 Update, December 31, 2021
This article has been revised from its original edition, as the bonfire scheduled for January 8 was canceled due to the current Covid-19 outbreak. Christmas trees can still be dropped off or picked up for a donation that supports the Weston Warm Up Fund.
The popular Emmanuel Community Bonfire scheduled for Saturday, January 8 has been canceled due to high Covid-19 case rates.
A mound of donated Christmas were to be set ablaze, supervised by the Weston Volunteer Fire Department, with 100 percent of proceeds going to the Weston Warm Up Fund. Light refreshments would have been served.
Despite the cancelation, the tree collection and donation effort continues. If you have access to a pickup truck, the organizers could use your help. Trees can either be dropped off or picked up. In the latter case, volunteers with trucks are needed. Just call the church office at (203) 227-8565 to let them know you can lend a hand.
The suggested donation for a tree pick-up is $40. For a drop-off, the suggested donation is $30.
Trees can be dropped off after January 2 in the field to the left of the Emmanuel parking lot, 285 Lyons Plain Road.
You can request a pick-up online here. Or call the Emmanuel office at (203) 227-8565.
Payment can be made by check payable to Emmanuel Church or by Venmo to @emmanuelweston.