October Proclaimed Domestic Violence Awareness Month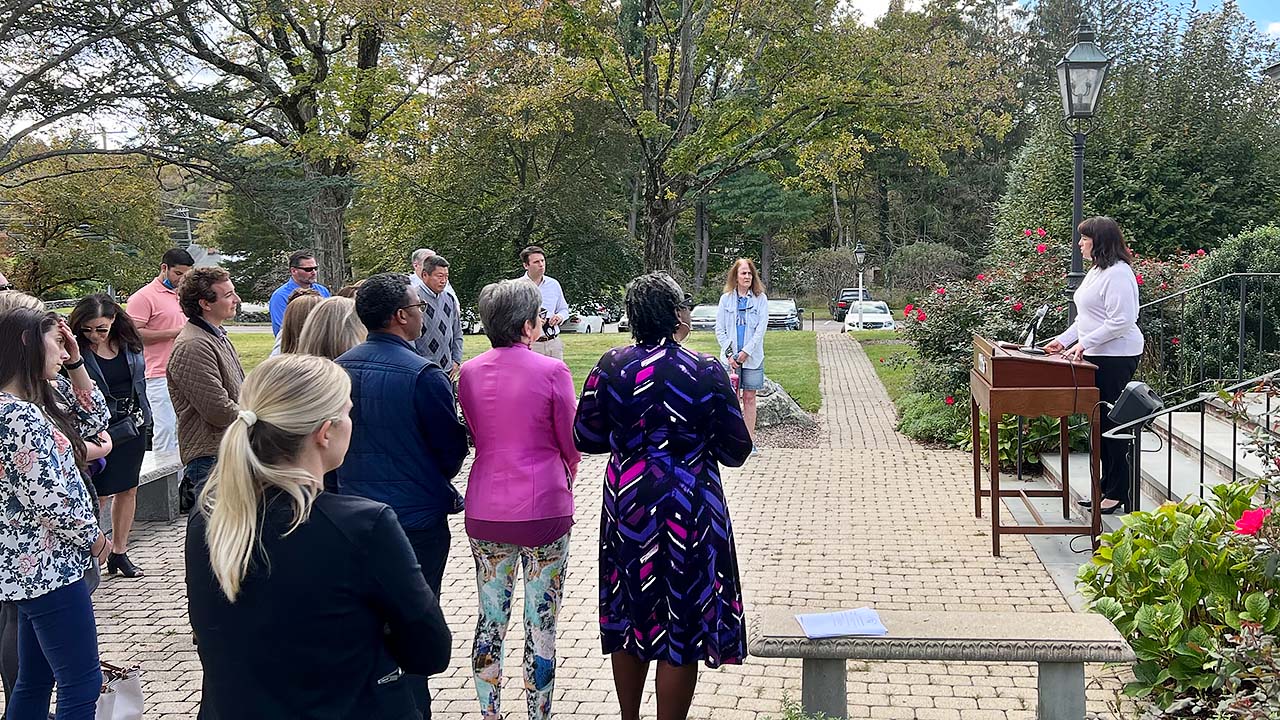 Suzanne Adam of the Domestic Violence Crisis Center speaks
On Thursday, First Selectwoman Samantha Nestor proclaimed October as Domestic Violence Awareness Month in a ceremony on the front steps of Town Hall, joined by Domestic Violence Crisis Center Executive Director Suzanne Adam and Weston's delegation to the Connecticut General Assembly.
"Make sure you have this number in your phone contacts," said State Senator Will Haskell:
(888) 774-2900
"You will come across somebody, maybe not tomorrow, maybe not the next day, but in the next year, someone who needs access to these services." The number is a 24-hour hotline offering free, confidential assistance 365 days a year.
"Domestic violence remains a public health crisis that has only been exacerbated by the Covid-19 global pandemic," said the First Selectwoman in her proclamation. "In the state of Connecticut, 37 percent of women and 33 percent of men experience intimate partner violence or sexual assault in their lifetime."
"Anyone can become a victim"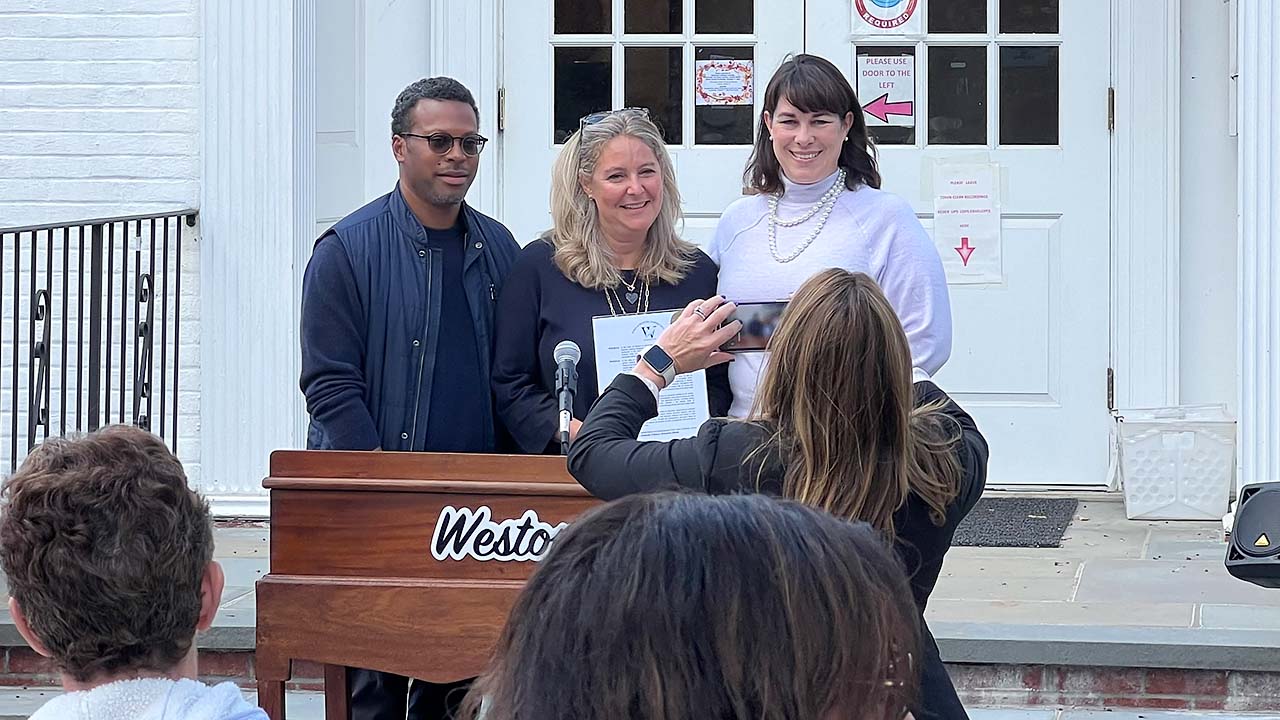 Selectman Martin Mohabeer, First Selectwoman Nestor, Ms. Adam
Victims "come to us in their very worst moment," said Ms. Adam. "Leaving is the most dangerous time for a victim of domestic violence."
"Anyone can become a victim," she said, adding that domestic violence is "rooted in power and control," a "pattern of behavior that does not always manifest itself physically," but also "verbally, emotionally, and financially. It is likely that someone you know has been a victim."
State Senator Tony Hwang praised the efforts of the social workers at the Domestic Violence Crisis Center and said that, for victims, "we must raise the awareness that you are never in this alone."
State Representative Anne Hughes said police chiefs report that "the number one crime during Covid is domestic violence," and said more must be done in the justice system.
Rep. Hughes said new state legislation redefines abuse to include coercive control, but work remains for the justice system to adapt. "This is new to judges, but not to victims," she said, adding that investments are needed in child care and economic access. "It doesn't matter what zip code you have if you are trapped by the system."
The impact on children
Senator Haskell said 15 percent of all crime is related to domestic violence, "and that's only what is reported." He also made particular note of the impact on children.
"One in 15 children are witnesses to domestic violence," said the senator. "That makes them more likely to perpetrate it in their family when they grow older. We must end it, and we must break the cycle of violence."
"We mourn those we have lost," said Ms. Nestor in her proclamation, "and honor and support all survivors as they courageously move forward to enjoy full and healthy lives."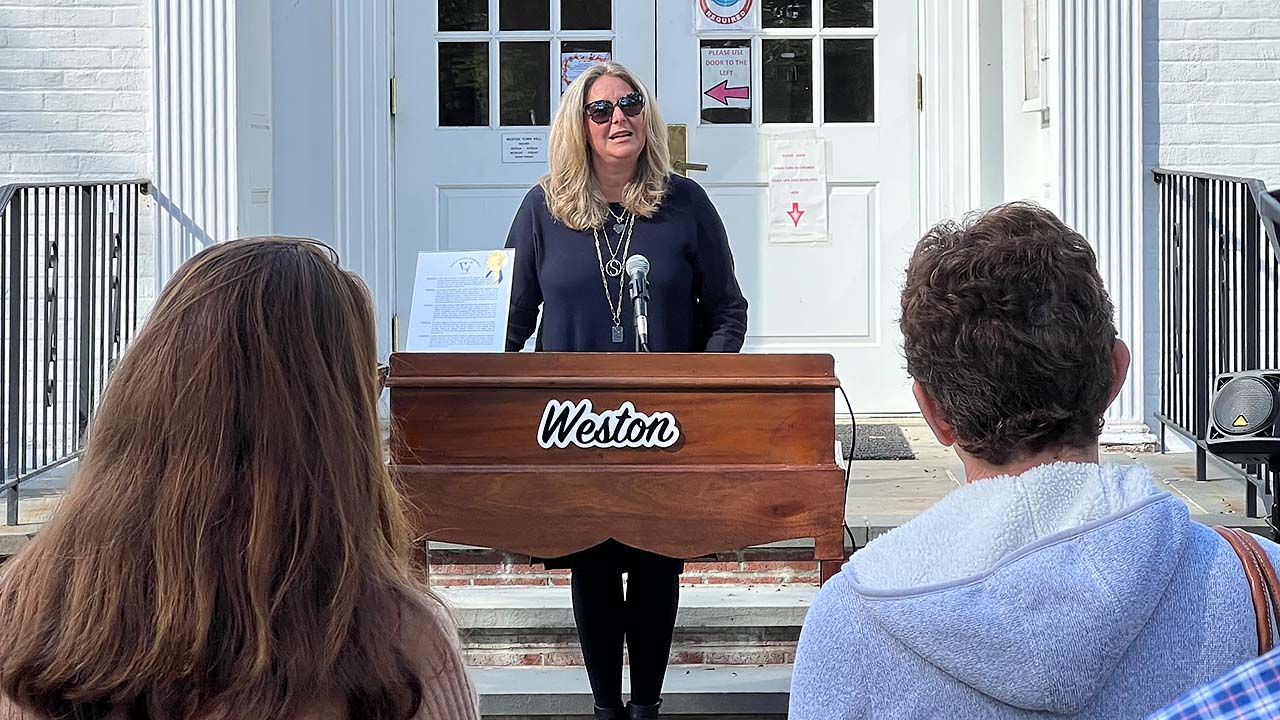 First Selectwoman Nestor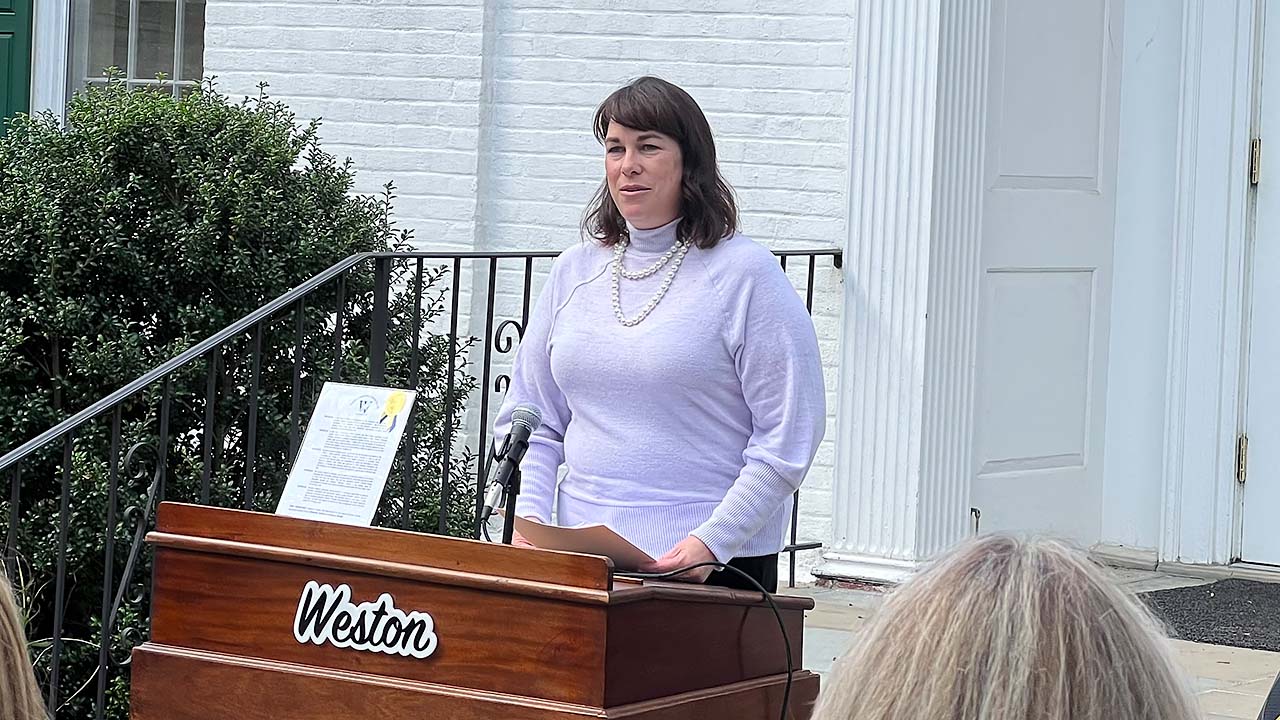 Ms. Adam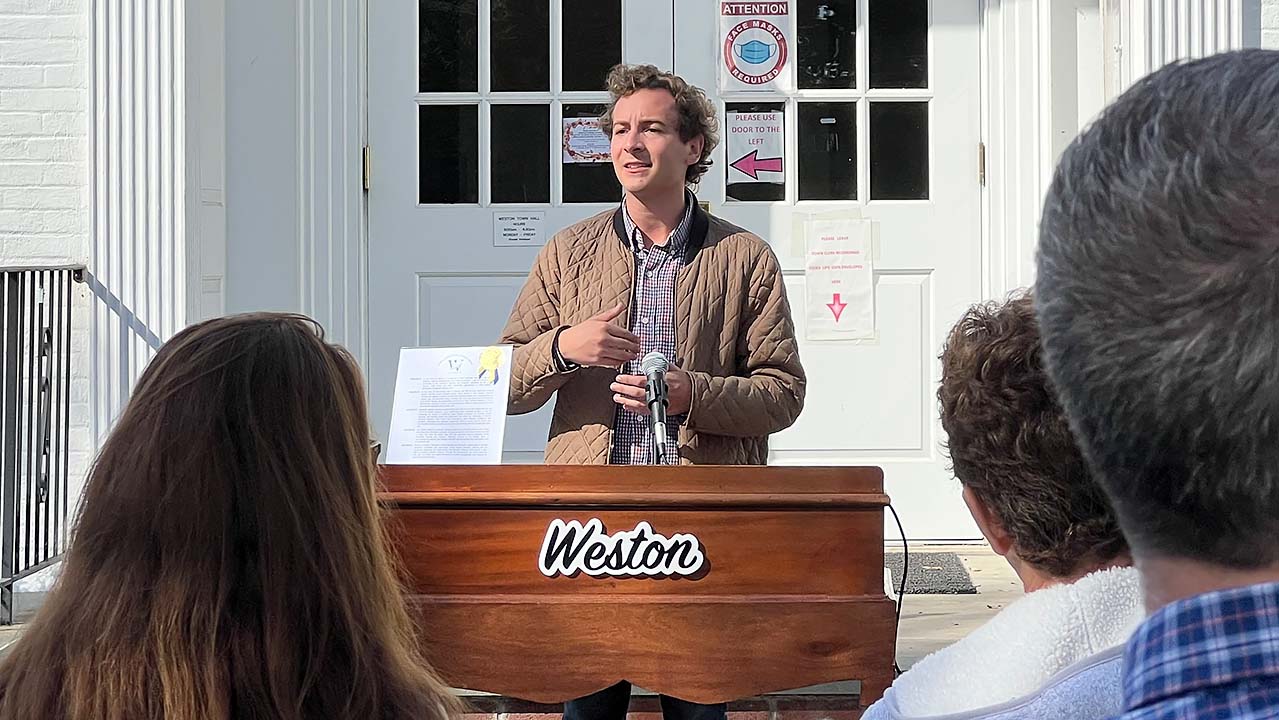 Senator Haskell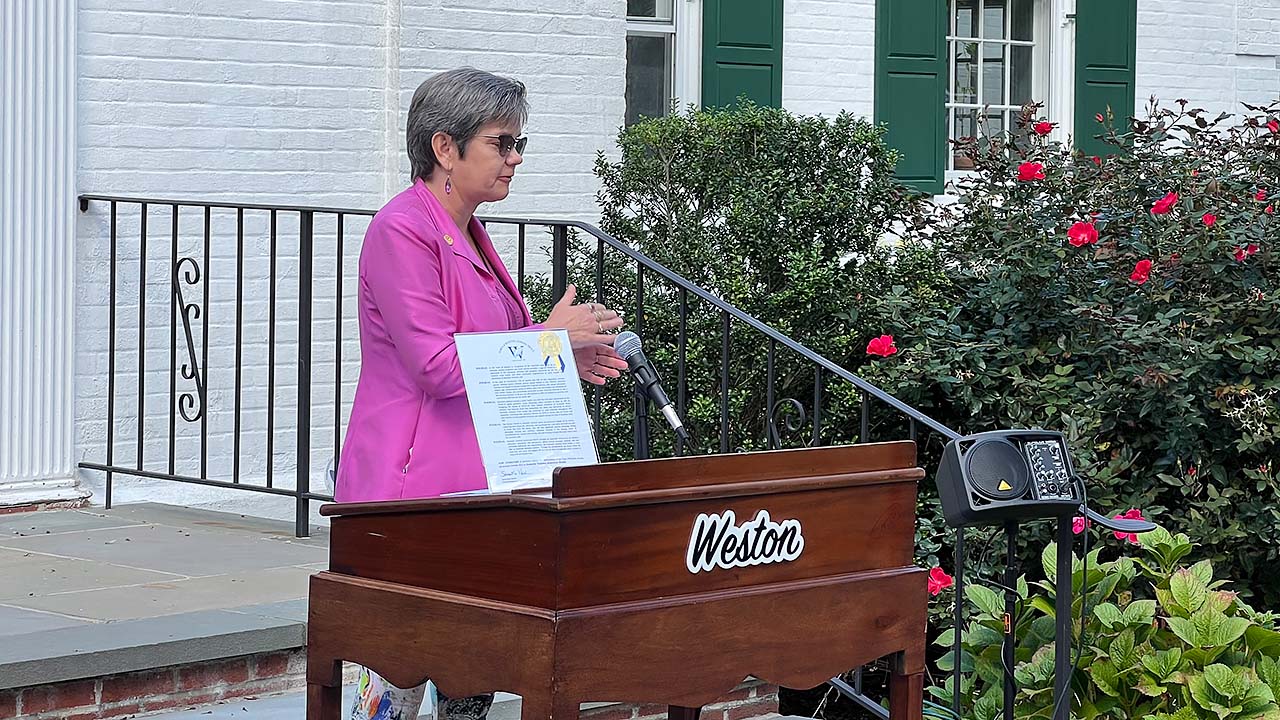 Rep. Hughes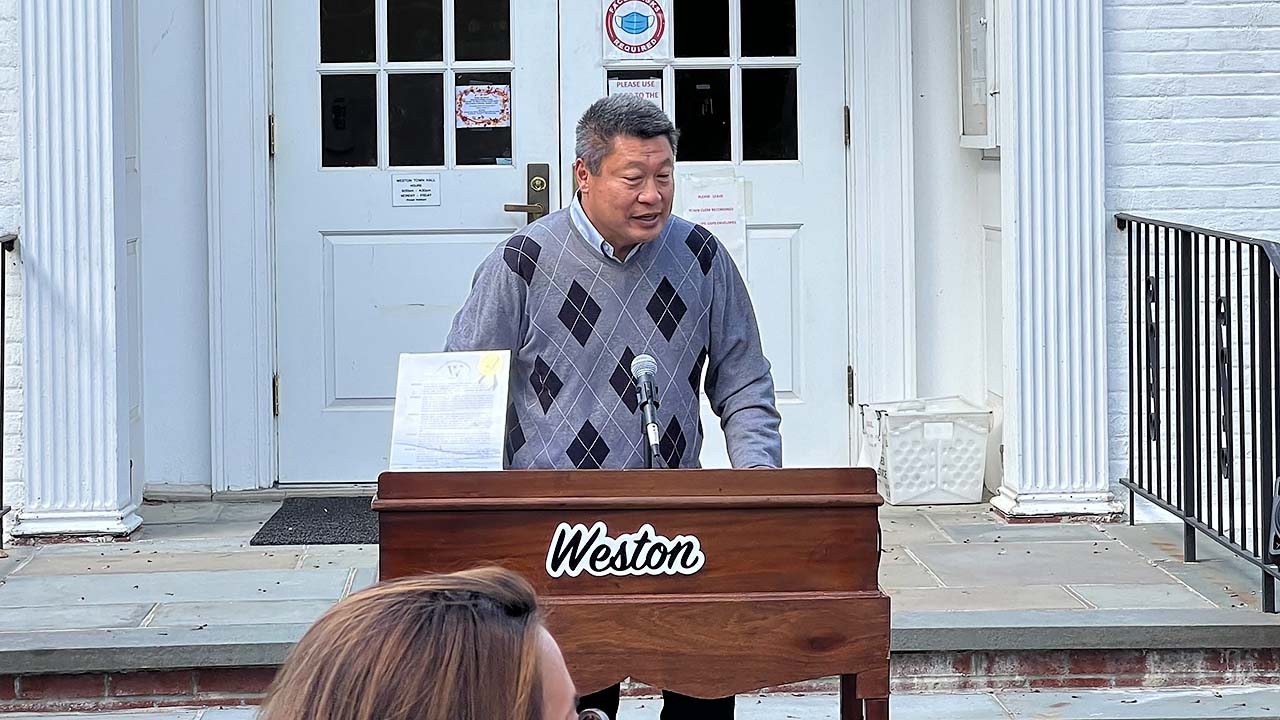 Senator Hwang