Annette Jensen Sandstrom, 107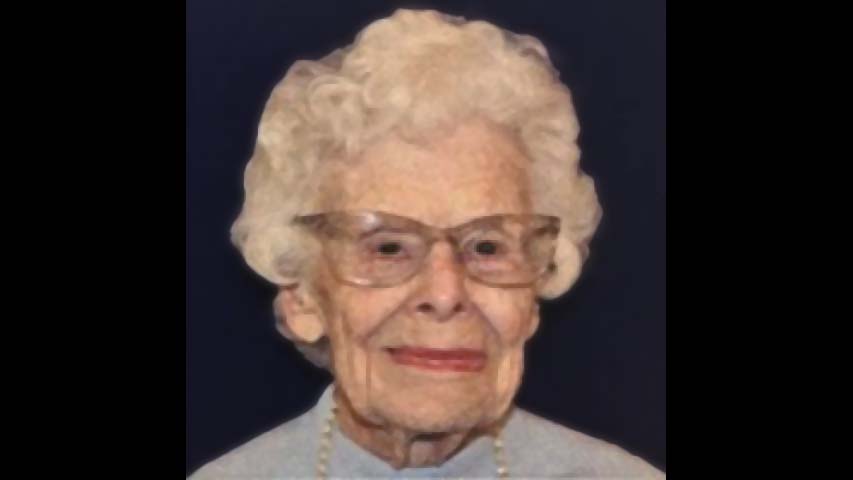 Annette Jensen Sandstrom, 107, of Wallingford, wife of the late Ejnar "Sandy" Sandstrom, died on September 13, 2021 at Masonicare of Wallingford, CT. The cause was cancer.
She was born in New Haven, Connecticut on November 26, 1913, to Emil and Mary Jensen. Her parents lived in Wallingford at the time of her birth, but moved back to New Jersey when Annette was 2 years old. Emil was a jewelry engraver. In Wallingford work was hard to find so Emil returned to New Jersey. He did many jobs including driving a horse-drawn bakery truck. He eventually found work at the post office, which is where he spent the remainder of his work life. In New Jersey he enjoyed the Masons, becoming Past Master then Secretary of his Lodge.
Annette graduated from Kearny New Jersey High School in January, 1931. Because she had learned to use the Stenotype machine, in addition to shorthand, she secured a job at Bell Labs in Manhattan, N.Y. during the Great Depression. She became secretary to a group working on the early development of guided missiles in 1941. And she loved it! In later years she was Executive Secretary to one of the Vice Presidents of Pepperidge Farm in Connecticut.
In 1947, Annette met Sandy Sandstrom. They dated for 4 years before marrying on April 27, 1952. Sandy's work allowed them to live in a variety of places: Pennsylvania, Cape Cod, Pennsylvania (again), and then to Norwalk, Connecticut. Eventually they moved to Weston, Connecticut and both worked at Pepperidge Farm. They lived in Weston until Sandy's death on July 13, 1980.
In 2002, after 40 years in Weston, Annette came back to Wallingford. She moved to Ashlar Village, living in one of the cottages for 13 years before moving to an apartment. An active volunteer, Annette gave her time and talent helping to print early editions of the Ashlar Verbiage newsletter. She delivered the in-house mail for Cluster 5. She read to and with the students at Cook Hill School, and she knitted care shawls, sweater sets, and baby blankets as well.
Annette was an avid traveler and enjoyed trips around the world including Europe, Asia, the Orient, and South America. She had a deep appreciation of nature, loved swimming, hiking, and was a supporter of the Nature Conservancy and the Appalachian Trail. She also enjoyed music, ice skating, and street roller skating. Her gardens at the Weston house were a testament to her love of and skill at gardening.
Annette retained her intellectual curiosity for the duration of her life, reading the Sunday New York Times as well as the local paper. Her positive attitude was an inspiration to all, and she became a bit of a celebrity in her later years. When asked the secret to her longevity, Annette would say "3 things: vitamins, exercise, and Scotch!" She was loved by her family and spent many memorable Christmas Eves with the Sandstrom family in Brockton, Massachusetts and Christmases with the Costin/Witham family in Maine.
Annette had a special relationship with her niece, Carol Witham, who died in 2017. Other family members and special friends include nephew Bob Witham, Peter Witham and Susan Alperin, Patrick and Paula Costin and their sons Thomas and Jacob, nephew Richard Sandstrom and his wife Terry, Linda and David Gagner and Luc Violette, Terry and Wayne Wagner and their children Jannene, Sharyl, and Charles.
The family would like to thank the staff at Masonicare and Hospice for their excellent care, especially Michele and Denise whom Annette considered close friends.
Arrangements are under the direction of The Wallingford Funeral Home. Please leave a message of remembrance on Annette's online guestbook located at: wallingfordfh.com.
Notes of condolence may be sent to:
Bob Witham
15 Piper Road Apartment J302
Scarborough, ME 04074