Family Fun Carnival, October 2–3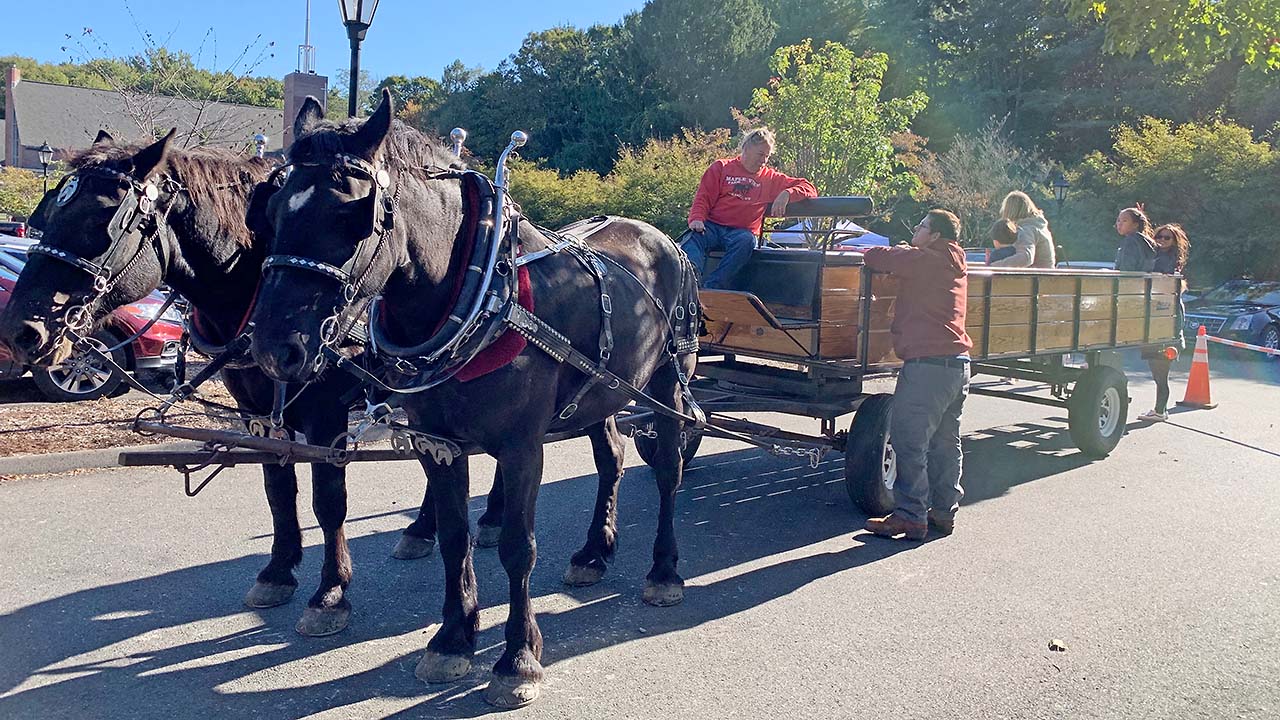 The annual Family Fun Carnival at St. Francis of Assisi Church runs, rain or shine, on Saturday and Sunday, October 2 and 3 from noon to 6:00 each day.
Enjoy inflatables, games, hayrides, live music, food, drink, craft vendors, and drawings for great prizes.
Young kids will have fun on a dual slide, a Jurassic Park bouncy house, and a bouncy house combined with a slide. Older kids will enjoy bungee and laser tag. Inflatables are a hit with all ages.
Bracelets will be sold each day for all-day limitless rides, which include the Carnival's ever-popular horse-drawn hayride. That takes place on Saturday, from 1:00 to 5:00.
Children at the Carnival always enjoy face painting and a variety of games: Soda Pop Ring Toss, Candy Game, Pop-a-Balloon, and Break a Plate. Winners are declared all day long. Adults over 21 always enjoy their own games: Win Some Cheer, Mystery Boxes, and Outdoor Fun.
The Carnival also features craft vendors, a silent auction, a drawing for high-value prizes, hamburgers, hot dogs and the like from some of the most popular food trucks around, wine, and beer.
And live music.
On Saturday from 1:00 to 3:00, it's Fairfield School of Rock. Then, from 3:30 to 5:30, Furious George Band takes the stage.
On Sunday, Fairfield School of Rock returns from 1:00 to 3:00, followed by Doug Allen from 3:30 to 5:30.
"We missed this last year," said Sandra Jester, the Carnival chairperson. "So we're coming back even bigger and better than before with a two-day event. This is the 11th anniversary of the Carnival and we love how this has become a fun event to bring families in Fairfield County together. With food, entertainment, rides, games, and lots to do, there is something for everyone."
The blessing of the animals
The return of the Carnival brings the return of another popular event: animals and their pet parents are invited to a blessing of the animals on Saturday at 11:00, before the Carnival begins. It is held in the church parking lot.
St. Francis, the Patron Saint of Animals, had a great love for animals and the environment. Born in 1181, he preached that it was our duty to protect and enjoy nature and everything in it. The blessing of the animals is held in his honor, with all religions welcome.
Our thanks to Linda Nash. Below, scenes from the Carnival in prior years.