YMCA Offers Parkinson's Program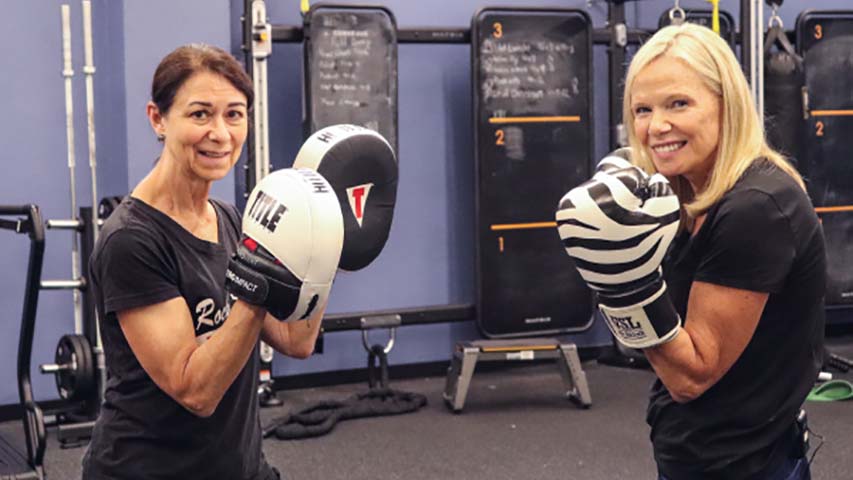 Contributed photo: Brenda Waldron (left) and Lynn Hagerbrant (right)
This fall, the Westport Weston Family YMCA offers a Parkinson's Disease Body and Mind program aimed at reducing symptoms and improving quality of life for those living with the disease.
The program is designed to provide a comprehensive health, wellness, and peer support portfolio. Sessions led by certified instructors include customized exercises and interactive classes such as boxing, yoga, and Tai Chi. A support group is for patients as well as care partners.
Parkinson's Disease Body and Mind also includes mind-body therapies such as meditation, biofeedback, and breathing techniques. Presentations and discussion sessions are held with experts in the field. It is being run in partnership with Shakers Anonymous, a Parkinson's Disease support group which first launched the program at the Greenwich YMCA in 2019.
A collaborative effort
Co-founder Lynn Hagerbrant described Shakers Anonymous as "a wonderful group of people who are so encouraging, and it is mainly peer managed by PD patients."
The program is also a collaboration with Columbia University's Engage PD program, which is funded by the Parkinson's Foundation. Engage PD's role is to help implement one-to-one coaching, safety assessments, class placement, goal setting, and physical activity monitoring to promote safe exercise.
Free for members
The Parkinson's Body and Mind Program is free for Westport Weston Family YMCA members living with Parkinson's, regardless of their level of mobility. Non-members may join the program for a fee or for drop-in classes based on availability.
For more information, visit the YMCA website or call Denise Hotch at (203) 226-8981.
For resources and more information about Shakers Anonymous, visit the group's website: shakersanonymous.org.