Democrats Endorse Nestor, Mohabeer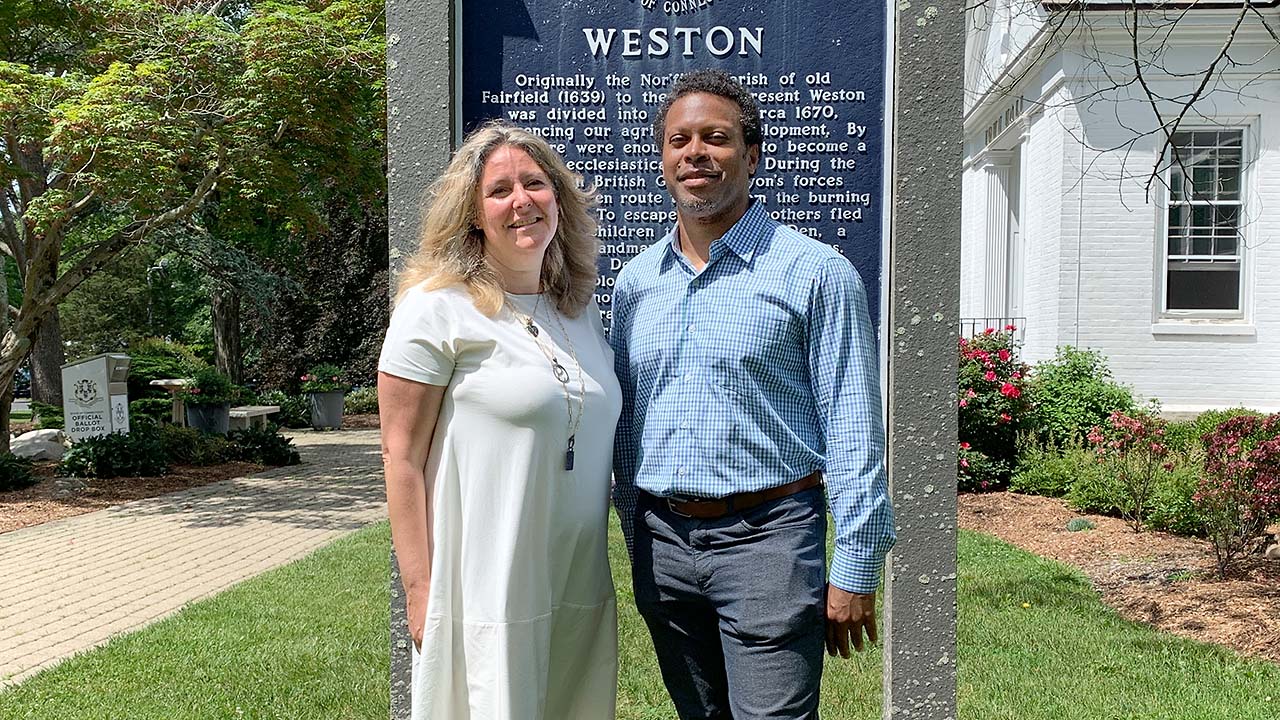 Announcing its slate of candidates for this year's municipal elections, the Democratic Town Committee has endorsed Selectwoman Samantha Nestor for the office of First Selectman and Martin Mohabeer for a seat on the Board of Selectmen. The committee also named candidates for boards and commissions that will appear on this year's ballot.
Ms. Nestor
Samantha Nestor has been a member of the Board of Selectmen since 2018. A 13-year Weston resident, she previously served on the Board of Education and chaired the Town's Marketing and Communications Advisory Committee.
Professionally, Ms. Nestor co-founded Chrysanthemum Partners, a strategic communications consulting firm, and has a background in real estate, design, arts, media, and not-for-profit work. "I believe in Weston and the good faith and intent of our community to make the town a better place to live," she said in a statement. "I am ready to step up, along with Martin, and do even more to lead our town."
Mr. Mohabeer
Martin Mohabeer, a five-year Weston resident, currently serves on the board of the Weston Education Foundation and is a member of the Town's Diversity, Equity and Inclusion Advisory Committee.
Professionally, he is a Managing Director of Spackman Group, a privately-held investment conglomerate. "My sincere thanks to the Weston DTC for their endorsement," he said in a statement. "Your support will help me engage our community in an election where I hope fresh voices can be heard and welcomed by our voters."
Board of Finance
Democratic incumbent Steve Ezzes, the current Board of Finance chair, won his party's endorsement for reelection. The DTC also endorsed Michael Imber, who recently interviewed with the Board of Selectmen to fill a vacancy caused by the recent resignation of Allan Grauberd. Mr. Imber is a Managing Director at Conway MacKenzie, a financial advisory firm, focusing on fiscal sustainability for municipalities.
Board of Education
The DTC endorsed for reelection current Board chair Tony Pesco and member Taffy Miller. The committee also endorsed incumbent Sharon Ferraro, who was recently appointed by the Selectmen to fill a vacancy.
Bernadette Kingsley also won her party's endorsement. Dr. Kingsley, a four-year Weston resident with two children in public schools, has ten years of experience as a classroom teacher. Previously, she was an education data analyst for Morgan Stanley.
Board of Police Commissioners
Incumbent Dawn Egan was endorsed for reelection by the DTC, which also endorsed the candidacy of John Dembishack. Mr. Dembishack, a 12-year resident, is a member of the Weston Volunteer Fire Department. He is Director of Professional Services and Technology at Flagship Networks, a technology consulting firm.
Planning and Zoning Commission
Incumbent P&Z member Sally Korsh was endorsed for reelection. The DTC also endorsed the candidacy of Megan Loucas, an architect who is currently an alternate on the Zoning Board of Appeals and a member of the town's Building Committee.
Zoning Board of Appeals
For reelection, the DTC endorsed incumbents W. Macleod Snaith and James Low.
Board of Assessment Appeals
The DTC endorsed the candidacy of Anne Kendall. Ms. Kendall is currently a member of the Historic District Commission. She is Technical Director of Theatre Fairfield at Fairfield University.