Builders Beyond Borders: Volunteering at Home and Abroad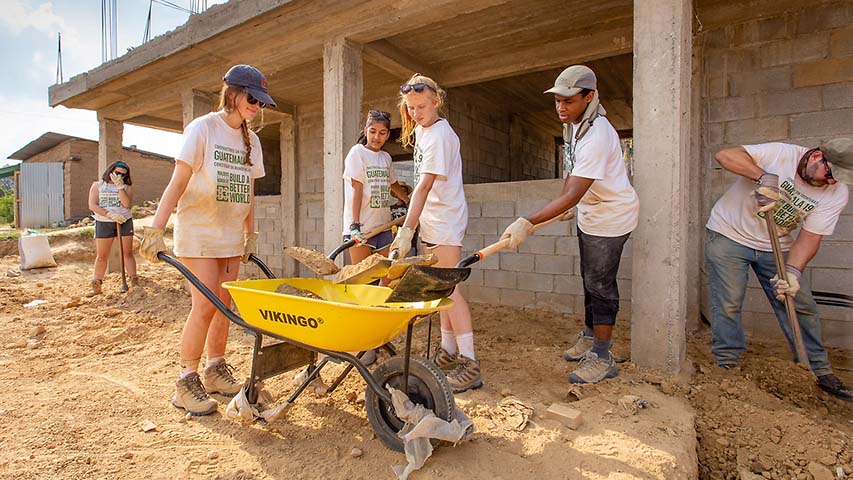 "Volunteering is good for everybody," said Amy Schroeder-Riggio, Executive Director of Builders Beyond Borders. "It's an inclusive and impactful experience that really brings life into perspective."
Since its establishment, the Norwalk-based nonprofit Builders Beyond Borders (also known as B3) has served both the local and global community through its mission to "build a better world," a goal that they have worked diligently to accomplish by engaging high school students in both regional and international volunteer events. Possibly the most well-known of these events is the annual B3 trip to South America, which consists of a week spent building sustainable facilities in that year's selected country.
As a part of this international experience, B3's high school student volunteers are grouped into teams (which typically consist of 20-25 students and 4-5 adult advisors) that meet regularly over the course of the year for local community service events, allowing participants to form strong bonds and develop lasting friendships before embarking on the trip to South America.
Once abroad, B3 teams spend a week living in the community they are building in, allowing them to better meet the needs of the people living there by becoming fully immersed in the culture.
Helping an entire population
"It's very important to ask the community what their needs are," said Ms. Schroeder-Riggio, who emphasized the value of partnership, communication, and open dialogue when seeking to build something that will benefit an entire population.
In prior years, Builders Beyond Borders has visited a multitude of South American countries, such as the Dominican Republic, Costa Rica, Nicaragua, and Guatemala. Construction projects have included medical centers, schools, aqueducts, homes, and other community-based facilities.
Lisa Wolak, Weston Public Schools' soon-to-be Superintendent, B3 Team Leader, and member of the B3 Board of Directors, has been volunteering with B3 since the organization's 2011 trip to Guyana.
Ms. Wolak described her experience with Builders Beyond Borders as "incredible," and a great opportunity that enables students to become both collaborative team players and empowered global citizens.
"An important and meaningful cause"
"Volunteering with B3 has been the best experience of my life," said Staples High School senior Sophie Lynch. Ms. Lynch has been an active participant in B3 throughout her high school career, earning her the B3 leadership positions of Amigo and Ambassador. She is currently an intern for the organization.
"The whole process of working together for such an important and meaningful cause is incredibly motivating," she said. "The work we're doing on our trips really makes a difference, and I think that the communities we visit ultimately help us even more than we help them by opening us up to what the world has to offer. It shows you that there's so much more to life than the superficial and the material."
Ms. Lynch, who will be starting college this upcoming fall, is planning on spending her freshman year studying abroad. "I wouldn't be doing this if it weren't for B3," she said.
"The essence of the program is to create opportunities and hope for the communities we work with. We're listening to the needs of the people and we're doing everything we can to address them," said Jason Corsi, one of B3's adult advisors. "It's also about pushing our own limits and having breakthrough moments as a team of volunteers. We come into this experience as strangers and come out as a family."
A local program for eighth graders
In addition to Builders Beyond Borders' main program, the organization also hosts the B3 Local program and the brand new B3+ Summer Program.
B3 Local is a Builders Beyond Borders program specifically designed for eighth graders interested in participating in regional community service projects, providing younger students with an opportunity to be involved in B3 before starting high school and becoming eligible for the international program.
The program heavily emphasizes the value of teamwork and leadership through volunteerism at a community level, with past service events including partnerships with Earthplace, Homes with Hope, Save the Sound, Al's Angels, Circle of Friends, the Stamford Food Bank, the Audubon Society, and many others.
In addition to engaging in local volunteerism, students participating in the B3 Local program can participate in classic B3 events such as Brains Beyond Borders (a trivia competition night) and Despedida (an end of year celebration that includes the "B3 Olympics" and annual charity raffle). Participants in the B3 Local program are also eligible to earn the President's Volunteer Service Award for above and beyond community service.
New: a summer program
Builders Beyond Borders will also soon be running their inaugural B3+ Summer Program: a brand-new addition to the international volunteer trips typically conducted during breaks in the academic year.
This summer, B3 is planning on traveling to Guatemala — making it the nonprofit's fourth visit to the country — and though at this time they haven't finalized the project they will be involved in, it will undoubtedly be an incredible and life-changing experience for all those involved.
"This experience really brings out the best in people," said Cindy Wormser, the B3 Program Director. "The work we do makes such a big difference to us and the communities we're working with, and the relationships and leadership skills our volunteers develop last a lifetime. B3 really is for everyone."
For those looking to get involved, applications for the B3+ Summer Program are currently open. The deadline to enroll is June 15th. To learn more about Builders Beyond Borders, visit the B3 website, check out their virtual information session, or email info@buildersbeyondborders.org.