Great Prizes in an EMS Fundraising Raffle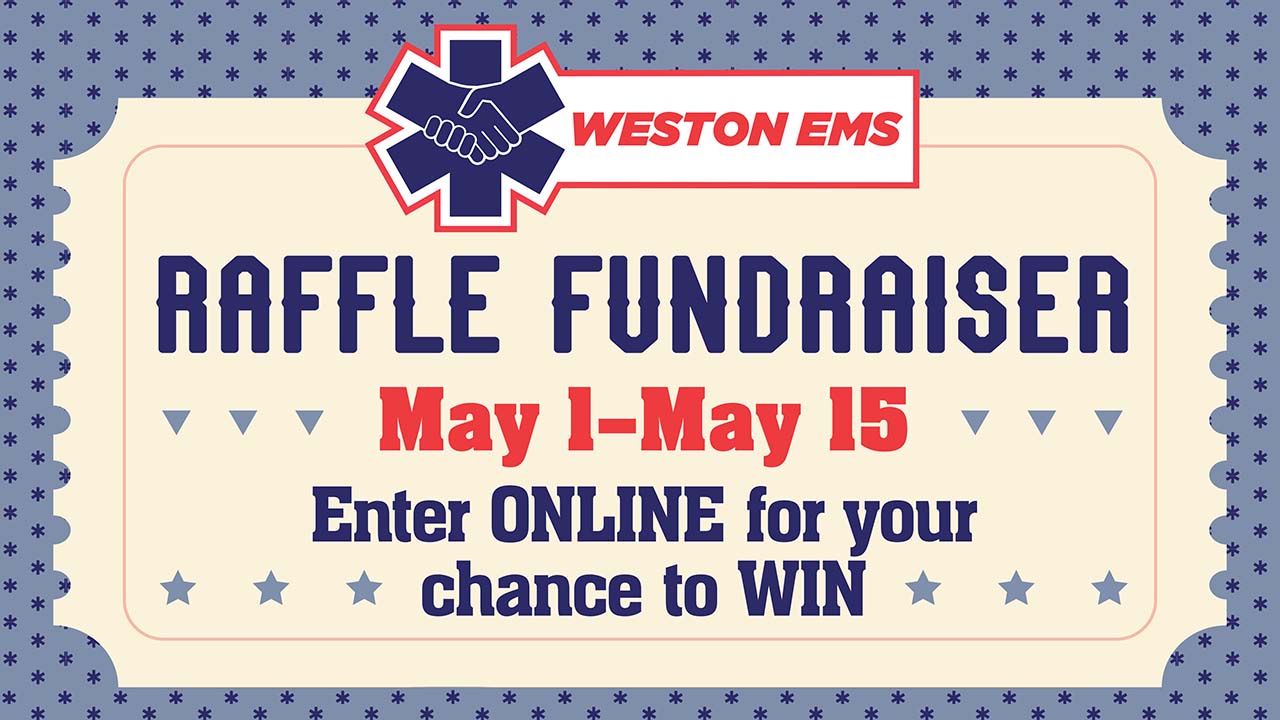 From May 1 to May 15, Weston's all-volunteer EMS holds their first online fundraising raffle.
For you, this is a great opportunity to win valuable prizes. For EMS, it's an opportunity to help fund the ongoing mission to provide emergency medical care and services at no charge. Weston is one of only two towns in Connecticut where emergency services are provided for free.
How to win
You have two ways to buy raffle tickets and win a chance at those great prizes:
Online at westonems.com, or …
… you can simply text 41444 to WestonEMS.
Prizes are worth up to $500. Here are the generous donors:
Restaurants
The Whelk
Black Cat Grille
Kawa Ni
Don Memo
Pink Sumo
Hudson Malone
The Spotted Horse
The Wire Mill
The Lunch Box
Sammy's Pizza
Lombardi's
Gourmet Food & Flowers
Harry & David
AMG Catering
Confetti
Le Rouge Chocolates
Stew Leonard's
1-800-Flowers
Stile's Farmer's Market
Superior Seafood
Savannah Bee
Compo Farm Flowers
Trader Joe's
Arts & Photography
Miggs Burroughs
Elizabeth White
Christine Juneau
Wendy Lewis
Chris Coogan
Nora Leigh Baskin
Pet-Friendly
Weston Animal Doctor
Earth Animal
Choice Pet
Health & Wellness
Westport Chiropractic
Esther Blum
Karen Swanson
Fitness & Sports
Red Zone Fitness
GolfTec
Head Pro Ray Ford
Achieve Fitness
Kate Hall Yoga
Memberships
Weston Racquet Club
MOCA
The Quick Center for the Arts
Lachat Town Farm
Beauty & Fashion
Salon 293
NEST Fragrances
Posh Nail & Spa
PCA Skin, EltaMD & Laboratoires Filorga, Paris
Westport Eyecare
Gioiella Jewelry
Judy Maglione Jewelry
Or …
If you prefer not to enter the raffle, you can always make a direct donation. Weston EMS relies exclusively on the generosity of residents. Donations and legacy gifts are the only source of funding. Weston EMS is a 501(c)(3) non-profit organization, so your donation may be tax deductible.