Lisa Wolak Named Schools Superintendent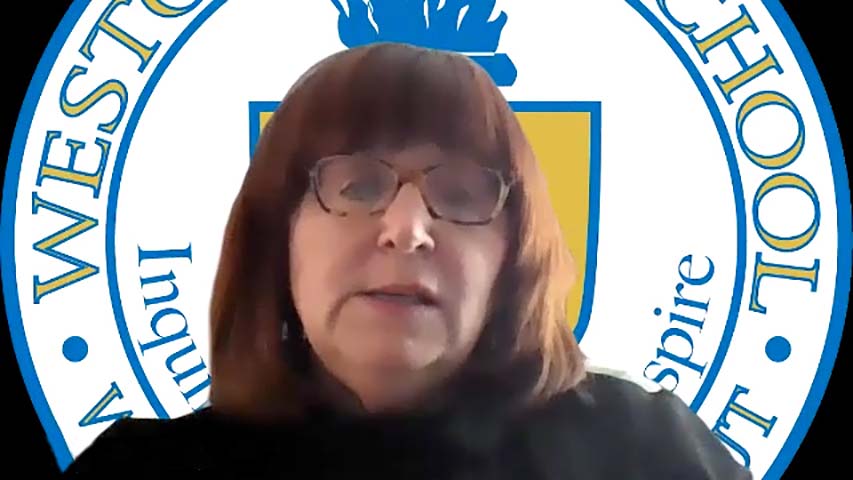 Lisa Wolak on Zoom with the Board of Finance, March 8, 2021
Weston High School Principal Lisa Wolak has been selected to take the reins on July 1 as Superintendent of the Weston Public School District.
Chairman Tony Pesco made the announcement this evening in a special meeting of the Board of Education.
Dr. Pesco described a selection process that involved a nationwide search which produced 28 strong candidates. The Board interviewed the top eight, then narrowed down the list to three who underwent a "rigorous" interview and made a formal presentation on a "specific and relevant" case study. Community input was received in a survey and focus meetings, and the Board engaged a consultant to help guide the effort.
Ultimately, said Dr. Pesco, "it became apparent that we didn't need to look any farther than Weston to find the next superintendent." He cited Ms. Wolak's 30 years experience in Weston schools, 13 as the high school principal.
Board member Taffy Miller said the decision was unanimous, that the Board "saw some really incredible candidates," and in the end Ms. Wolak's "heart, excitement, and creativity made the decision very, very easy."
Melissa Walker said, "excellence exists in Weston. We do education well here in Weston, and Lisa is a testament to that." Ruby Hedge said "we are looking at going from excellent to exceptional."
Hillary Koyner said Ms. Wolak, who has supported Builders Without Borders for ten years, "models philanthropy." Gina Albert said Ms. Wolak's "dedication to the district is admirable," and spoke of a connection going back to Ms. Wolak's earliest work as a Weston teacher.
"You know who we are"
"The competition was fierce," said Victor Escandón. "You know the identity of Weston. You know who we are. More importantly, you know the team."
Dr. Pesco said one line spoken by Ms. Wolak in her interview struck him as "encapsulating of what she is all about." Ms. Wolak had told the Board, "You're going to have candidates who love children. But I love Weston children."
Lisa Wolak has a University of Connecticut undergraduate degree in Latin American Studies and an advanced degree in Multicultural and Bilingual Education from Fairfield University. She completed her superintendent certification program at the University of Connecticut and remains in the doctoral program.
After the vote on her appointment, Ms. Wolak said, "It's truly an honor and privilege to serve as superintendent. I feel very, very fortunate because we have a terrific district staff that, every day, demonstrates their commitment to our children."
"I look forward to partnering with the community," she said, "to ensure that Weston schools bring out the very best that Weston has to offer. Thank you for believing in me."