Nils A. Kindwall, 97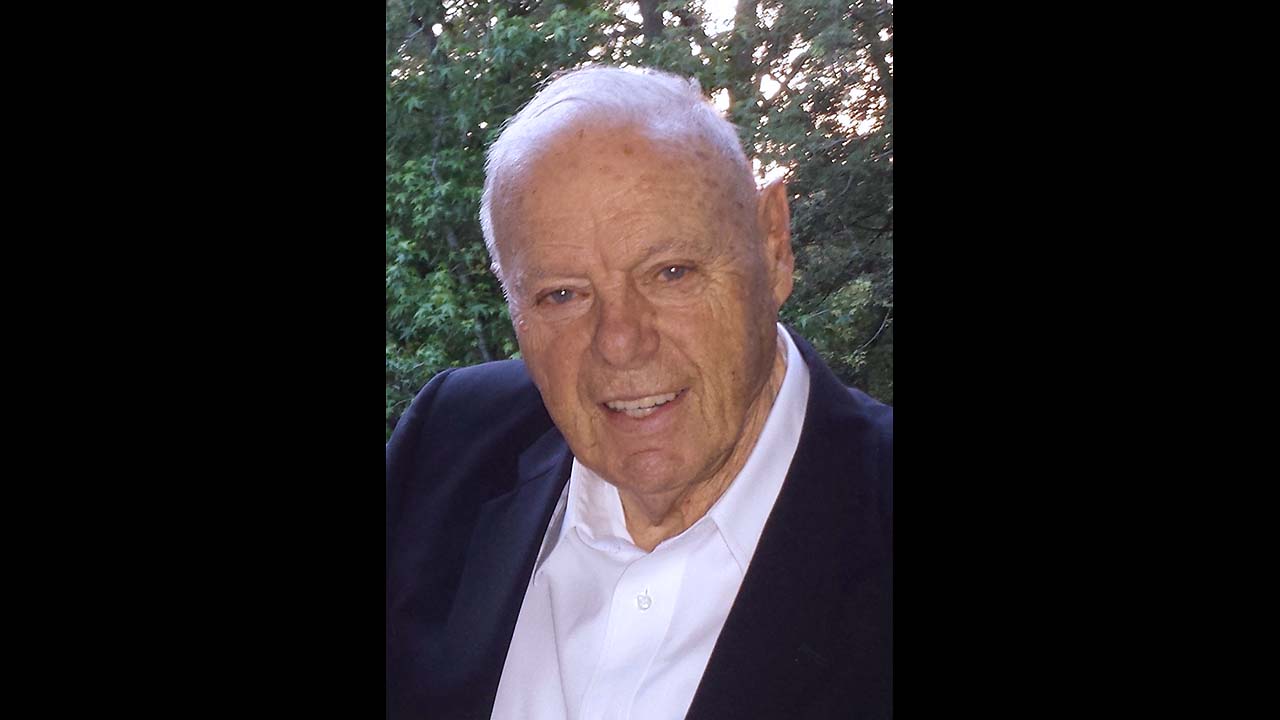 Nils A. Kindwall of Jupiter, FL, died peacefully on February 15, 2021, surrounded by his loving family due to complications of post-polio syndrome. He was 97. Nils married the love of his life, Lucille Shore Kindwall in 1953.
Nils was born in New York City in 1923 to Nils and Maria Abeledo Kindwall. He attended McBurney School in Manhattan, and enrolled at Princeton University as a member of the Class of 1944. There, he joined the Reserve Officer Training Corps. Graduating at the age of 19 in 1943, he was commissioned as a Second Lieutenant in the U.S. Army and assigned to the 78th Infantry Division as an artillery forward observer before being reassigned to Army Intelligence. He retired from the U.S. Army as a Captain and continued his education at Columbia University earning an MBA in 1948.
Nils had a distinguished career in the natural resources industry, first joining Johns-Manville in 1948 and later moving to Freeport McMoRan where he concluded his career as Vice Chairman and Chief Finance and Administrative Officer in 1984. He was known in the finance industry as a pioneer of the project financing concept, and served on many boards, including John Wiley & Sons.
Nils and Lucille moved to Weston, CT in 1960 where they raised their three daughters and were deeply engaged with their neighbors and community. Nils served as Chairman of the Planning & Zoning Commission, a member of the Board of Education (as Vice Chairman of the High School Building Committee), Treasurer and President of the PTO, Chairman of the Nature Conservancy Devil's Den Preserve, President of the Weston Field Club, Grand Marshall of the Memorial Day Parade, and a Finance Committee member at St. Francis of Assisi.
Lifelong nature lovers, Nils and Lucille retired to Jupiter in 1987 where Nils served as a Trustee of the Florida Nature Conservancy; he also became President of the Jonathan's Landing Property Owners Association. Nils was a devoted Yankees fan and shared his love of baseball with his daughters and grandchildren. He played tennis with his friends several times a week well into his 90s. With a quick wit and a kind heart, Nils was generous and compassionate to everyone whose life he touched.
A devoted husband, father, and grandfather, Nils was predeceased by Lucille, his wife of 50 years, in 2003. He is survived by his daughters, Betsy Kindwall Luminais, Amy Kindwall Sanborn, and Sukie Kindwall; and five grandchildren Whit Sanborn, Meg Sanborn-Lowing, Steven Luminais, Chris Luminais, and Matt Luminais. In lieu of flowers, contributions may be sent to the Weston Public Library, 56 Norfield Road, Weston, CT 06883 or The Nature Conservancy, 4245 North Fairfax Drive, Suite 100, Arlington, VA 22203-1606. Due to Covid, the burial will be private, and a memorial service will be scheduled at a later date. For online condolences, please visit boutonfuneralhome.com.