Sports Restrictions Ease, Vaccine Supply Grows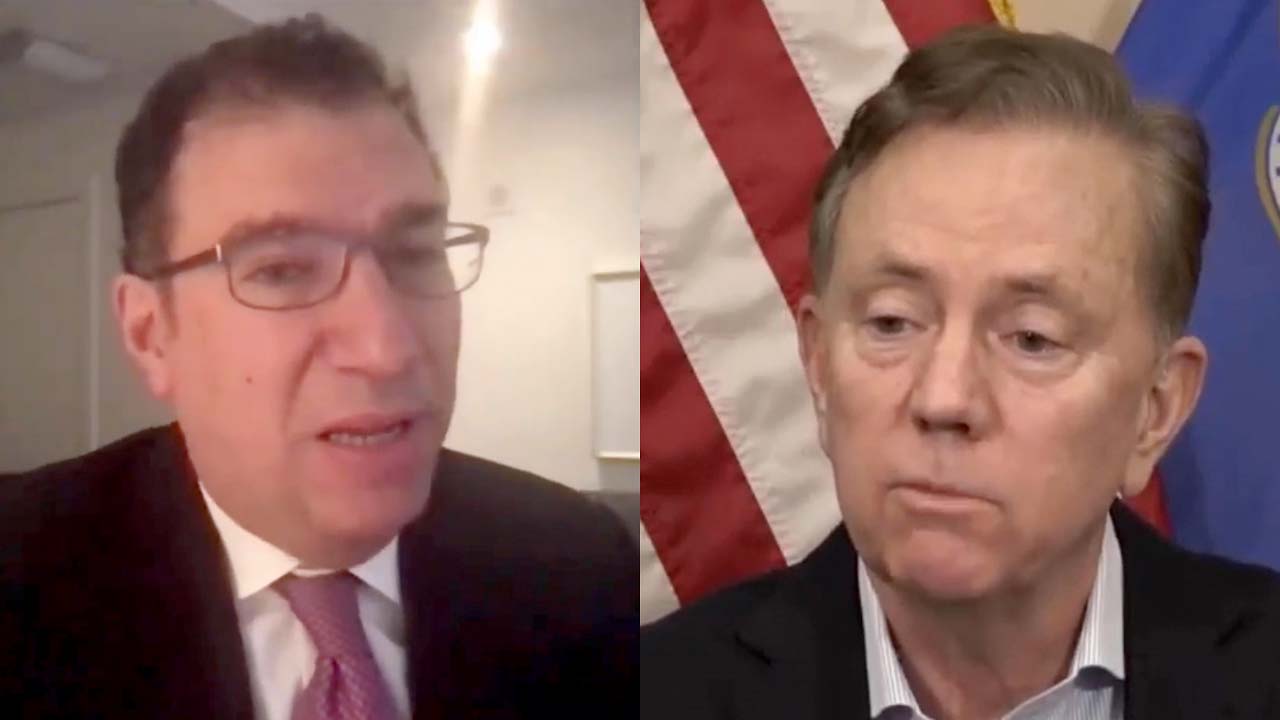 Photo: Andy Slavitt, White House Senior Advisor, Governor Ned Lamont
Connecticut's Covid metrics continue to improve, so Governor Ned Lamont has eased restrictions on youth athletics.
Vaccine supplies are improving as well. The governor is expected to announce early next week when the remainder of Phase 1B will be able to make vaccination appointments.
Youth athletics
On Thursday, Mr. Lamont said competitive cheerleading and dance can resume (with face coverings) and that spectators will now be allowed to attend school sporting events. The limit is 25 percent of a facility's capacity, with a cap of 200 spectators. Interstate sports competitions can resume on March 1.
The governor said new guidance on outdoor sports is coming soon, and hinted that revised capacity limits for indoor dining are also on the way, if health conditions cooperate.
The rollout continues
Vaccinations are well underway for those 65 years of age and above. The rest of the 1B population is huge, amounting to somewhere around three quarters of a million Connecticut residents.
In broad terms, it includes essential workers and those with health conditions that put them at elevated risk. Next week, the governor is likely to set a date when appointments can be made by those newly eligible for vaccinations beginning in early March.
Mr. Lamont has indicated he will follow the Centers for Disease Control and Prevention (CDC) definitions of essential workers and qualifying health conditions.
The CDC defines essential workers as first responders, food and agriculture workers, grocery store workers, postal employees, public transport workers, those working in certain types of manufacturing, and teachers.
The governor has come under pressure to give teachers priority in the phase, but has said he will not. CDC guidance insists that teacher vaccinations are not prerequisite to the safe operation of schools. Teacher unions disagree.
CDC's qualifying health conditions include cancer, chronic kidney disease, COPD, Down Syndrome, heart failure, coronary artery disease, cardiomyopathies, a weakened immune system caused by organ transplant, obesity, pregnancy, Sickle Cell Disease, Type 2 diabetes, and smoking. (Mr. Lamont seemed to suggest smoking may not make Connecticut's list.)
More doses on the way
In Thursday's press briefing, Governor Lamont said the federal government will increase Connecticut's vaccine supply beginning next week from 59,000 first doses each week to 72,000. The state receives an equal number of second doses three weeks after each first dose shipment.
Mr. Lamont also said a direct federal supply to approved pharmacies should begin in the next week or two in volume not yet known.
Supplies are likely to be constrained for the next eight weeks or so, according to Andy Slavitt, who was recently appointed by President Joe Biden as Senior Advisor to the White House Covid-19 response team. Mr. Slavitt joined Governor Lamont on the press call.
Mr. Slavitt said the federal government has significantly increased purchases of vaccine doses, expanded the pool of vaccinators by enlisting the military and retired medical professionals, and broadened the network of vaccination sites.
Mr. Slavitt said Washington is on track to deliver a total of 200 million vaccine doses to states by the end of March, far earlier than expected. A significantly greater number could be delivered if a Johnson & Johnson vaccine can be approved and produced in quantity in the next few weeks.
Vaccine distribution is likely to be delayed this week due to storms in Michigan and Tennessee. Pfizer ships from Kalamazoo, Moderna from Memphis. The disruption may not affect Connecticut, which has already received its weekly supply.