Lamont Gets the Shot, Enlists Faith Leaders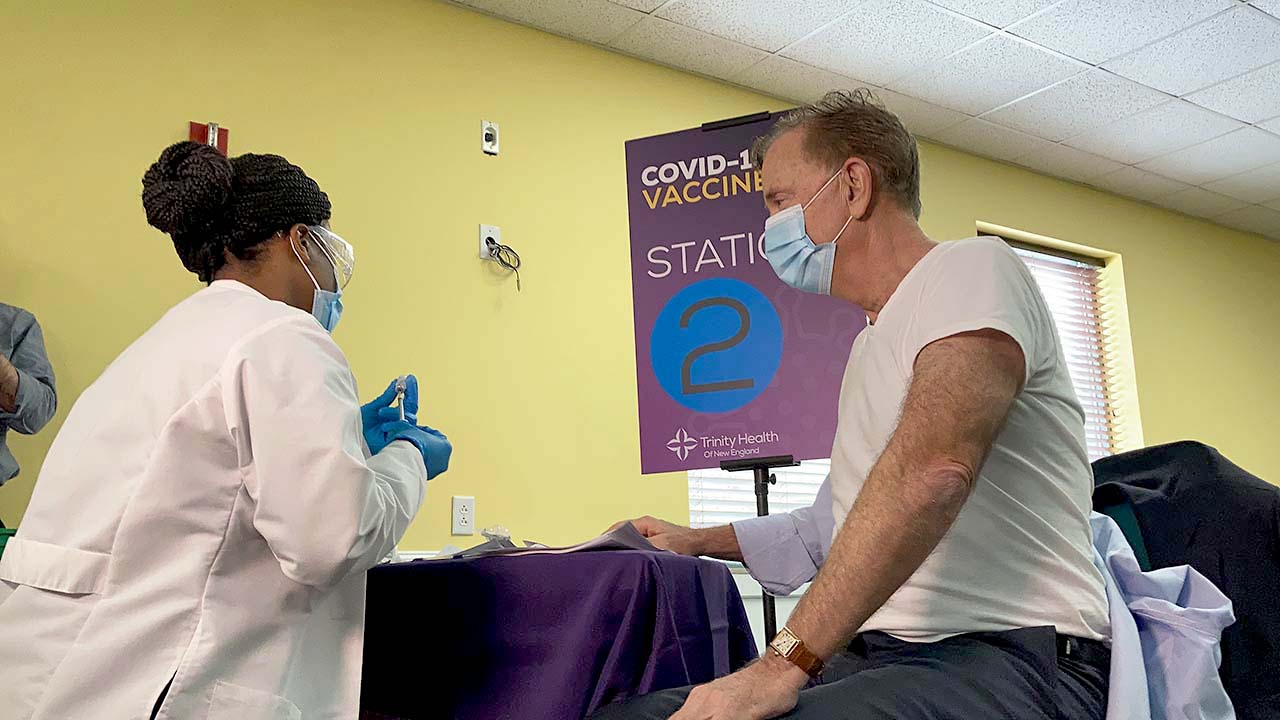 Governor Ned Lamont was given his first dose of a Covid-19 vaccine this morning at a clinic in Bloomfield.
Mr. Lamont is 67 years old, which makes him part of the Phase 1B group currently eligible to receive a vaccination. He was given the Pfizer vaccine.
The Bloomfield clinic was held at The First Cathedral church in a partnership with Trinity Health of New England. 47 members of the church also signed up in advance to be vaccinated at the clinic.
The choice of location is symbolic of efforts by Governor Lamont and the state's Department of Public Health to enlist faith leaders to increase confidence in the safety of the vaccines, particularly in densely populated communities where infection rates and Covid-related deaths are high but so is the level of vaccine hesitancy.
"Leaders in our houses of worship in every community are a critical part of ensuring everyone knows the vaccine is safe," said Governor Lamont. "We are making sure every resident of our state has free access to the vaccine regardless of insurance availability or documentation status."
Dr. Reginald Eadie, president and CEO of Trinity Health Of New England and a key advisor to Governor Lamont said, "At Trinity Health of New England, we have a responsibility bring the Covid-19 vaccine into local neighborhoods to ensure easy, efficient access. It is vitally important that we do our part to instill confidence in the Covid-19 vaccine within our local communities, particularly in communities of color and our most vulnerable populations."
Archbishop LeRoy Baily, Jr., senior pastor at The First Cathedral, said, "Through vaccinations, polio, mumps, measles, chickenpox, flu, shingles, and other epidemics have been managed. Now God has provided us this vaccine for the Covid-19 pandemic. I suggest that you be vaccinated as I have and put your faith and confidence in God. Get vaccinated."