Improved AT&T Cell Coverage on the Way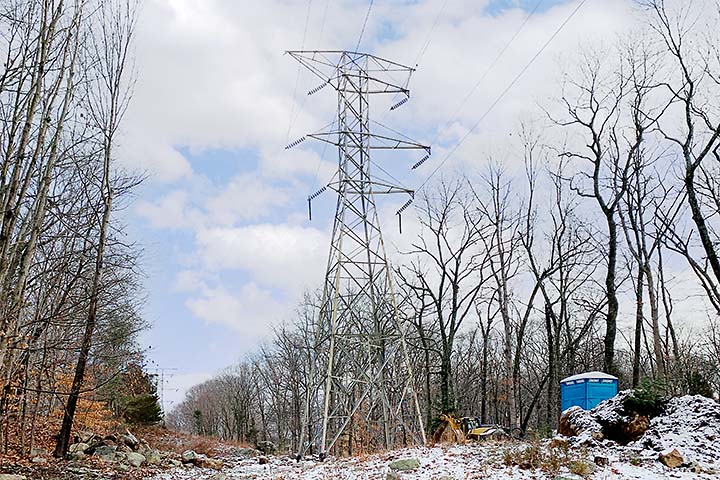 A new cell tower will improve reception and coverage for AT&T mobile users when construction is finished in the spring.
As we reported over a year ago, AT&T petitioned the Connecticut Siting Council for permission to install a 98-foot antenna and an array of equipment in the center of an existing Eversource transmission tower on Tall Pines Drive and White Birch Road.
In January of 2020, the Siting Council approved.
In addition to improving cell coverage, the facility is part of AT&T's FirstNet program, which provides first responders with priority access to the carrier's network. Dead zones in Weston are a long-standing frustration for emergency services.
Construction of a small compound began last week. It will eventually consist of a gravel driveway and parking area to serve an 18 by 24-foot fenced area. A backup generator and an equipment shelter will also be installed.
Town Administrator Jonathan Luiz said he has been advised that a foundation should be complete in a few weeks and that the tower should be finished by May.
Input
A neighboring resident whose home is in close proximity objected to the petition, joined to an extent by Mr. Luiz on behalf of the Town. He suggested installing a monopole at the Lyons Plain Road firehouse as an alternative and said various permits would be required by the Town.
AT&T's engineers responded that the firehouse is located too far north and at too low an elevation to be suitable. A monopole at the firehouse, they said, would be inadequate to fill AT&T's coverage gap.
Siting Council staff responded that the Council has exclusive jurisdiction over energy and telecommunications matters in Connecticut. Thus, no Town permits are required.
The Council recommended that AT&T and Eversource work with the neighboring homeowners to determine if vegetative screening would address their concern about noise when the generator is operational.
Other carriers?
In our earlier article, Melanie Bachman, the Siting Council's executive director, told our reporter that the new AT&T tower is not designed to provide additional equipment from Verizon, Sprint, or other companies.
Work by Mr. Luiz and First Selectman Chris Spaulding to find additional potential cell tower locations continues. As Ms. Bachman pointed out, success will largely depend on "the business desires" of other cellular carriers.