Ten Ways to Stop the Spread
An Urgent Appeal to Help Stop the Spread
I want to take this opportunity to talk about the difficult problem facing us, of convincing all Weston residents to recognize that each of us has the ability to control Covid-19 infections.
The first line of defense for Covid 19 is prevention—stopping the community spread of the virus.
During the first wave in April and May, Weston residents did a fantastic job of taking the necessary precautions to prevent the transmission of the virus.
Unfortunately, now that we are have entered into the second wave, where Covid fatigue has set in, many residents have returned to pre-Covid social interactions and are failing to follow personal protection recommendations. With families gathering to celebrate the upcoming holidays, out of town guest and family members should follow Connecticut quarantine guidelines.
Unless we all commit to controlling the virus at the prevention level, the rate of transmission can and will continue to grow exponentially, resulting in an uncontrolled level of infections, hospitalizations, and a serious depletion of town emergency resources.
We are asking all of you to do what you can to help Stop the Spread
Here are some immediate precautions you can take as recommended by public health experts:
The three basics: Wear a mask, social distance, and wash or sanitize your hands.

Minimize social gatherings and house parties. Every outside guest has had external contacts that can create a transmission event.

Holiday dinners should be restricted to family members who live in the same house.

Out-of-town family members and other guests visiting for the holidays can be a primary source of virus transmission. They should be tested before and after visiting and quarantined based on state guidelines.

If you have been exposed or in contact with someone else who was exposed, get tested. If you test positive, quarantine.

If you are having home construction or renovations done at this time, please make sure all workers who come in the house are wearing masks. Each day, contractors should check their temperature and ask the required workplace Covid-19 questions.

Do not assume friends, "pod" members, sports teams, exercise partners, or anyone outside of family members living together are safe and have not been exposed, directly or indirectly, to the virus.

If you have any concerns or don't feel well, call your doctor and get tested.

If you haven't already done so, get a flu shot. The symptoms of flu and Covid-19 are very similar, and must be determined by a blood test.

Help us help you. With your help, we can all help Stop the Spread.
Take a look at what the CDC is recommending to prevent further spread over the upcoming holidays.
Stay Safe and do all that you can to help protect our community and our first responders.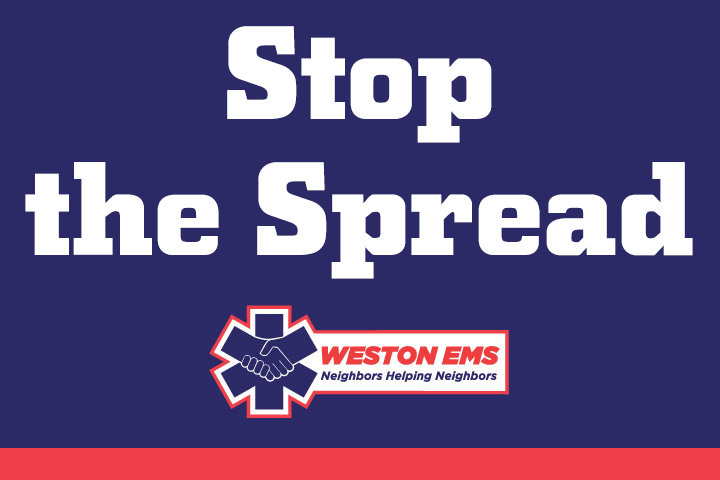 Please visit westonems.com for more information about our programs and services. Weston EMS is a 100 percent volunteer 501(c)(3) organization. Make a tax-deductible donation by visiting westonems.com/donate.html or text 41444 to SavingLives.
Previously from EMS
Great strides are being made to make testing safer and more accessible to consumers. The latest on at-home testing, including what to watch out for.
A Covid-19 vaccine is within reach, but don't be a bystander. Educate yourself about everything you can do to help your family stay safe.