Wirtenberg Art Auction Benefits Senior Center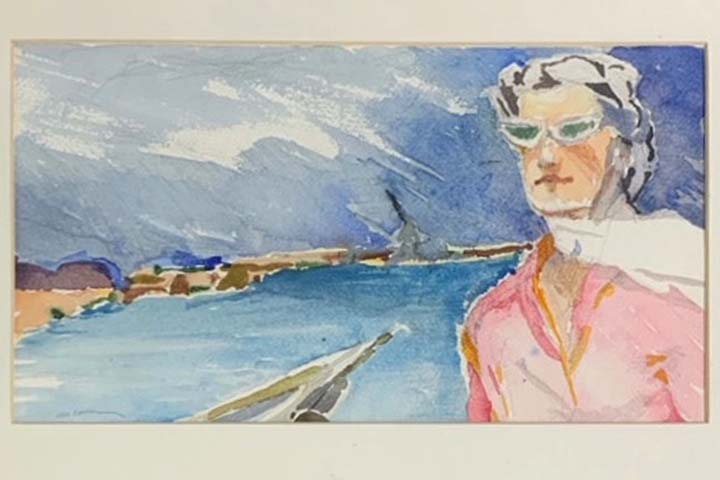 Watercolor, Margaret Wirtenberg: My Mother in Israel, 1960.
Proceeds from an online silent art auction of watercolors by Margaret Wirtenberg go to the Friends of the Weston Senior Activities Center to support the Center itself.
The auction and a display of the works are online now through January 31.
All of the paintings have silver frames and ivory colored mats.
The Friends of the Weston Senior Activities Center, a 501(c)(3) organization, funds programs and events at the Senior Center. This fundraiser will support the Center's 2021 curbside lunch program.
You can purchase one or more of the watercolors even before the auction ends on January 31. Just call the Senior Center at (203) 222-2608 for pricing and to make pick-up arrangements.
A team effort
In addition to thanking Ms. Wirtenberg for her generosity, Senior Center Director Wendy Petty asked us to let you know about the people who organized the fundraising auction and put everything together.
Gayle Clayton donated her time and effort to create the auction site. WestonArts member and photographer Jihane Ghostine Farhat and Senior Center members Linda Gilmore and Carla Jegen photographed the artwork.
The artist's statement
Every artist has his or her muse. Mine, for the last 40 years, has been the town of Weston.
Perhaps because Weston itself exists precariously—resting on its groundwater supply to sustain life, I always link my art to that natural fact.
So I enjoy painting in watercolor no matter whether indoors or out, still life, people or buildings.
The flow of washes and line and finding just the correct place to say "This is finished" and putting down the brush is vital in this very challenging medium.
No erasing, no painting over mistakes. You must, especially in wet-in-wet technique, my favorite, make instant decisions.
So when this occurs, I am finished with one work...and on to the next! I am fulfilled.
This exhibit and sale online is much like an adventure. Half of what I have done is framed. And trust me, the equally large other half—unframed—has been exhibited at my 10 one-woman shows or assorted juried exhibitions around Fairfield County.
You see, my beloved husband was my framer, and we would purchase new mats but reuse frames and glass for exhibition.
I hope to find a home for every painting in this sale. All proceeds go to the Friends of the Weston Senior Center, a 501(c)(3) entity, and may be tax-deductible.
— Margaret Wirtenberg, December 13, 2020.