Ronald Radcliffe Marshall, 9/29/26-12/1/20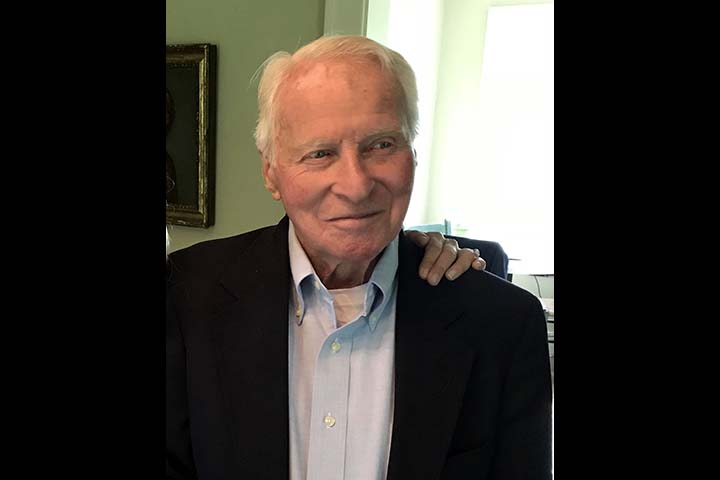 A resident of Weston for 54 years, Ron was born in St, Augustine, Florida to Jean Radcliffe Marshall and Carl Alexander Marshall. Home was Dallas, TX and Media, PA several times over.
In Dallas, Ron ran track and played football in high school. He graduated and went into the Army where he spent his free time teaching boxing and he became a light welterweight Golden Gloves boxer.
During World War II he was stationed in South America in British Guyana. Upon his discharge, he used the GI bill and attended Stanford University and then transferred to Rensselaer Polytechnic Institute. He earned a degree in mechanical engineering.
Several years into his career he met and married Barbara Winkelmann from Manhattan (deceased 2018). The two moved to Manhattan and enjoyed working and making many lifelong friends. In 1964 they moved to Weston full-time.
Ron was an institution running the roads from the 1960s up until his last year in town, when walking became his natural option. He woke early in the morning before daylight to go running before catching the 7:33 train into Manhattan for work. He worked for a variety of architectural/engineering firms, including starting his own company, Marshall Control Products.
As a member of the New York Athletic Club he enjoyed running around Central Park at lunchtime with a group of friends. In the 1970s, Ron ran several times in New York and Boston Marathons and enjoyed other races. He became a founding member of the Westport AC, an informal group of runners who met on Saturday mornings and enjoyed breakfast together after a long run. Family picnics and lifelong friends were made there as well.
Ron enjoyed yard work on weekends. Until his 93rd year he was out most days with a push mower cutting the grass in the yard and back field. In the Fall he could be found raking leaves. After the hard work, he enjoyed a nap in a hammock under a tree.
Ron is survived by his children Leslie Marshall (Mark) of Fairfield, CT and David Marshall (Paula) of Chesterfield, MA and his grandchildren Walden and Jonathan Marshall.