Live Radio Play: Vintage Hitchcock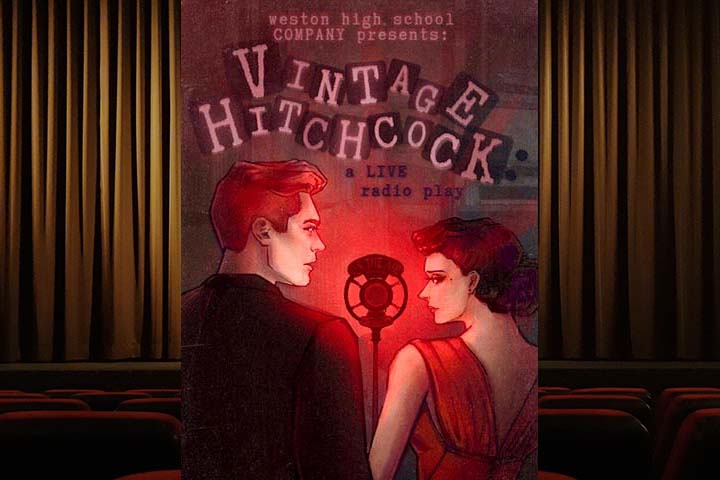 In a clever theatrical twist, Weston High School Company takes you to bygone days when people listened to suspenseful plays on the radio. But in this production, you get to watch it being performed on the radio.
Vintage Hitchcock: A Live Radio Play
livestreams on Zoom on Friday, December 11 at 7:30 pm and then again on Sunday, December 13 at 3:00 pm.
A triple feature
Playwright Joe Landry took three Alfred Hitchcock films and fashioned the stories into a 1940s-style radio broadcast complete with a period set, vintage commercials, jingles, sound effects, and musical underscore. Everything comes to life by Company actors, singers, musicians, and stage crews.
It wouldn't be Hitchcock if it weren't brimming with spies, romance, murder, and suspense. Company's production checks off every box.

The stories
The Lodger centers around a turn of the century London couple who rent their spare room to mysterious stranger. Is he The Avenger, a serial killer targeting young blonde women? Is their daughter the next victim?
In Sabotage, a woman discovers that her husband is a terrorist agent. Suddenly, she and her brother find themselves caught up in international espionage. Someone—or someones—will die. Who?
Hitchcock's classic The 39 Steps is about an ordinary man who manages to get involved in a plot to steal military secrets, is accused of murder, flees London, falls in love, and tries to clear his name. Suffice to say there are complications.
Tickets
Purchase tickets on Company's website: www.whscompany.com. If you don't already have an account, just create one.
It's theater. Concessions are a must. You can have goodies delivered if you are in Weston, Westport, Redding, Easton, Wilton, or Fairfield. You need to order by Thursday, December 10.
Choose between a Chocolate Lovers package or a Sweet Tooth package. Or both. They go for $10. You will find a link to order on Company's website: www.whscompany.com.
Enjoy.