Vaccines to Arrive This Month, Rollout Priorities Set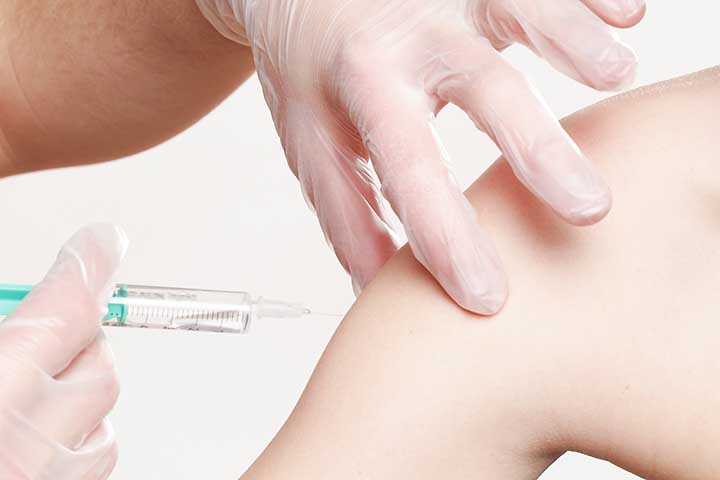 Supply chains, the FDA, and logistics willing, the first doses of Pfizer's Covid-19 vaccine are expected to ship on December 14. A Moderna vaccine is set for release one week later.
Governor Ned Lamont made the announcement in a press call yesterday afternoon, noting that all targets are subject to change, particularly since late word arrived that Pfizer's initial plans have been affected by shortages of key ingredients.
As it stands, the governor said Pfizer's first shipment should contain about 31,000 doses for Connecticut. The initial Moderna batch should have around 63,000 doses. That's a start. More would arrive as the rollout accelerates.
Who gets it?
Governor Lamont was joined on the press call by the co-chairs of his Vaccine Advisory Group to discuss the State's plans to distribute vaccines.
Acting Department of Public Health Commissioner Dr. Deidre Gifford and Dr. Reginald Eadie, president and CEO of Trinity Health of New England, said vaccine allocation has been organized into three phases, choosing to call them Phase 1a, Phase 1b, and Phase 2.
Phase 1a will begin as soon as the first vaccine supply arrives. The priorities will be healthcare workers, nursing home residents, and medical first responders.
Eventually, Phase 1a vaccinations—fully consisting of two shots given three weeks apart—will be administered to 204,000 healthcare workers, an estimated 22,000 nursing home residents, and 6,000 medical first responders.
The numbers assume that 80 percent of those in each group are willing to be vaccinated.
By January 25, as deliveries continue, the health department estimates some 380,000 doses will have been administered. By that same date, about 212,000 second doses will have been given.
Commissioner Gifford said she expects the entire Phase 1a population willing to be vaccinated will have done so by the end of January.
Phase 1b
Phase 1b is planned to run from mid-January to late May. It includes the critical workforce, such as food service workers, teachers, caregivers, adults age 65 and older, and those under 65 at elevated risk.
Phase 2
Phase 2 is expected to begin early in June, aimed at those under age 18 and, well, just about everyone else.
In terms of specific dates and numbers, this was the least-defined phase in yesterday's call. Everything is highly dependent on supply flow and real-world results.
"Don't get rid of your masks yet"
Dr. Gifford said the schedule does not assume that "a full rollout" will occur. Much depends on how many people are willing to be vaccinated and how effective the vaccines turn out to be.
Both the Pfizer and Moderna vaccines were announced with claims of 95 percent effectiveness. That is not technically correct.
Phase 3 clinical trials reveal a drug's efficacy, its potential effectiveness. That is a difference, not a mere distinction.
Effectiveness is determined when a vaccine makes contact with the general population, whose characteristics may differ from those in clinical trials, and where a number of factors—such as the overall health of individual patients—could limit how much protection the vaccine provides.
So, according to Commissioner Gifford, it will be a while before we can "back off some of our precautions," such as masks and social distance.
The vaccine will be free
Dr. Gifford said Covid-19 vaccinations will be available at no cost to all, including those without health insurance. Vaccinators will be able to bill insurance for the vaccine and for the cost of administration.
Governor Lamont, frustrated by continuing Federal inaction, urged Washington to provide financial assistance to states. Failing its arrival, he said he will dip into the rainy day fund—which currently stands above $3 billion, at its statutory cap—if necessary.
"We won't shortchange getting the vaccine out," said the governor.
Approval pending
All of this depends on approval of the vaccines for emergency use by the Food and Drug Administration.
The FDA will begin its review of Pfizer's application on December 10, a process that is expected to take two to three days. Shipments would begin immediately after.
Review of Moderna's application is set to begin on December 17. If approved, delivery would begin on December 21.