Citizen(s) of the Year, Appreciation Weekend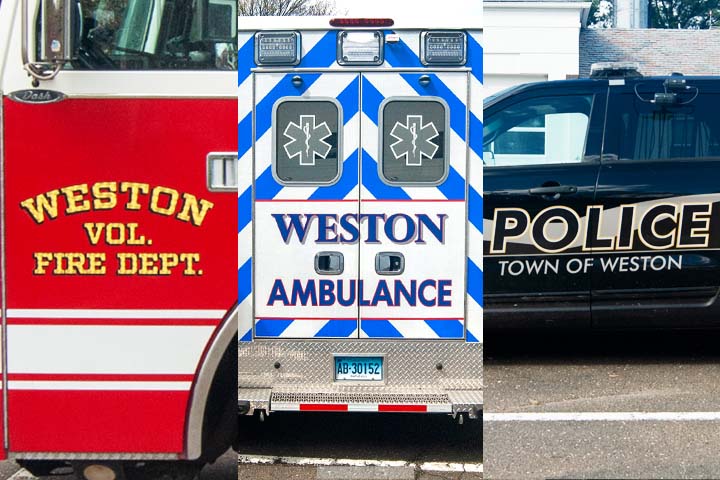 Weston's Board of Police Commissioners has named its annual Citizen of the Year recipient.
This year, they need to add an "s."
The Commission selected the Weston Volunteer Fire Department, the Weston Police Department, and the Weston Volunteer EMS for the honor.
The organizations and their members were nominated by the Weston Kiwanis Club for going "above and beyond this year to serve our community. Collectively, they put our community in front of their own lives and families. Collectively, they serve above and beyond what they signed up for. They save lives, protect us, and serve us."
Essential workers
Also, in a departure from tradition, the Police Commissioners is honoring essential workers who have continued to serve Weston during the pandemic as 2020 Citizens of the Year.
The Commission's announcement included those who provided medical services, support in retail and trades, shopped for their neighbors, delivered mail and packages, and provided other services that kept the community thriving during the prolonged Covid-19 crisis.
The Board noted that "none of these recipients can do their jobs remotely. They are on the front lines every day. We thank them for their service."
Appreciation Weekend for emergency responders
Weston Kiwanis and the Weston High School Key Club are organizing an Appreciation Weekend over the Thanksgiving weekend to honor first responders.
Everyone is invited to fly the American flag in front yards or on mailboxes and display personal lawn signs as a show of gratitude.
Free flags will be available at the Weston Public Library, Town Hall, the Weston Shopping Center, and the Weston Senior Center.
About the award
The Citizen of the Year award is given to recognize those who distinguish themselves serving the community and demonstrating character, energy, integrity and accomplishment. Traditionally, the award is given to individuals who have made a meaningful contribution to increase, enhance or elevate the standards of law enforcement, safety or good citizenship.