Reservoir Run Goes Virtual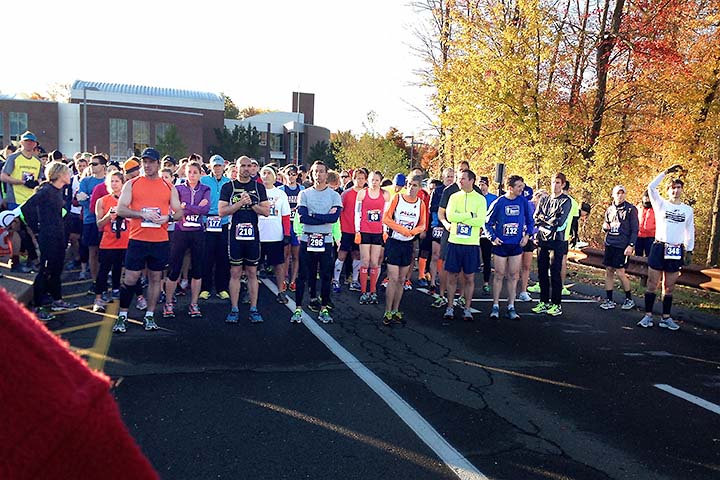 If this were a normal year, the Weston Kiwanis Half Marathon Reservoir Run would take place later this month. Hundreds of runners would gather at the starting line for the 13.1-mile race or the 5K at Weston High School.
This is certainly not a normal year. The on-site run has been canceled, but it is going on virtually. It kicked off on July 1, and concludes on Sunday, October 25.
Virtual runners for the half marathon and the 5K are encouraged to sign-up for $25 or more to benefit the Connecticut Food Bank and Weston Social Services.
If you aren't running, a donation would still be greatly appreciated.
You can register or donate online.
The runners: Don Capone
Don Capone, age 72 from Norwalk, has participated in all of the Weston Kiwanis Half Marathon Reservoir Runs. He signed up to run virtually this year. Mr. Capone says he loves being out in nature. He finds the reservoir 13.1-mile race challenging and demanding. "It shows no mercy, which is what I like about it. The hardest part is the final hill. Miles 10.5 to 12 are brutal," said Mr. Capone.
Mr. Capone is not an elite runner. He continues to run four times a week for about 90 to 120 minutes. That allows him to maintain his running muscle memory. He loves running for causes, especially for this year's Weston Kiwanis Half Marathon Reservoir run.
Harry Spencer
Weston resident and Kiwanis member Harry Spencer has been a regular volunteer for the reservoir run. He helps get the races ready for runners. Mr. Spencer participated in six of the last eight races by running the 5K.
Joking as the race is about to begin, he looks around for the Weston ambulance to follow him as he runs. He is a good sport with a charismatic personality. He says he usually comes in next to last, but has a great time supporting the community and the charities for this annual event.
A food crisis
A Feeding America study projects food insecurity in Connecticut will be nearly 17 percent for the year, up from a statewide rate of 12 percent. The number grew from nearly 427,000 people—including nearly 118,000 children—to more than 596,000 people, including more than 178,000 children. This represents an increase of 40 percent statewide. It means one in six people in Connecticut will struggle with hunger this year.
The pandemic has completely upended the Connecticut Food Bank's operational model. Before the crisis, two-thirds of the food distributed by the Connecticut Food Bank came from food industry donations. Those donations plunged by as much as 60 percent due to disruptions to the food supply. They have not rebounded.
Connecticut Food Bank, which is purchasing food to fill the gap, has bought more food since April than it had in the prior six years.
Allison Lisbon, director of Social Services for the Town of Weston, said the coronavirus has created an increased need for food in the community. As the virus has lingered, more families are having difficulty paying their bills. The closure of Town Hall makes donating to the Weston Food Pantry difficult.
A good way to help is to donate through the Weston Kiwanis Virtual Half Marathon and 5K run. Proceeds will be divided between Weston Social Services and the Connecticut Food Bank.