Making Strides Against Breast Cancer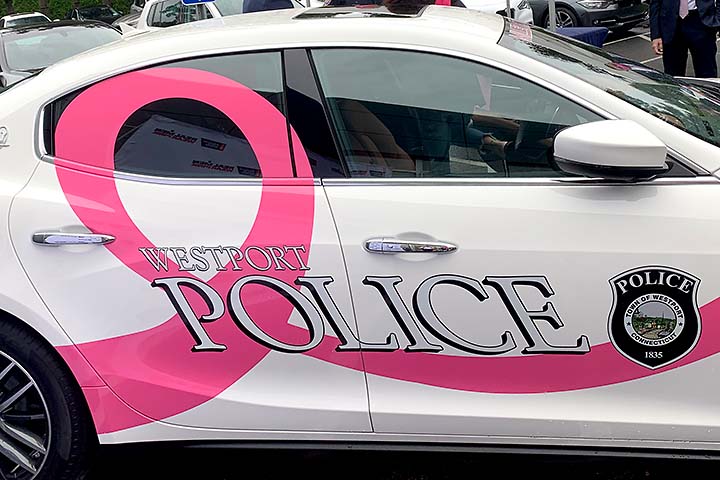 For the 27th year, the American Cancer Society's Making Strides Against Breast Cancer Walk takes place in October, which is Breast Cancer Awareness Month.
Organizers have come up with an innovative approach to accommodate Covid-related limitations. The walk will be a ride. It's a drive through Sherwood Island State Park in decorated cars with playlists and horns blaring. At a photo booth, an award will be presented to the best-dressed car.
It all takes place on October 25. You can find out more about it and register online. Participation is free, but donations are helpful. Funds for breast cancer research are desperately needed. More on that in a second.
Everything kicked off at Maserati of Westport on Friday, officiated by Danny Lyons of WEBE FM. Mr. Lyons is a longtime supporter. As has been the custom for the last few years, the Westport Police were lent a pink-wrapped 2020 Maserati for the month.
The events
Katie DiVenuto
, Senior Community Development Manager of the American Cancer Society, described plans for this month's events.
The Sherwood Island parade on the 25th will be led by Westport's police and fire departments and broadcast on Star 99.9 radio. There will be stations and sponsor tents along the way. A new feature is a tribute garden, where you can decorate and place a pinwheel to pay tribute to a friend or loved one.
Even before then, you will be able to sign up to organize teams for your own local events (actual walks) and a scavenger hunt using cityHUNT, a popular team-building app.
The need
Included on the pandemic's trail of destruction is the American Cancer Society's ability to raise funds for breast cancer research. This year, they are down about 50 percent.
While funds have diminished, breast cancer hasn't. On Friday, Mr. Lyons told those assembled that some 3,500 Connecticut women will be diagnosed this year with breast cancer and 430 of them will not survive. Cari Shapiro, a Weston resident, spoke of her own breast cancer recovery—twice—a result she attributes directly to research funded by the American Cancer Society.
Another Weston resident, caterer Jeffrey Selden, has organized a Real Men Wear Pink campaign this month to raise both awareness and funds.
The importance of screening
Patrice Lestrange Mack
, the Society's Communications Director, said another consequence of the pandemic has been a decline in breast cancer screening.
Ms. Mack said detecting breast cancer early and getting high-quality treatment is crucial to survival.
The American Cancer Society, said Ms. Mack, advises women at age 40 to begin having conversations with a doctor about the approach they should take to screening.
Ms. Mack said that at ages 45 to 54, women at average risk should have a mammogram every year, and that women over 55 at average risk can either have a mammogram every year or continue yearly screenings.
Advice from the American Cancer Society is available 24 hours day, seven days a week at 1-800-227-2345 and online at www.cancer.org.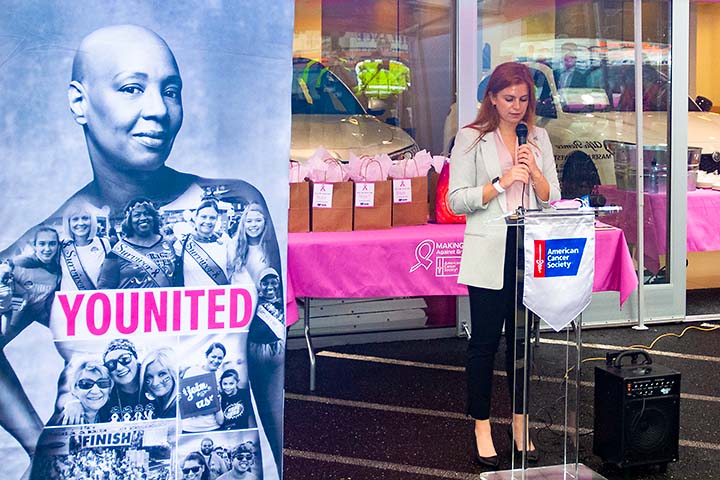 Katie DiVenuto of the American Cancer Society describes plans for this year's "Making Strides Against Breast Cancer Walk."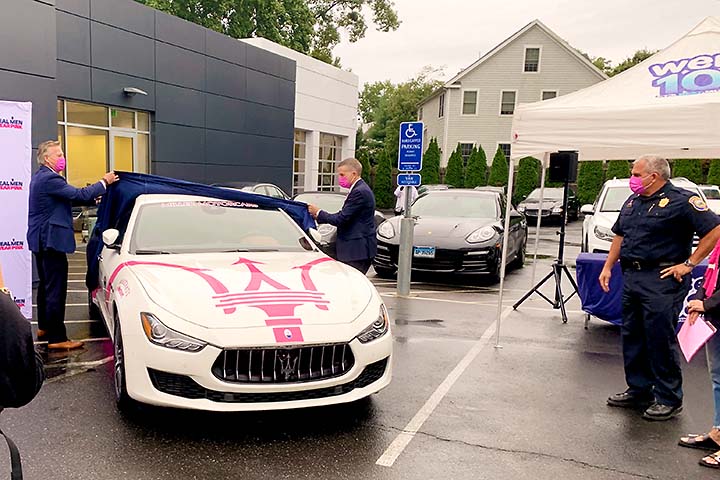 Westport Police Chief Foti Koskinas, right, looks on as the pink-wrapped 2020 Maserati is unveiled.