Frank G. Schettino, 98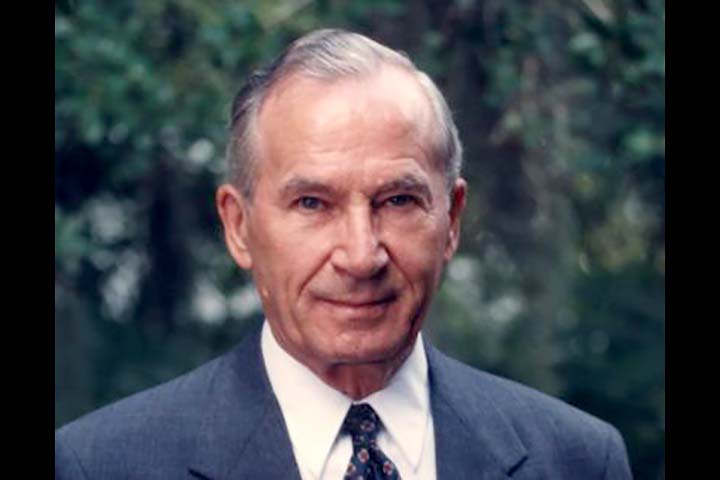 Frank G. Schettino, Commander, USN (Ret.), 98, of Brookfield, CT, husband of the late Virginia R. Pearson, passed away in his sleep on September 16, 2020.
Born on January 11, 1922, in East Orange, NJ, Frank was a son of the late Joseph and Maria Capasso Schettino, who emigrated from Italy in 1903.
Upon graduating from East Orange High School, Frank was appointed to the U.S. Naval Academy, class of 1944. Due to America's entrance into WWII, Midshipmen at the time were granted accelerated graduation and in 1943 his class joined the war effort. Upon being commissioned, he was assigned to the USS Gansevoort (DD 608) and participated in combat operations in the Gilbert, Marshall and Philippine Island Areas. In 1946, he was assigned as Operations and Gunnery Officer on the Staff of Commander Destroyer Squadron Fifteen whose operations included a year of patrol and occupation duties in the sea areas off Japan and China.
From 1947 to 1949, Frank served at the then-named White Sands Proving Grounds, NM. It was during this time that he met and married Virginia R. Pearson of Pana, IL.
He returned to sea in 1949 as Commanding Officer of the USS LSMR 403 and was deployed to the Pacific at the outbreak of the Korean Conflict. For his close-in rocket and gunfire support while under enemy fire during the amphibious assault landing at Inchon, Korea, he was awarded the Bronze Star Medal with Combat "V." In 1951 and 1952 he was attached to the staff of Commander Amphibious Group One as Assistant Gunnery and Training Officer, serving mainly in Korea and Japan during the latter part of the U.N. Campaign against the Communist Chinese and North Korean forces.
In 1953-1956, Frank served as Assistant Officer in Charge and Training Officer of the U.S. Naval Guided Missile School in Dam Neck, VA, and Officer in Charge, Guided Missile Service Unit 211, at the Naval Mine Depot, Yorktown, VA. He later attended the Armed Forces Staff College in Norfolk, VA.
In 1957, Frank became Executive Officer of the USS Chevalier (DD 805), and upon being promoted to the rank of Commander was reassigned to the USS Dixie (AD 14), where he served until 1959. He was then ordered to duty in the guided missile section of the Fleet Readiness Group in the Bureau of Naval Weapons, Washington D.C.
In 1962, Frank assumed command of the USS Noa (DD 841), based in Mayport, FL, where he served until his retirement in 1964.
Upon retiring from the Navy, the family moved to Weston, CT and Frank joined the optical division of Perkin-Elmer Corp., where he was employed as an administrator until his final retirement in 1986. He was proud to have been a part of the Hubbell Space Telescope project.
Frank and Virginia then moved to Fort Myers, FL where they resided for almost thirty years, enjoying the beautiful surroundings, warm weather, travel, and good friends.
Frank returned to Connecticut in 2015, to be closer to family, residing at The Village at Brookfield Common until his death.
Frank will be remembered by his family as an unflappable pillar of strength; a true gentleman who was a devoted husband, father, grandfather, brother and uncle. He was honored to serve his country, and was proud of his family and his heritage.
Frank is survived by two daughters, Susan E. Schettino of Cupertino, CA, and Lynn S. Umbarger, and her husband Jay, of New Milford, CT; two grandsons, Todd Umbarger and John Umbarger, and his wife Jessica; and two great-grandsons, James Umbarger and Jacob Umbarger, all of New Milford, CT. He is also survived by numerous nieces and nephews.
In addition to his wife and parents, Frank is predeceased by eight brothers and sisters, Anna Maria Colonna (Anthony), Crescenzio Schettino, the Hon. C. Thomas Schettino (Theresa), Giuseppe Schettino, Nancy Schettino, Angela Riccardelli (Frank), Rose Roselli (Thomas), and Anna Hofgesang (Edward); and two nieces and two nephews.
The family would like to thank the staff at The Village at Brookfield Common for the kind care and attention they have given Frank, especially during the past few months when it was not possible for family to easily visit.
Services and burial will take place in the spring of 2021, when hopefully traveling and gatherings are less restrictive.