A Good Idea: Share the Road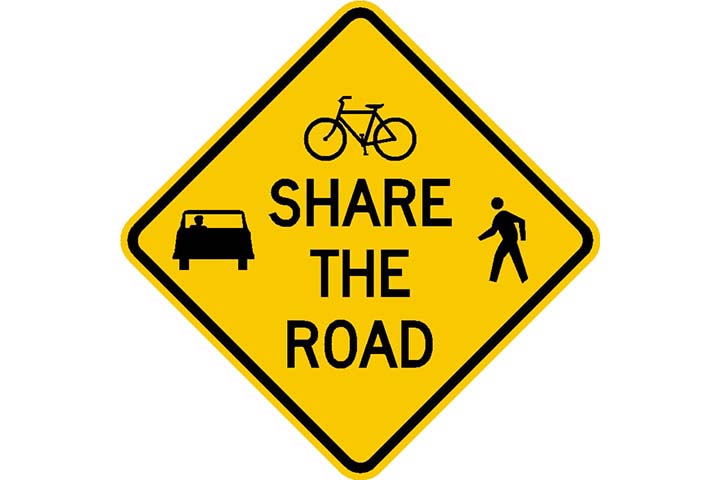 Weston roads are your roads. But you really need to share them.
Share the Road
is the message you may have seen popping up on signs around town lately, especially on busy streets.
It comes to you courtesy of the Board of Police Commissioners and the Weston Police Department, all of whom are aware that people need to be out right now, driving, riding, walking and running, but also aware that we have to watch out for each other.
"So far, we've been a little lucky," said Police Commissioner David Muller. "We haven't had a lot of serious injuries, despite how you see some people driving, biking, and walking."
It may not be wise to count on that luck lasting. In just the last week, there have been two accidents involving cars and bicycles.
Encouraging people in a positive and friendly way to Share the Road—rather than threatening fines, imprisonment, and floggings—is the approach taken by a Police Commission committee consisting of Mr. Muller and fellow commissioners Susan Moch and Peter Ottomano. They got a lot of input from safety advocates Ray Rauth and Bill Lomas.
In April, our Vicki Thomas reported detailed safety advice from Mr. Rauth, Ed "Hutch" Hutchins, and Weston Police officer Rob Curcio. Here is a net-net version.

How to share the road
If you're out for a stroll or jog, do so on the side of the road that lets you face oncoming traffic. Also, if you are out with other people, be judicious about running or walking abreast, especially as you approach curves.
If you're on a bicycle, remember that the rules for motor vehicles also apply to you. Ride with vehicle traffic. Stop at stop signs, for crying out loud. Hug the side of the road and avoid riding several abreast.
When you are driving, watch your speed. It's mathematically unlikely that every car tearing down Lyons Plain Road is an out-of-towner. Be particularly careful as you approach a curve, in case walkers, runners, or bicyclists don't take the advice above.
It's easy. And it's a good idea to share these practices with others, especially children.
As everyone knows, we are all in this together. That goes for the roads, too. We are on them together. Let's share the roads. Let's watch out for each other.