Community Kindness: Trip's Tree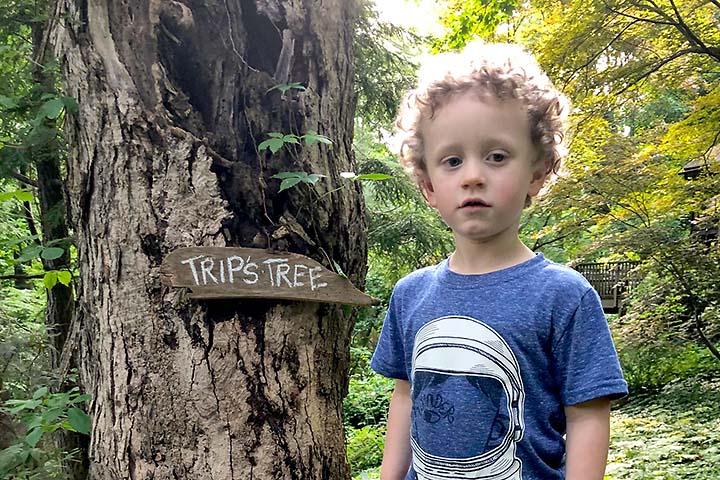 In a touching story of kindness from strangers, Weston four-year-old Trip Burns was met with a heartwarming surprise in the form of a hand-painted wooden sign reading "Trip's Tree" on his favorite tree—a local place of comfort that he and his mother Lily Burns would regularly drive to during quarantine.
Trip, who has autism and is nonverbal, has always had a special connection with nature and the outdoors, an interest cultivated by growing up at Lachat Farm where his family are the caretakers.
Trip has favorite plants on the farm—a specific group of wildflowers and a row of ferns—but this is the first tree away from home that he has loved so fondly.
"The first time we drove by the tree, Trip was reaching out the car window trying to touch it, so we stopped and got out to admire it. It's an old tree with a big hole in the middle, and there's pieces of bark on the ground around it that he likes to touch and make little stacks of. He really loves this tree," said Ms. Burns.
"Looking at the world differently"
Trip and his mother began to drive to the tree every day—a tradition that started once Trip's school year had ended. As their visits became regular, Ms. Burns left a note at the tree owner's doorstep, explaining her son's love for their tree.
When she and Trip returned the next day, they were surprised to find a sign reading "Trip's Tree" hanging from the bark, hand-painted by the homeowners, Spencer Eldridge and Joanne Hudson.
"I really like that kid, he's welcome to come here anytime," said Mr. Eldridge, an artist who teaches painting classes to elementary school students with special needs. "He's looking at the world differently, and looking at the tree for those of us who don't."
When Trip saw the sign on his tree he became intrigued, repeatedly running his fingers over the carefully hand-painted letters. Ms. Burns was incredibly moved by this random act of kindness.
"To have these strangers be so kind to us and do such a nice thing for Trip was above and beyond," she said.
Our thanks to Lily Burns for sharing Trip's story and to Kimberly Schleef for letting us know. A tip of our hats to Spencer Eldridge and Joanne Hudson.