Post Office Challenges in Weston and Beyond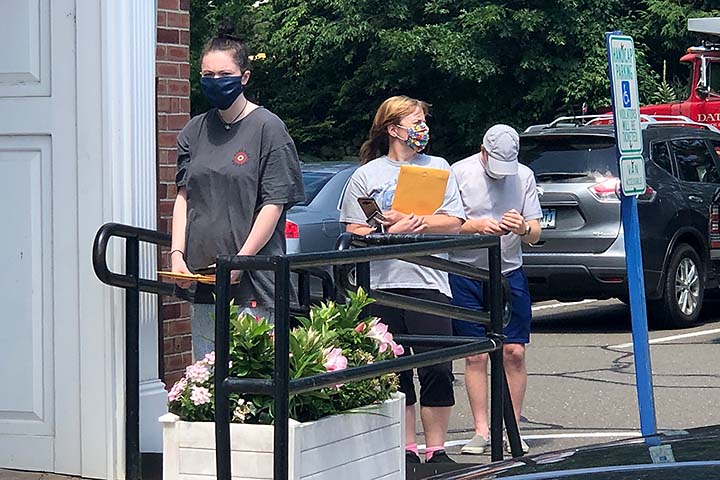 Long lines and long waits at the Weston Post Office, frustrating to many residents, are mainly attributable to the facility's size. Inside, the building is too small to allow two postal clerks to work side-by-side, given the needed six feet of social distancing caused by the pandemic.
As an alternative, many Weston residents say they go to the Westport Post Office, where there is more space, more clerks to handle customer demand, and faster service. Others say they are taking packages to either Staples in Norwalk or the UPS store in the Village Center in Westport.
There is some potential good news for Weston. According to an individual at the distribution center in Norwalk, thought is being given to renovate the Weston Post Office to create space for two postal clerks to handle demand. But we were not able to confirm with USPS officials that such plans exist.
At least so far, there are no official notifications of USPS facility closings in Connecticut this year.
A volume and workflow shift
In early March, when the first coronavirus cases began to appear in the United States, the service experienced a 5.3 percent decline in overall mail volume. By March 30, that had plunged to 30 percent. Volume is expected to be down 50 percent by the end of third quarter.
According to Amy Gibbs, a USPS Strategic Communications Specialist, "since the beginning of the pandemic, mail volume further declined as package volume soared. For example, in Westport, the Postal Service saw a 70 percent increase in packages last week compared to last year's volume."
"Packages require a different workflow than mail," said Ms. Gibbs, "and operations have been adjusted to meet demand. Social distancing prevents us from separating lines at our retail windows as transactions take longer."
The Postal Service is following the Centers for Disease Control and Prevention (CDC) guidelines. Sneeze guards have been installed at the Weston Post Office and tape or X marks have been placed on the floor every six feet.
Financial pressure
When volume goes down, it becomes more difficult for the Postal Service to remain solvent.
According to an NBC News report, the service has lost $69 billion over the past 11 fiscal years, including $8.8 billion in 2019. Its total unfunded liabilities and debt totaled $143 billion at the end of 2018, twice its annual revenue.
The 2006 Postal Accountability and Enhancement Act added a burden on USPS finances by mandating that it pre-fund retiree health benefits 75 years into the future with $5.5 billion annual payments for 10 years. No other government agency is required to pre-fund such benefits.
A political football
The White House has opposed giving the postal service a financial lifeline, recently threatening to veto the $2 trillion Coronavirus Aid, Relief, and Economic Security (CARES) Act if it included bailout money for the service, according to The Washington Post.
Initially, the act included a $13 billion grant to the Postal Service with no repayment required. However, that grant was blocked by Treasury Secretary Steven Mnuchin. In its place was a $10 billion loan.
The president has been a frequent critic of the USPS, saying it loses "massive amounts of money" while acting as Amazon's "delivery boy." He has repeatedly attacked Amazon founder and CEO Jeff Bezos on Twitter, and has suggested raising the price of Amazon deliveries as a fix for the Postal Service's problems.
This week, the president threatened to block a request for $25 billion in emergency funds for the Postal Service and a measure proposed by Congressional Democrats to provide states with $3.6 billion to fund the November general election.
In a Fox Business interview, the president admitted his opposition was aimed at preventing voting by mail, which he claims, without evidence, would result in "a rigged election."
This morning, in an interview with CNBC, House Minority Leader Kevin McCarthy seemed to break with the White House, insisting "the Postal Service will have the funding that it needs," and said, "I think any Republican that gets their ballot in the mail should vote and make sure their vote is counted."
A potential shift from tradition
Amazon and shipping companies such as FedEx and UPS rely on the Postal Service's vast, established national delivery network, which can take packages the "last mile" to remote and rural areas where their own resources are limited. Unlike private carriers, the Postal Service is obligated to provide "universal service," which means it has to deliver everywhere and can't exclude certain areas.
The universal service mandate has, in the past and to a large extent today, produced bipartisan support for the USPS because it means urban and rural areas are served equally, regardless of demographics.
For its part, Amazon has responded by increasing its ability to deliver independently.
Weston residents have probably noticed more Amazon Prime trucks delivering packages to homes. The company recently announced an order of 100,000 electric trucks from startup Rivian. The order is part of Amazon's larger pledge to reach zero net carbon emissions by 2040. At the moment, how it will affect Amazon's contract with the USPS is not clear.
Under new management
Concerns about postal operations were heightened recently when Louis DeJoy, who was appointed Postmaster General in May, instituted major operational changes.
Saying the Postal Service is in a "financially unsustainable position that requires the agency to make necessary adjustments in order to operate more efficiently," hours were cut back, overtime was eliminated, and a rule was adopted that mail be kept until the next day if distribution centers are running late.
Mr. DeJoy estimated the changes could save $200 million. The concern is that they will slow delivery, impacting everything, including mail-in ballots.
General DeJoy came under intense criticism this week when financial disclosures revealed he has not divested holdings worth at least $30 million in his former company, XPO Logistics, a USPS contractor. More fire came with a CNN report that, after divesting "large amounts of Amazon shares" in June, he "purchased stock options giving him the right to buy new shares of Amazon at a price much lower than their current market price." The net result is that the Postmaster General has a financial interest in both Postal Service contractors and competitors.
The effect on postal employees
Postal workers are undoubtedly burdened by the ongoing controversy, and by the pandemic.
Ms. Gibbs said, "Their families have been affected, so we have updated our leave policy to allow for liberal use of leave to give employees the ability to stay home whenever they feel sick, must provide dependent care, or any other qualifying factor under the Families First Coronavirus Response Act."
With mail volume down and many businesses closed, some employees are working from home.
Ms. Gibbs said, "The Postal Service delivers much-needed medications, Social Security checks, and is the leading delivery service for online purchases. The Postal Service is proud of the work of our more than 600,000 employees play in the processing and delivering mail and packages for the American public. We provide a vital service that is part of this nation's infrastructure."
The United States Postal Service could be headed into a perfect storm. The longer the pandemic affects businesses, people work from home, and political issues abide, one wonders if your mailbox could become a collector's item.
A massive enterprise
If the 240 year-old Postal Service were a private sector corporation, it would rank 44th in the 2019 Fortune 50.
It is a self-funding entity, financed entirely by the sale of postal products and services. In 2019, each of its three main business lines generated huge revenues.
First-Class mail: $24.4 billion.
Marketing mail: $16.4 billion.
Packages: $22.8 billion.
In recent years, First-Class mail has dropped 42 percent and is expected to decline even more. Previous cost-cutting to improve efficiency resulted in $13.4 billion in annual savings. Through attrition, the postal work force has been reduced by 150,000 employees.