Lamont to Order Enforcement of Hot Spot Travel Directive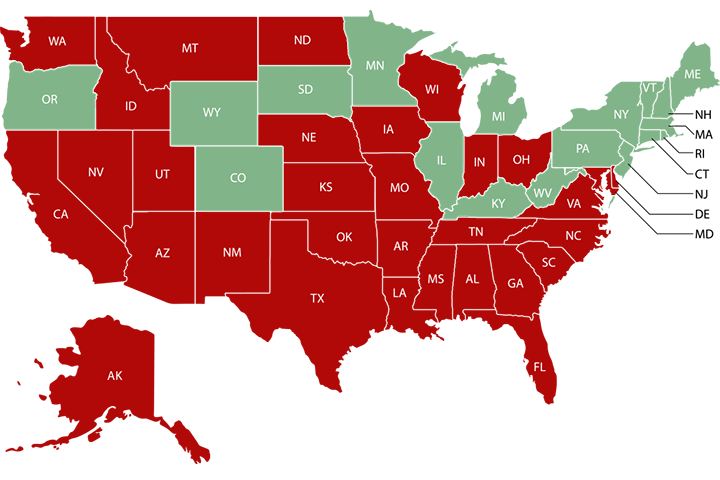 Editor's note: This article was updated on July 21 to reflect today's addition of ten states to the travel advisory list and the removal of one, Minnesota.
An addendum below contains details of the governor's order, which was signed today. Details include a link to the travel form and information about exemptions.
An upcoming executive order by Governor Ned Lamont will put teeth into his June 24 directive requiring quarantine or proof of a negative test for travelers from hot spot states.
Travelers who do not complete an online Travel Health Form or who fail to self-quarantine risk a $1,000 fine. Mr. Lamont said the order applies to all modes of transportation.
In a press conference this afternoon, the governor said, "You go to a hot spot, you come back to this state, you either have a test that shows you tested negative or you must quarantine for 14 days."
The online Travel Health Form will be distributed to airlines, who are expected to provide it to passengers to complete before they fly. The governor said spot checks will be performed at Bradley International Airport.
State officials are known to be concerned that visitors from states with high infection rates—and those returning from trips to them—will spread the disease in Connecticut.
Governor Lamont said Connecticut's rate of positive coronavirus tests remains below 1 percent, compared to 9 percent across the country. He said he is being particularly attentive to "flareups" in beach communities in Maryland, Delaware, and Virginia.
As of July 21, 31 states meet criteria that place them on the State's travel advisory list. They are, as depicted in red on the map above: Alaska, Alabama, Arkansas, Arizona, California, Delaware, Florida, Georgia, Iowa, Idaho, Indiana, Kansas, Louisiana, Maryland, Missouri, Mississippi, Montana, North Carolina, North Dakota, Nebraska, New Mexico, Nevada, Ohio, Oklahoma, South Carolina, Tennessee, Texas, Utah, Virginia, Washington, and Wisconsin.
The list is updated weekly. States are added when their new daily positive test rate is higher than 10 per 100,000 residents or their seven-day rolling average positivity rate is 10 percent or more.
Addendum, July 21, 2020
Governor Lamont signed the promised executive order today, noting that similar measures have been enacted in New York and New Jersey.
Travelers will now be required to complete a form upon entry into Connecticut stating their name, date of birth, state of origin, estimated length of stay and location while in Connecticut, and contact information.
The form must be submitted to the Department of Public Health. It can be completed online at ct.gov/travelform.
Signs with information on the requirement to fill out the travel form will be on display in Connecticut airports, train stations, highway rest areas and travel centers, and ferry terminals.
Personnel from the Department of Public Health are being deployed to Bradley International Airport to inform incoming travelers about the requirement and direct them to fill out the form. The Connecticut Department of Transportation will install new electronic highway signs communicating the requirement.
Essential workers on work-related travel are exempt from the quarantine rule.
Air travelers arriving in Connecticut on a connecting flight from an impacted state are not subject to the quarantine rule if their flight did not originate in an impacted state.