Road Paving to Continue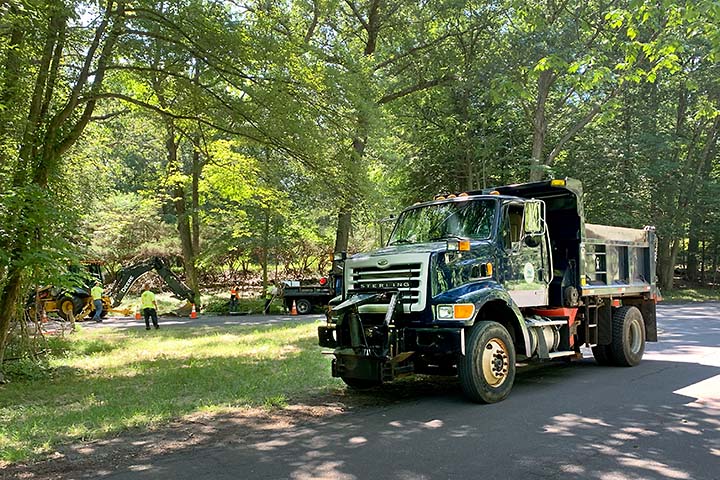 Work to improve Weston roads will continue this year, despite a suggestion from the Board of Finance that paving be put off until 2021. On July 2, the Board of Selectmen voted 2–1 to proceed.
A bare majority of the Finance Board voted on June 11 to make the recommendation, only six days after it had approved fiscal 2020–21 budgets, including a Town allocation of $550,000 for road maintenance. Members also recommended a delay in spending on capital improvements.
On June 18, the Board of Selectmen briefly discussed the recommendations, concluding that the approved capital projects needed to proceed. At the suggestion of Selectman Stephan Grozinger, the Selectmen decided to take up the paving question in their July 2 meeting, and to invite Steve Ezzes, the Board of Finance chair, to present the case for delay.
The Finance Board, divided on many issues during an unusual and unusually contentious budget process, was also split on making the recommendation. Member Amy Gare argued that the Board was exceeding its purview. Rone Baldwin strenuously disagreed. Allan Grauberd, the Board's most vocal advocate for road improvements, was not present at the June 11 meeting.
Known unknowns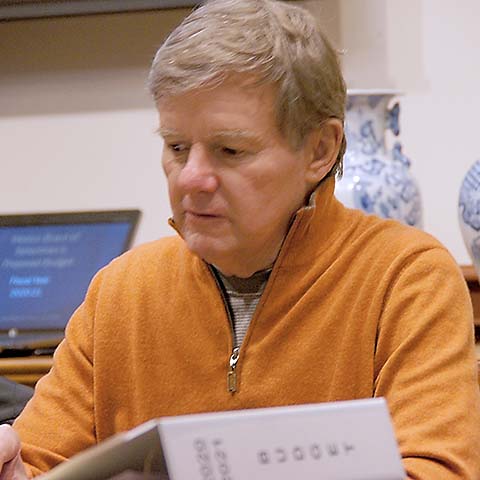 At the heart of the matter is a host of COVID-related unknowns, a fear among some on the Finance Board that costs to reopen Weston schools could pressure reserve funds, and a worry that the Town's cash flow could be disrupted if property tax payments are slow to arrive. (Inset: file photo, Steve Ezzes. M.S. Wirtenberg.)
Citing the unknowns, Mr. Ezzes said the Town should delay road paving so as to be "as fiscally prudent as we can," and urged the Selectmen to avoid "the knee-jerk reaction that we have a large general fund."
Mr. Ezzes said he is also concerned that Weston's suddenly-hot real estate will increase education costs. "We don't know what enrollments will be in the fall," he said. He added that it already appears an additional third-grade section may be needed, and possibly another kindergarten section as well.
Asked how much of budgeted paving expenditures should be postponed and for how long, Mr. Ezzes said, "All of it. Until spring." He said road paving is "discretionary."
Under-investing
That view echoes one held by some members of the Board of Finance, who on June 11 dismissed the impact of a delay in paving. But it is inconsistent with the analysis last year by engineering consultants who assessed the condition of all Weston roads, an analysis hailed, it appeared unanimously, by the Selectmen and Board of Finance.
The analysis detailed the sharply increased cost of repairing roads if they are allowed to continue to degrade. It also put the annual cost of keeping roads in the shape they are currently in at $650,000. The Town's approved budget is $100,000 less than that.
In budget meetings earlier this year, First Selectman Chris Spaulding had presented options to nearly double normal paving allocations for the next few years, reaching a level of funding that would, over time, bring all roads up to a desired condition.
The additional options included moderate draws from reserves, bonding, or a combination of both. The Board of Finance was receptive, but deferred decisions to the summer. At the moment, it seems unlikely that any of those options will be on the table anytime soon.
Town Administrator Jonathan Luiz advised the Selectmen that a delay until spring would essentially require canceling paving for the entire year, since roadwork while school is in session disrupts bus transportation, and there may not be time to engage contractors.
Point-counterpoint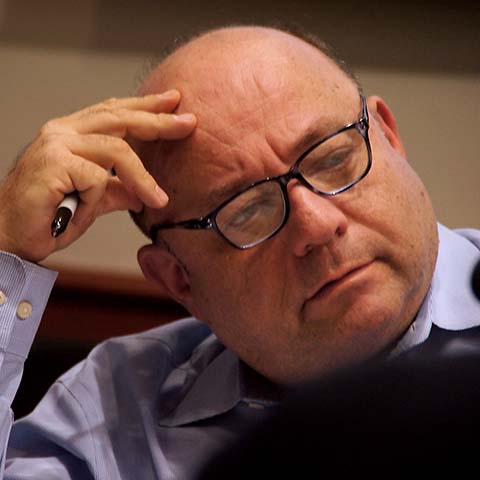 Mr. Grauberd addressed the Selectmen as well, objecting to the suggested delay, and disagreeing with Mr. Ezzes and some his Finance Board colleagues about the ability of Town reserves to cover unexpected costs. He said the focus on paving looked like an "ill-advised" attempt at "an easy fix," and that the Board had never explored other options to deal with possible revenue shortfalls. (Inset: file photo, Allan Grauberd. M.S. Wirtenberg.)
"I'm bullish on Weston," he said, noting that existing reserves could withstand an emergency draw of $3.6 million or more without affecting the Town's credit rating. Citing the consulting engineers' analysis, he said, "We need to invest in roads. Why would the Board of Finance decide this is a good time to hold back?"
Mr. Grauberd agreed with Ms. Gare that the Finance Board had "overreached," and went a step further, saying if there had been a public vote on budgets this year, the Board "wouldn't have the temerity to suggest this."
He expressed confidence that, if COVID-related costs outstripped Weston's resources, every town in the country would be in the same predicament, so federal and State aid would be available. In the worst imaginable case, he said, the amount being spent on paving would not make "a whit of difference."
"This is tiddlywinks," said Mr. Grauberd. "It should not be our province to interfere with the Board of Selectmen."
The Selects

Mr. Grozinger, saying the Board of Finance recommendation "makes sense," moved to accept it. He noted that he didn't expect a second. His was the only vote in favor.
Selectwoman Samantha Nestor said, "People in our community would love for something to move along the way it's supposed to." Alluding to this year's unusual—and controversial—budget approval mechanism, she objected to the idea of "another change to our normal process."
The Town has "already done things we didn't want to do," said Ms. Nestor, referring to the closing of facilities. "People want the roads to be okay." By proceeding, she said, the Selectmen could demonstrate "we're doing the things that give you comfort and keep you safe."
The First
Dr. Spaulding said he doubted the legality of diverting approved budget funds to other purposes, noting that the two lawyers on the Board of Finance opposed the recommendation. But his major concern was public dissatisfaction with road conditions.
"Having roads in this condition is unacceptable," said Dr. Spaulding. "I've had more complaints about roads than any other issue," he said, with dozens of complaints about damage caused by potholes. He noted that, in the Town Survey, road conditions rated at the top of items residents were unhappy about.
He was also concerned about precedent. "I can see this argument coming back in two years," in the event Hartford once again considers forcing towns to accept additional costs. He noted that, a few years ago, when the threat of such action arose, the Board of Finance considered making preemptive budget cuts in the millions.
The threat never materialized.