Route 57 Detours in August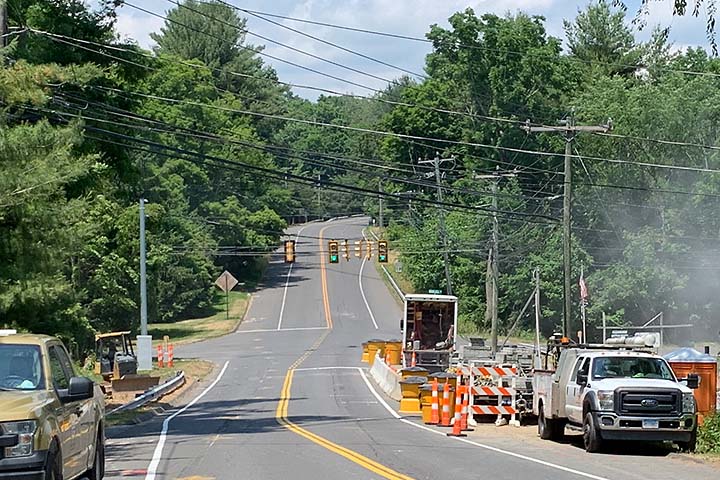 Editor's Note: This article has been updated to reflect the new target start date of August 16. Work, delayed by storms and downed power lines, was originally set to begin on August 3.
On or about August 16, construction at the intersection of Route 57 and Good Hill Road—where Weston Gardens is located—will cause auto traffic on 57 to be detoured to a 1.3 mile loop around Held Pond, along Broad Street, Cavalry Road, and West Branch Road.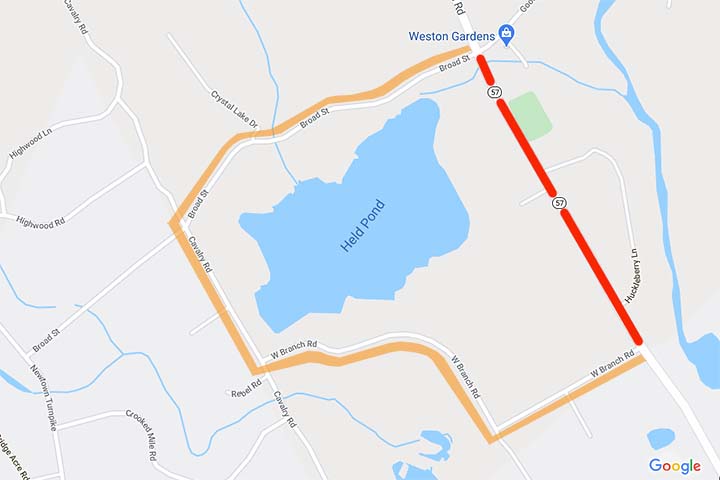 Crews have been working for the past several weeks on the shoulders of the road, preparing to replace a barely noticeable bridge across the intersection and a culvert below.
The Connecticut Department of Transportation project has been planned for over a year. A DOT inspection revealed the culvert is perforated, and while the structure is currently sound, it is in serious condition.
Police Chief Ed Henion, Captain Matthew Brodacki, and the Police Commission have been working closely with DOT for over a year on a work schedule and detour to minimize traffic disruption.
The contractor is required to complete the work in 14 days, but could be done in as little as four days, depending on how things go. The contractor faces penalties of $52,400 per day if the work goes beyond two weeks. The stretch of Route 57 between Broad Street and West Branch road will be closed 24 hours a day.
Trucks will have a much longer detour—a little over 9 miles—and will be confined to State roads, including routes 53 and 33.
Weston and Westport police will have around-the-clock posts at various locations, mainly to prevent trucks from missing their detour turns.
Captain Brodacki reports that somewhere around 10,000 vehicles will travel the detour each day. He said notices are being placed in mailboxes along the route, signs and message boards will be deployed, and the Town will make use of its Everbridge notification system to inform residents.