Westport Weston YMCA Reopens on Monday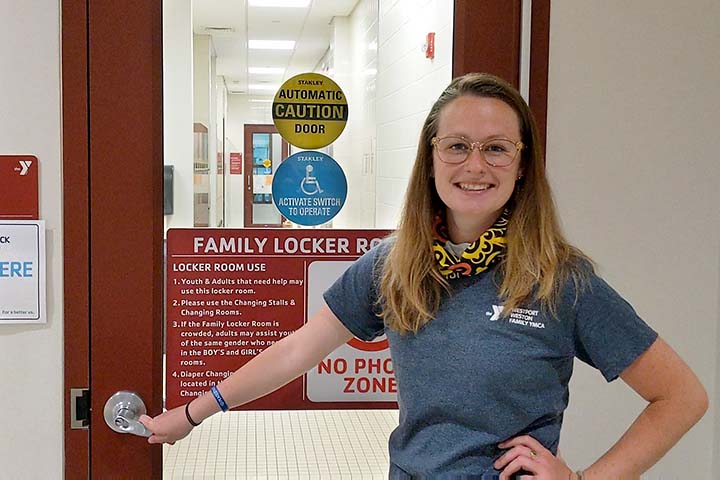 YMCA Aquatics Director Jen McDonald at the indoor pool, where a new protocol directs traffic flow entering and exiting.
The Westport Weston Family YMCA is set to reopen on Monday, June 22, after 97 days being closed due to COVID-19. Reopening will be done in phases, under conditions reflecting state and local health guidelines.
While in the facility, members and staff will be required to wear masks and observe social distancing.
In the Y's 96 years, said CEO Pat Riemersma, "we have made it through many challenging times together, none perhaps as impactful for our community and our Y as this COVID crisis."
Ms. Riemersma said every component of the facilities, including fitness equipment, pools, Camp Mahackeno, common areas, and office spaces will be continuously cleaned and sanitized.
The first phase of reopening includes the Wellness Center, the indoor competitive and outdoor pools, group fitness classes, personal training, and Camp Mahackeno. In a later phase, Kids Club, the warm pool, and additional classes and programs will reopen.
Information about reopening, membership renewal and reactivation, and program registration can be found on the YMCA's website: www.westporty.org.
"When we closed our facilities in March," said Ms. Riemersma, "we did so to protect the health and well-being of all our staff, volunteers, members, and participants. As we now reopen our facilities, we do so with that same commitment to keeping everyone who enters our doors safe."