Amazing Interviews from the Twain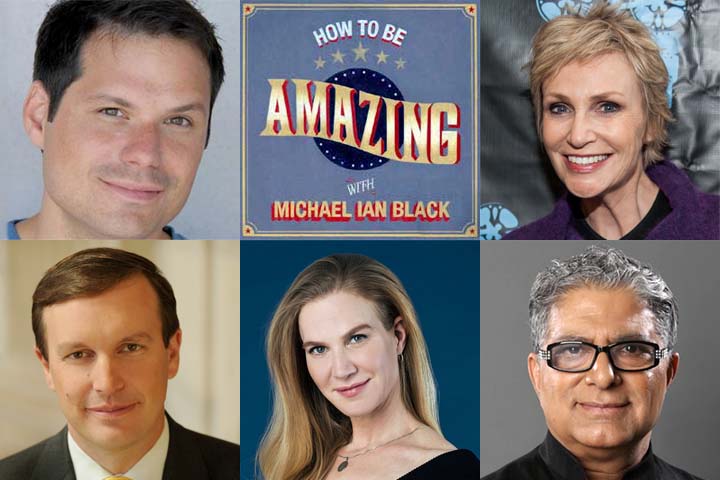 On four Sunday evenings in June and July, the Mark Twain Library presents all-star live online interviews in a How to Be Amazing series by comedian-author-actor Michael Ian Black.
The series is a live video version of Mr. Black's popular How to Be Amazing podcast. The shows are free, but our friends at the Twain hope you will donate. COVID-19 has brought hard financial times to the library, which is largely dependent on volunteer fundraisers.
First up: Jane Lynch
The first live interview is on Sunday evening (the 21st) at 8:00 pm. Mr. Black interviews the very funny Jane Lynch, who you probably know from Glee, Best in Show, and The Marvelous Mrs. Maisel.
You will find a link to the live interviews on the Mark Twain Library website. Enjoy.
The theme of the interviews is to have an entertaining conversation with some pretty amazing people about how to be amazing.
Chris Murphy, Jeannie Gaffigan, Deepak Chopra
Next up, on June 28, Mr. Black interviews Connecticut Senator Chris Murphy. Mr. Murphy served three terms in the U.S. House of Representatives before winning election to the Senate in 2012.
On July 5, Grammy-winning director, producer, and comedy writer Jeannie Gaffigan joins the conversation. She wrote and produced the critically acclaimed The Jim Gaffigan Show and a bestselling memoir, When Life Gives You Pears: The Healing Power of Family, Faith, and Funny People.
Finally, on July 12, Mr. Black interviews the amazing Deepak Chopra. Dr. Chopra is a world-renowned pioneer in integrative medicine and personal transformation. He is the author of over 89 bestselling books. TIME magazine once described Dr. Chopra as "one of the top 100 heroes and icons of the century."
The amazing Mr. Black
We should also tell you a bit about Michael Ian Black. A standup comedian, his television and film credits include Wet Hot American Summer, Burning Love, The Jim Gaffigan Show, and Inside Amy Schumer. Having already written several bestsellers for children and adults, his latest, A Better Man: A (Mostly Serious) Letter to My Son, comes out in September.
Mr. Black is also a major supporter of the Mark Twain Library. The Pudd'nhead Prize Festival he founded is an important fundraiser. It was inspired by one of Mark Twain's classic tales, The Tragedy of Pudd'nhead Wilson.