May 31, 2020: Eileen Buckley Day
May 31 is officially Eileen Buckley Day in Weston, as declared in a proclamation by the First Selectman on the occasion of Ms. Buckley's 90th birthday.
In a sign of the times, the honor was bestowed on Zoom, during a virtual meeting of the Lunch Box Breakfast Crew, a group that usually meets in person at the restaurant. Members of Ms. Buckley's family also joined the Zoom call.
The proclamation read by First Selectman Chris Spaulding lauded Ms. Buckley as "an outstanding citizen of the Town of Weston since 1966," her years of service as a Registrar of Voters, her decades of active membership at Norfield Congregational Church, Weston Historical Society, the Weston Women's Club, and the Philanthropic Educational Organization.
It also noted her "unique talent for communing with the wild turkeys of her neighborhood," that she had "raised two wonderful children who attended Weston's public schools," and that the honor was for "her example as a role model and her service and dedication to the community."
Three former First Selectmen, with whom Ms. Buckley served at Town Hall, also joined the meeting: Hal Shupack (with David Coprio and Ms. Buckley, one of the Lunch Box group's founding members), Woody Bliss, and Gayle Weinstein.
"Eileen Buckley Day" was organized by Michael Imber and Laura Smits. "Eileen exemplifies the very best of Weston," said Mr. Imber. "She gives so much of herself to the community, it is wonderful that the town can recognize it with naming the day for her."
"Such a fixture in Weston"
Longtime friends of Ms. Buckley shared their thoughts as well. Dallas Kersey said, "Eileen and I have worked together on many projects in Weston and she always brings great insights. Happy birthday, Eileen!"
Glenn Major said, "Eileen is such a fixture in Weston. During her time here she has inserted herself into just about every part of the Town. It is because of people like her that Weston is so wonderful."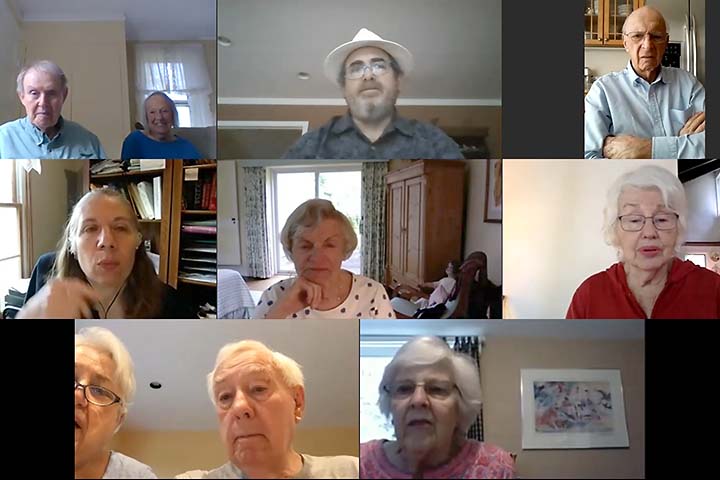 Ms. Buckley is in the center of this Zoom screen.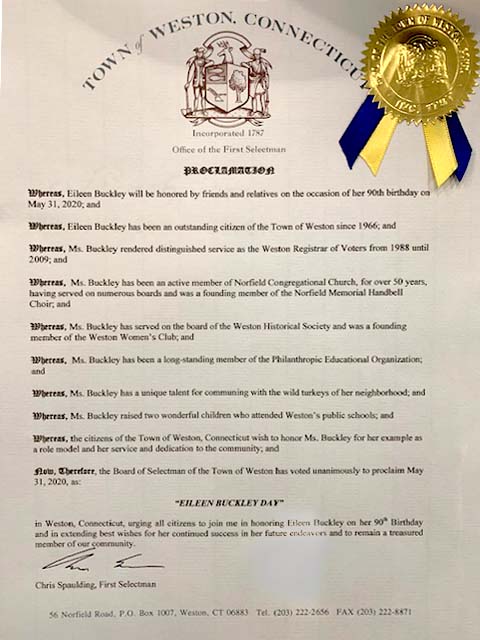 The proclamation of Eileen Buckley Day.