Mother's Day Bouquets from Lachat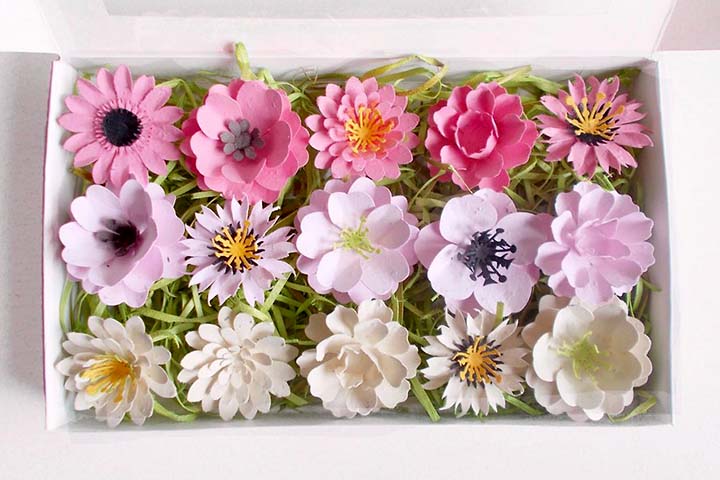 Lachat Town Farm has come up with a fun idea for Mother's Day, one which also happens to raise funds for the Farm, where normal revenue-generating activities are severely curtailed at the moment.
You can have a gift box or bouquet of paper flowers delivered for $49. They won't wilt and fade in a few days, and are exceptionally friendly to nature.
The box of paper flowers is filled with annual and perennial seeds. The bouquet of paper flowers is filled with wildflower seeds. Delivery occurs the week before Mother's Day in Weston and surrounding towns.
Supplies are limited, so speed of ordering counts. If you are lucky, the gift will be delivered by the famous Lachat Chicken (photo below).
The bouquet consists of 12 assorted paper flowers made from paper embedded with flower seeds. Each flower is on a wire stem and measures between 1-¾ and 3-½ inches.
Flowers come in shades of lavender, berry, plum and white. They arrive wrapped in kraft paper.
The plantable gift box contains an assortment of flowers in cotton candy pink, light pink, mustard yellow, tangerine, and coral. Each box contains three of each color.
The box comes packaged on a bed of aspen wood shavings that can be tossed in the garden for birds to use in nests. The box measures 9-½ by 5-¾ by 1-⅛ inches. It comes tied with a coordinating polka dot ribbon. Each flower is made from paper embedded with a mix of annual and perennial seeds that grow when planted.
Enjoy. You can order on Lachat's website.