Nanette Charny, 61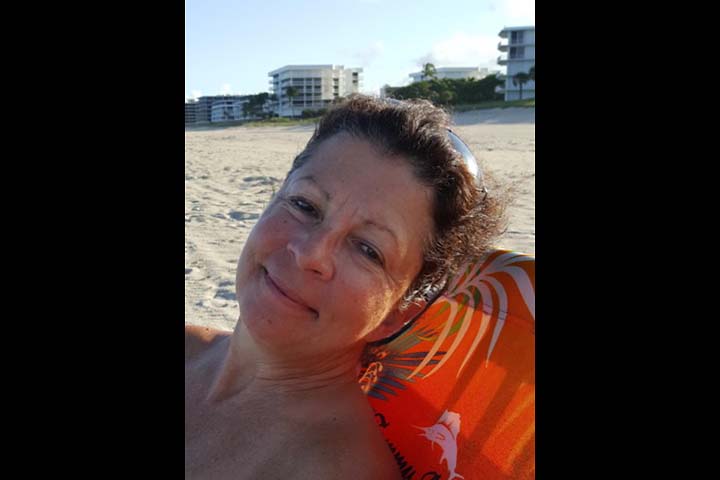 Nanette Charny of Weston, CT, 61, passed away on March 24th, 2020.
Nanette was born on October 11, 1958 in New York City, to Gene and Mildred Charny and was raised in Howard Beach, Queens as the youngest of four sisters and a niece. Breezing through high school at Queens Day Prep in only 2 years, she went on to attend Queens College where she graduated as an Art Major.
Nanette's professional life began in automotive sales, at which she excelled, but after winning a battle against cancer, and with newly aligned priorities, she decided to turn her love of cooking into a career, working for All-Clad for 10 years and after for Kitchen Aid, where she was currently employed.
After moving from Long Island to the small town of Weston, CT in 2003, Nanette took a step that would change her and Tim's life: she signed up for the Saturday Night Mixed Tennis Doubles Pot-Luck at the local racquet club in an attempt to meet people. Thus began a relationship with tennis and the townspeople that would embed her in the hearts of so many.
She was a great player, yet was always the first person to step up to play with the nervous beginner, poo-pooing their apologies, saying, "Aw, come on…we're gonna have FUN. It's just tennis!"
As her commitment to tennis began to grow, she became the captain of her team, leading them to several tournament victories. Her teammates always looked up to her and admired her leadership. Nanette had one criteria to being on the team…and that is, you had to be a nice person.
But Nanette's big heart wasn't only evident on the tennis court. Everyone who was lucky enough to meet her, immediately sensed her kindness, generosity, and felt that she was their friend. And she was. Nanette was always a glass half full person who never said no.
If you needed help in anything—a party you didn't want to go to alone, recommendations for what to cook, an opinion in a personal matter—Nanette was your go to girl and always made whatever you were doing fun. Her zest for life was infectious and whether you cooked with her, danced with her, vacationed with her, or played tennis with her, you knew you were going to have a good time and a lot of laughs.
Nanette was incredibly compassionate. She cared so deeply about people that often she would take on her friends' problems as her own. She leaves a hole as big as the Grand Canyon in the hearts of just about everyone who knew her, but it's a hole that will be filled with a vast array of amazing memories we will call upon whenever we want.
She is survived by her husband and the love of her life, Tim Rinke. Also surviving her are her beloved niece Jeannette Messina, Howard Beach, NY, to whom she was like a mother and sister, and her dear sisters Stephanie Arsene and Jane Crowley both of Greenvale, Long Island. She was predeceased by her beloved parents, Gene and Mildred Charny, and her older sister, Marita.
A memorial for Nanette will be scheduled pending the lifting of COVID19 restrictions.