A Champion on the Ice and Off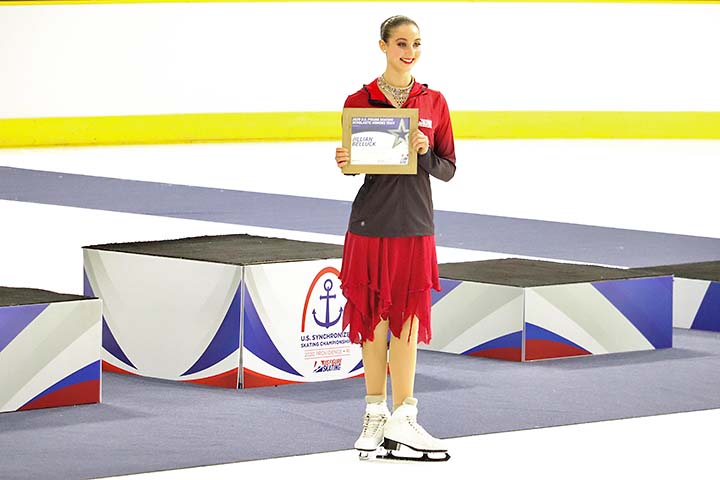 Jillian Belluck, a Weston skating superstar, turned in another dazzling performance at the national synchronized skating championships in February, as her Skyliners junior team won gold.
Ms. Belluck's track record has been impressive. For six of the last seven years, she has been a member of a Skyliners team that won a national championship. This year's tournament was held in Providence, Rhode Island. In the novice division, Abigail Cohen's Skyliners team brought home a silver medal.
On to England, but then…
Ms. Belluck's national team championship led to their selection as one of two teams chosen by U.S. Figure Skating to represent the United States at the World Junior Synchronized Skating Championships this month in Nottingham, Great Britain.
The team had won a silver medal at the 2018 event and bronze in 2019 in Switzerland.
This year, it was not to be. After arriving in Nottingham, the severity of the coronavirus pandemic became clear. The team withdrew from the tournament and returned home.
Another form of championship
In Providence, Ms. Belluck was honored in an on-ice ceremony as one of only ten high school figure skaters in the entire country to win the U.S. Figure Skating Scholastic Honors Team Award.
The award recognizes achievement in skating, academics, and community service. It includes a scholarship and a $1,000 donation to the charity of the skater's choice.
Ms. Belluck chose to give the money to KEYS Music, a nonprofit organization that teaches music to underprivileged children in Bridgeport. Ms. Belluck is a volunteer for KEYS, where she helps teach piano.