First CT Fatality, Lamont Orders Malls Closed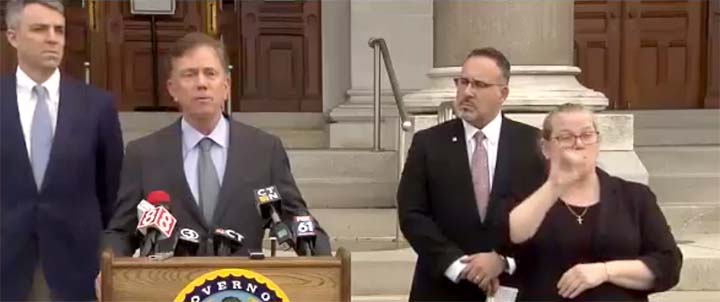 This afternoon on the steps of the State Capitol, a somber Governor Ned Lamont announced the first fatality in Connecticut from complications related to the COVID-19 virus, an 88 year-old man who had previously been transported from a Ridgefield assisted-living facility to Danbury Hospital.
The governor said, "The first death is not unexpected, but it's a shock. It's a shock because it makes this so real for all of our families."
Mr. Lamont said the number of positive tests in the state has risen to 96. It is expected to continue to rise.
Closings ordered in four Northeast states
Earlier in the day, Governor Lamont ordered the indefinite closing of indoor portions of large shopping malls, bowling alleys, and amusement parks. They must close by 8:00 pm on Thursday evening.
Mr. Lamont said the same order has been issued by the governors of New York, New Jersey, and Pennsylvania. Governor Tom Wolf of Pennsylvania has joined the coalition of states implementing a regional approach to combatting COVID-19.
In a statement, Governor Lamont said, "This is a fast moving and quickly evolving public health emergency, and making these kinds of important decisions as a region makes more sense than a patchwork approach. We will combat this virus by working together and remaining consistent across our borders and I'm proud to work with my fellow governors in this effort."