Two Great Ways to Help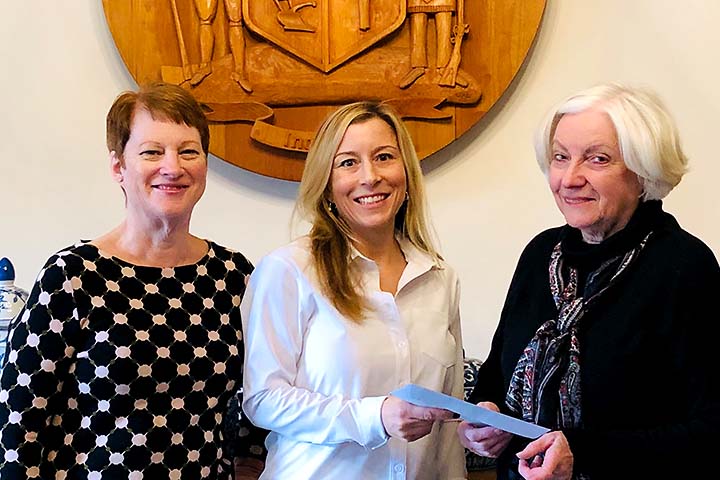 Left to right: Anne McMahon, Allison Lisbon, Carole Berg
The Women's Club of Weston recently gave a good example of how everyone can help neighbors during these difficult times.
The club raised money in a drawing at its annual holiday luncheon and donated it to Weston Social Services. Anne McMahon, who co-chaired the luncheon, and WCW president Carole Berg presented a check to Allison Lisbon, Weston's Social Services director.
Social Services provides a wide range of services, including financial help to those in need. At the moment, assistance is provided to about 130 households, 102 seniors, and 63 children.
All funds for financial aid come from donations.
In addition to checks, donations of grocery store gifts cards are particularly welcome at the moment. Some donations may be tax deductible. To find out more about how you can help, contact Ms. Lisbon by email, alisbon@westonct.gov, or by calling Weston Social Services: (203) 222-2363.
Blood needed
In a press conference today, Governor Ned Lamont made special mention that the Red Cross of Connecticut needs blood donors.
To mitigate the spread of COVID-19, the Red Cross has canceled nearly 2,700 blood drives across the country. The governor said more than 80 percent of the blood the Red Cross collects comes from these drives, so there is now a severe shortage.
You can still donate. But you have to contact a Red Cross office in advance and schedule an appointment.
You can do that online at RedCrossBlood.org or by telephone: 1-800-RED-CROSS.
The Red Cross also has a Blood Donor app, and Amazon Alexa Echo devices have a feature called the Blood Donor Skill you can enable.