Lamont Modifies 180-Day School Year, Restricts Events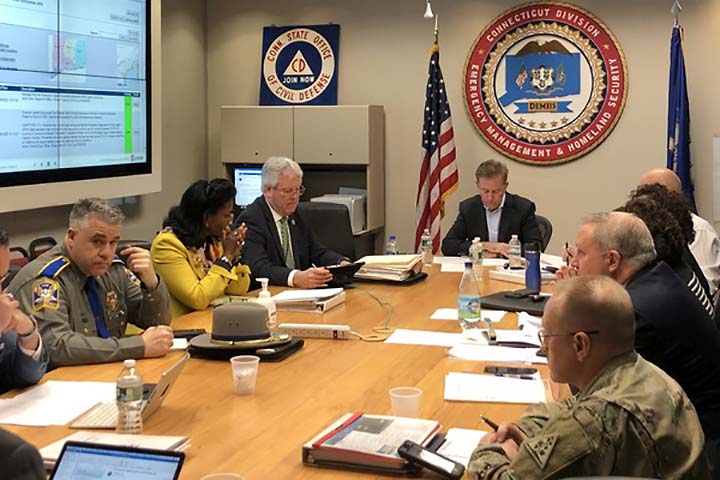 Photo: Office of the Governor
In Hartford this afternoon, Governor Ned Lamont modified the State rule requiring 180 days of classroom instruction, ordered a prohibition on events with over 250 people, and authorized the Department of Motor Vehicles to extend license renewals, which the Department did, by 90 days.
19 Connecticut school districts, including Weston's, have either closed or are about to. With the governor's order, if a school has not been in session for a total of 180 days by June 30, the district has the authority to make June 30 the last day of the school year.
The governor's order limiting the number of attendees at gatherings to 250 applies to social and recreational activities, including all community, civic, leisure, and sports events, parades, concerts, festivals, movie screenings, conventions, fundraisers, and similar activities.
20 percent projected, soon
At a press conference, Dr. Matthew Cartter, the State's chief epidemiologist, said he expects "in the next month, 20 percent of the Connecticut population will have this."
Dr. Cartter said he expects a second wave of the disease in the fall, and another next spring. He said State authorities are closely following progress of the disease in Washington and California, and predicted that, in the next few weeks, "we will be where they are at."
Dr. Cartter again urged residents to practice social distancing, basic hygiene, and staying at home once any flu-like symptoms appear. "This is only going to work if all of us do what needs to be done," he said.
Three more positives
Three more patients have tested positive for COVID-19. One is a Stamford woman in her 60s who recently traveled to Italy and is now being treated at Stamford Hospital. A woman in her 20s who resides in New York, but tested positive in Stamford, is recovering at home. The third positive test is a child in Stratford, who is also recovering at home.
Of 95 tests performed so far at the State's laboratory in Rocky Hill, six have been positive. Four of those are from Fairfield County, which is "not a surprise," said Dr. Cartter, considering the county's proximity to Westchester County, a hotspot for the disease.