Schools, Town Offices Close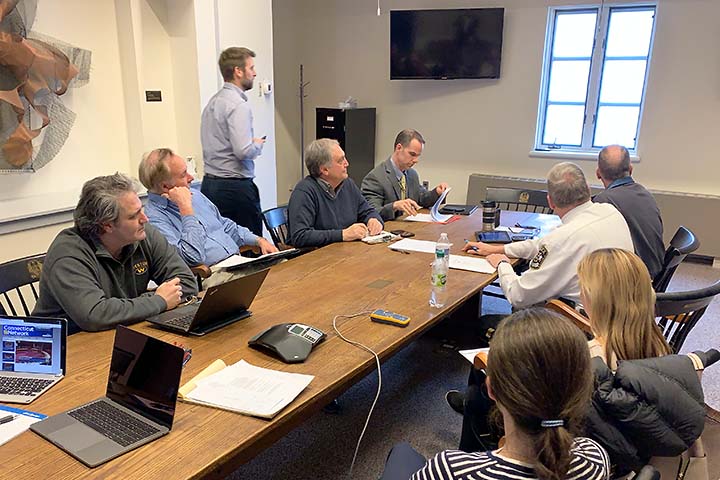 Photo: Weston Today
Weston's public schools and key facilities are closed until further notice after the discovery of possible exposure to coronavirus COVID-19. Westport and Wilton school districts closed earlier in the day for the same reason.
In addition to all schools in town, the Senior Center and Weston Public Library are closed indefinitely. All other Town facilities, including Town Hall, are closed to the general public through Sunday, March 15. Parks and Recreation activities are closed through March 15.
This afternoon, First Selectman Chris Spaulding and Emergency Management Director Sergeant Joe Miceli activated the town's emergency operations center. They convened a team meeting with Town Administrator Jonathan Luiz and leaders of the police and volunteer fire departments, EMS, emergency dispatch, Weston Public School District, and directors of Public Works, Social Services, the Senior Center, and Weston Public Library.
First Selectman Spaulding said Town facilities would be closed "at least until we have more clarity" about potential risks from known instances of possible exposure.
In a notification to citizens, Sgt. Miceli said COVID-19 "has moved to a community transmission form of outbreak," meaning its spread is not based on travel to areas where the virus is present.
Consider symptoms an infection
Sgt. Miceli said that, based on guidance from the Connecticut Department of Public Health, if you have symptoms of COVID-19, you should consider yourself infected, and call your primary care provider. He said you should not go directly to an emergency room unless you are experiencing a true life-threatening emergency.
Symptoms of COVID-19 are a fever of 100.4° and higher, a dry cough, and shortness of breath.
If you do not have symptoms but have questions, you can call 211, a hotline created by the Department of Health and the United Way.
A "first-rate" team
Dr. Spaulding said the decision to close Town facilities was made after "in-depth consultation with State and local health authorities."
"We're lucky to have Joe Miceli and a first-rate emergency team," said Dr. Spaulding. "This wasn't an easy decision, but you have to err on the side of protecting Weston citizens. The team has been preparing for this, which certainly made this a much easier call."
Sgt. Miceli urged citizens to practice "social distancing," avoiding gatherings where you have less than six feet of distance from others. He also encouraged "sound hygiene practices," including frequent hand-washing, and when appropriate, self-isolating.
The sergeant said there are no active warnings from the Centers for Disease Control about travel within the United States, but "we do know that two cases in Fairfield County were the result of travel to San Francisco and Nevada." He advised caution when considering travel.